---
Kazakhstan world's largest producer of uranium
China, Russia, the West are vying for influence over this strategic region
Kazakhstan's resources and location make it compelling investment
---
Subscribe for Investment Insights. Stay Ahead.
Investment market and industry insights delivered to you in real-time.
Kazakhstan is a global mineral powerhouse — and the struggle to control access to these resources has only just begun, as countries vie for influence in the region.
For investors who want exposure to this opportunity, they will need to understand the geopolitical landscape and the major players involved, the so-called "Great Game."
A term originally used to describe the rivalry between Great Britain and Russia as they struggled for influence in Asia, so now again the region is the centre of a new great power rivalry.
Kazakhstan
Firstly, what is the scale of Kazakhstan's resources:
But the country's location is arguably as important as its mineral reserves.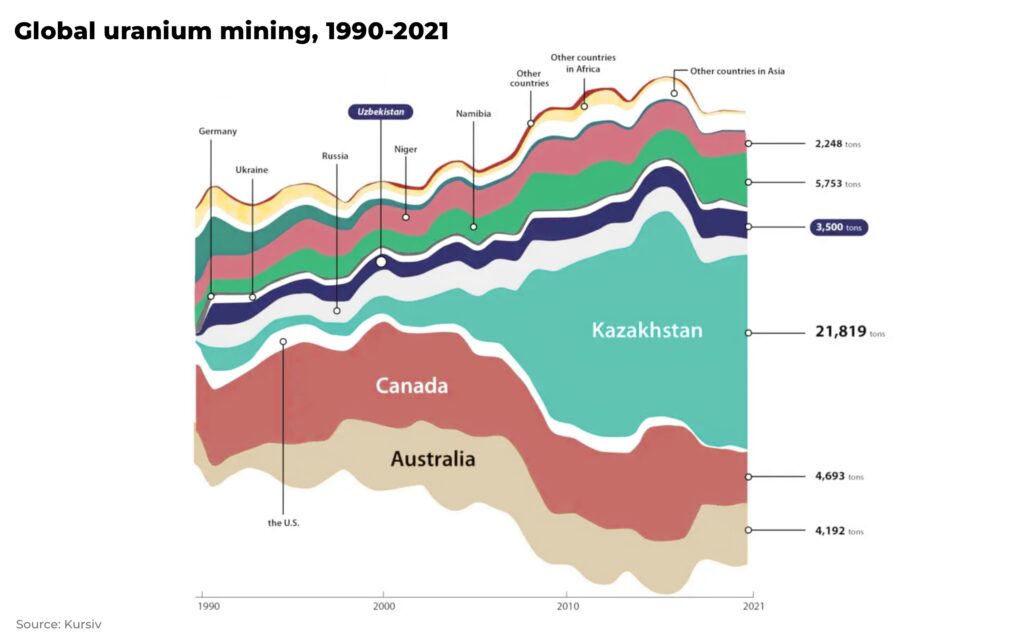 Kazakhstan, the second largest republic (after Russia) of the former Soviet Union, has 11 transcontinental trade routes (5 rail, 6 road corridors), opening up access to a market of about 100 million consumers in Caspian Sea countries, 76 million in Central Asia and 350 million in Western China.
Kazakhstan is, geopolitically and geographically speaking, at the centre of the Eurasia. It is flanked by Russia to the north, China to the East, as well as Iran, Afghanistan and India to the south. And the West is beginning to pay attention as well. It's top 5 export destinations for 2020: China, Russia, Italy, Netherlands, France.
It sits in a critical global location.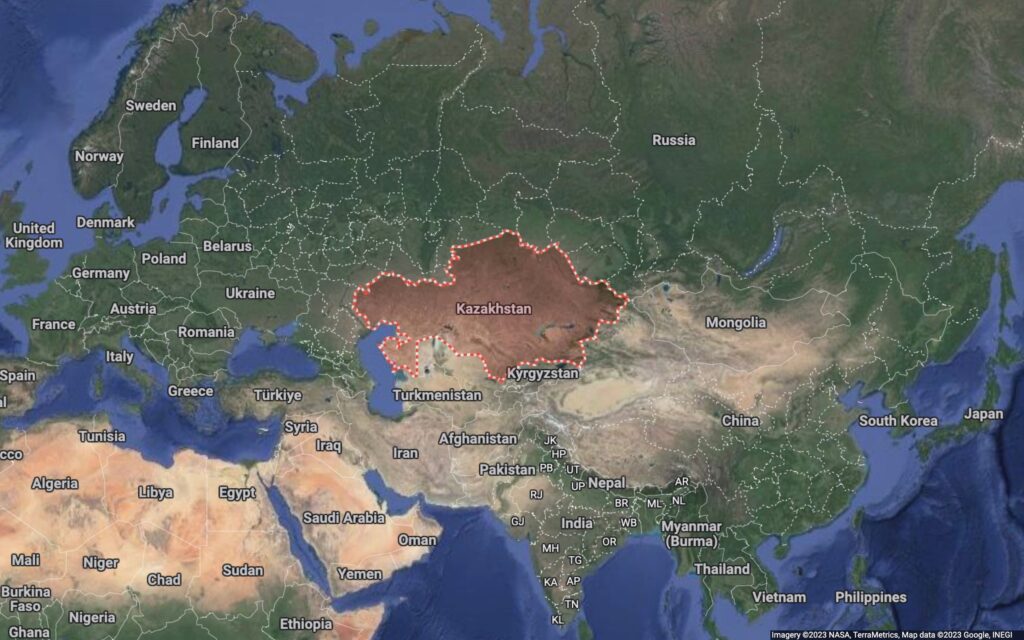 Subscribe for Investment Insights. Stay Ahead.
Investment market and industry insights delivered to you in real-time.
Russia and Kazakhstan
With their shared history until the fall of the Soviet Union, ties between Russia and Kazakhstan have traditionally been close.
In January 2022, the Russia-led Eurasia military alliance Collective Security Treaty Organization (CSTO), deployed troops to Kazakhstan to quell political unrest.
Economically, the majority of Kazakhstan's basic food imports come from Russia; when Russia halted sugar and grain exports, Kazakhs faced shortages and price increases.
80% of Kazakhstan's oil is shipped through the Caspian Pipeline Consortium (CPC), in which Russia holds a 31% stake. It accounted for 57% of total goods exports from Kazakhstan from January-November 2022, and the sector makes up 17% of the economy (as of 2020).
But since Russia'a invasion of Ukraine, Kazakhstan's president Kassym-Jomart Tokayev, has sought to realign his country away from Russian influence. For example, last year, President Tokayev officially visited Turkey for the first time to strengthen ties between the two countries, as well as discussing the future of the Trans-Caspian international trade route, further bypassing Russia.
China and Kazakhstan
China's President Xi Jinping's first foreign trip since January 2020 was to Kazakhstan, highlighting the geopolitical importance of the region.
China is Kazakhstan's largest trading partner.
Through it's Belt and Road Initiative, as well as other investments, China has reportedly invested US$19.2 billion in Kazakhstan between 2005-20, with 56 China-backed projects worth nearly US$24.5 billion due to finish by 2023. It is a critical link across the continent to connect China to Europe.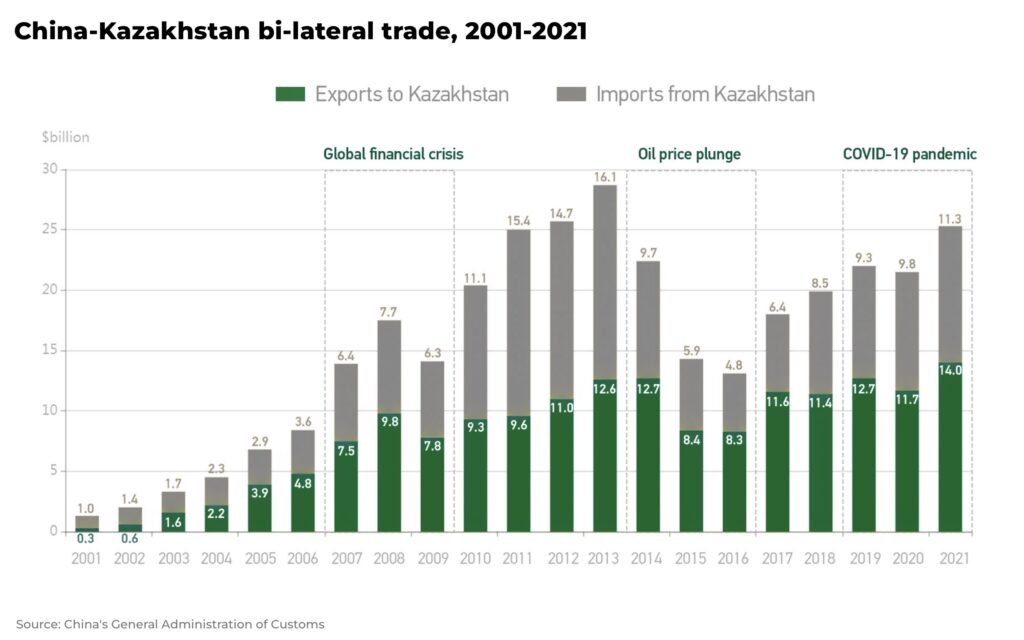 For example, the China-Central Asia Gas pipeline, connects China to the natural gas from Turkmenistan and Uzbekistan through Kazakhstan.
Kazakhstan not only provides resources for China and an overland gateway to Europe (which can be x2 faster than by sea), but also an important border to maintain security for it's Xinjiang province.
Since the Ukraine war, freight shipments through the Trans-Caspian international trade route (from China, through Central Asia, to the Caucasus — bypassing Russia) is expected to grow x6 in 2022 to 3.2 million metric tons, compared to 2021.
America, Europe and Kazakhstan
Since 2005, the US has invested over US$45 billion into Kazakhstan, one of the largest foreign investors, with some 600 companies operating in the country. The bulk of the investment is in the oil and gas industry.
The EU represents 40% of Kazakhstan's external trade, with exports to the EU across the oil and gas sectors, minerals, chemicals and food products.
And, particularly since Russia's invasion of Ukraine, there has been a series of high-level diplomatic visits to Kazakhstan by the West.
The EU plans to become the top investor in the world's tallest dam in Tajikistan — which will export electricity to Kazakhstan — to reduce the region's reliance on Russia and China.
In March, the UK's foreign minister recently returned from a visit where officials from the two countries signed a memorandum on critical minerals, as well as the further development of the Trans-Caspian international transport route which does not pass through Putin's Russia.
Investors and Kazakhstan
Kazakhstan is at the centre of a geopolitical rivalry between all of the world's major powers, each vying for influence, access and resources. The importance of the region over the next decade cannot be overstated.
Russia, China and the West are vying for access to the trade routes, as well as resources to power the global energy transition and uranium for nuclear renaissance — and investing billions for influence.
Kazakhstan's vast resources and strategic location make it a compelling destination for investment.
For investors, this provides risk and — for those who can navigate the Great Game between the major powers — significant opportunity.
Subscribe for Investment Insights. Stay Ahead.
Investment market and industry insights delivered to you in real-time.