---
global insurance market forecast to be valued over US$6 trillion in 2025
economic loss driven by climate change increased 250% over last 30 years
McKinsey estimates 50% of all insurance claims made in 2030 will involve AI
almost all the largest P&C insurance companies are investing heavily in AI
---
Subscribe for Investment Insights. Stay Ahead.
Investment market and industry insights delivered to you in real-time.
The global insurance market is forecast to grow at 6% a year, worth US$4.5 trillion in 2020 and forecast to be valued over US$6 trillion in 2025. But climate change poses significant risks to this growth — and an opportunity for investors.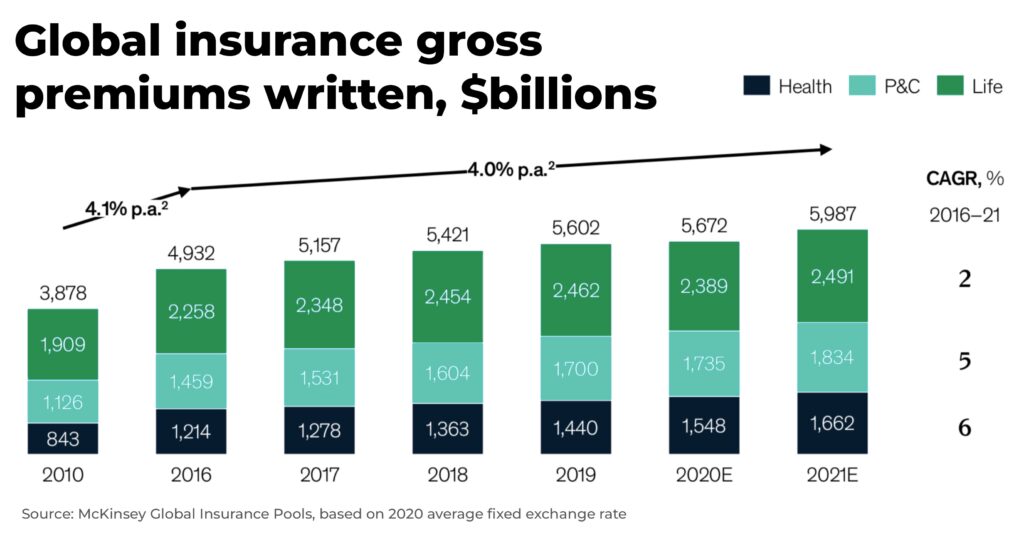 Over the last 30 years, economic loss driven by climate change has increased by 250%.
2021 saw an estimated US$329 billion of weather-related damage, 45% higher than the 21st century average and the third highest loss on record behind 2005 and 2017. Storm damage cost US$60 billion worth of damage in America, US$9 billion of losses from floods in Germany, and wildfires in Australia cost US$63 million.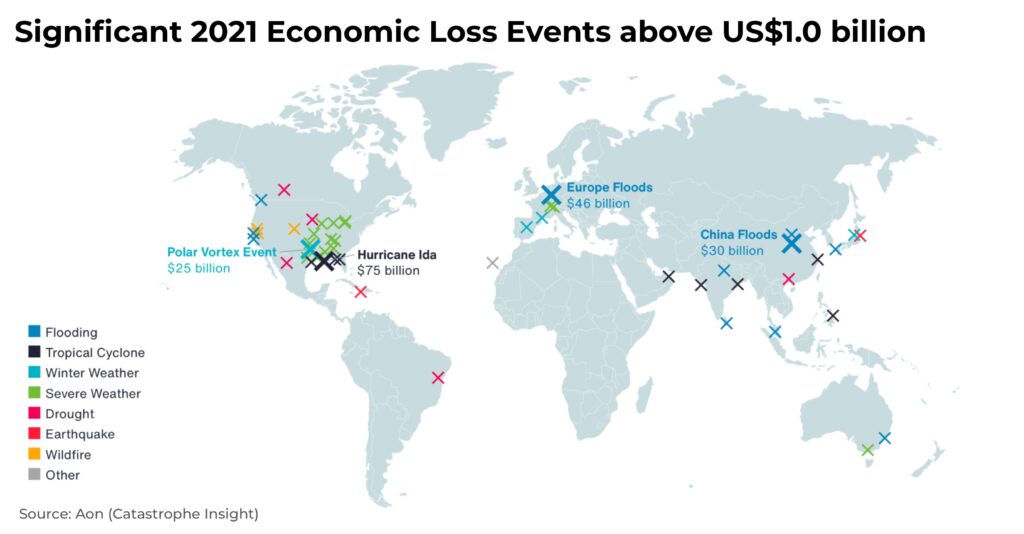 As temperatures rise, so the risk of greater damage increases, as well as rising insurance payouts.
"Over the past year, the world has counted the costs of another round of major, expensive and disruptive natural disasters. These kinds of catastrophes are increasing in frequency and severity — impacting livelihoods, communities, and businesses across the globe. And many of them can be exacerbated by the effects of climate change"

— Aon, Weather, Climate and Catastrophe Insight
Insurance companies are adapting, identifying key trends to mitigate risks by, for example, working with the public and private sectors to encourage investment in ESG and strengthen vulnerable sectors for disaster response.
In order to identify and forecast risk, data and analytics are critical. That's where artificial intelligence comes in.
(You can get a handy primer in our report on artificial intelligence)
Artificial intelligence, or AI, supports and can even outperform humans using data and algorithms to make predictions.
Using satellite imagery, weather data, drones, connected devices (the so-called "internet-of-things"), as well as traditional socio-economic models, artificial intelligence can process predictive models to better estimate the risk of floods, hurricanes, landslides, wildfires and other climate-related risks.
For example, a network of sensors installed on rooftops of at least six US cities is being used by insurance companies to track weather such as hailstorms, giving much more specific data than radar. One of the companies estimates the technology has saved it 20% in claims by improving accuracy.
Using data and analytics, leading Property and Casualty (P&C) insurers have seen loss ratios improve three to five points, new business premiums increase up to 15%, and retention in profitable segments jump 5-10%.
These AI developments can empower consumers who are increasingly able to access the datasets to empower their decisions on investing in homes and business. In fact, the use of AI in the real estate sector hit mainstream news late last year.
AI also enables insurance companies to fast-track evaluations, investigations and payment processes. As claims rise, so providers can automate and scale their logistics. For example, Hurricane Ida in 2021 resulted in US$36 billion in losses — one of the highest individual losses ever recorded for public and private insurers — with over 400,000 insurance claims. One company claims its AI can detect claims fraud x3 more effectively than manual or rules-based processes.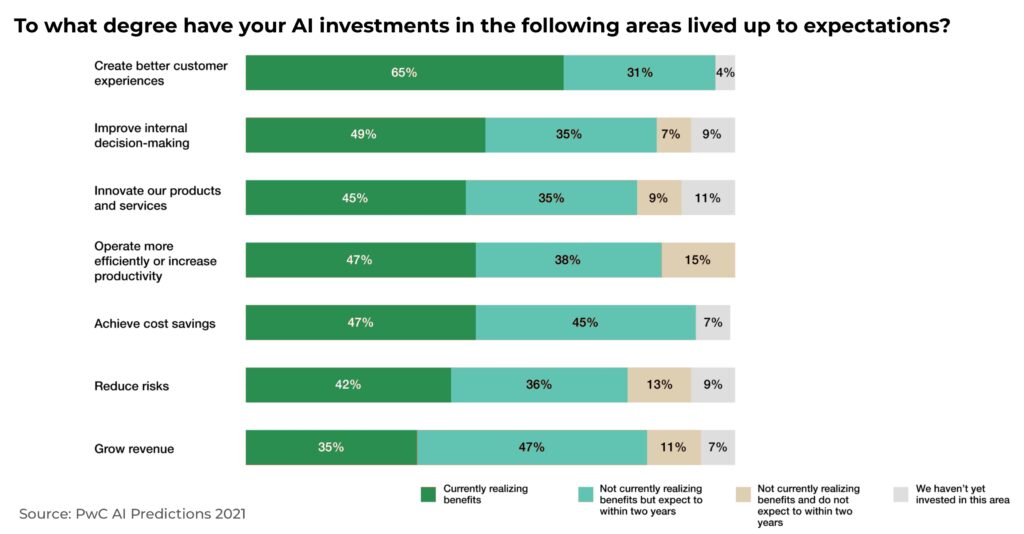 McKinsey estimates 50% of all insurance claims made in 2030 will involve AI.
And so, "Insurtechs" have grown in value from US$1 billion in 2004 to US$14.6 billion in 2021. Over 40% of these companies focus on technology that supports marketing and distribution, supporting a scalable digital experience for clients.
"Leaders see enormous potential in best-in-class data and analytics capabilities across the value chain, even for the highest-performing companies"

— McKinsey, Creating Value, Finding Focus Report 2022
And it's not just about insurance companies. Regulators, governments and a wide range of businesses, particular those with infrastructure, such as energy companies, railroads, ports and coastal refineries, will be able to profit from better forecasts of potential weather disasters that could affect their business.
The obvious starting point for investors interested in this sector is to invest in P&C insurance companies, or other large and micro cap stocks incorporating AI into their business that have the potential to revolutionize this space. We've outlined a few examples below.
Subscribe for Investment Insights. Stay Ahead.
Investment market and industry insights delivered to you in real-time.
Almost all the largest P&C insurance companies, from Berkshire Hathaway to Zurich Insurance Group, are investing heavily in AI and, in fact, we would recommend staying away from any who are not.
Google, arguably the largest artificial intelligence company in the world, has launched a Flood Forecast platform with claims that the hydrologic model component in some regions provides "unprecedented accuracy, achieving an R2 score of more than 99% across all basins we cover, and predicting the water level within a 15 cm error bound more than 90% of the time."
Smaller stocks include insurtech company Lemonade (NYSE:LMND), that uses AI to automatically process claims digitally. Its Q1, 2022 earnings rose 89% year over year to $44.3 million, which beat analysts' estimates by $1.1 million.
Minerva Intelligence (TSXV:MVAI) is a Canada based company using data harmonization to create forecasts, including insights on vulnerabilities and risks related to climate change. They are currently working with the Canadian federal government to assess climate risk along the coast.
The Rise fund, one of world's largest private markets social impact funds, invested over US$100m last year into Climavision, a platform using AI and a network of high-resolution radars and high-altitude weather balloons, to improve the timing and accuracy of weather surveillance.
Understory, a private company, uses weather sensors installed with machine learning AI in cities across the US to provide hyperlocal data and forecasts.
As the impact of climate-related weather disasters becomes more costly with rising global temperatures, we at The Oregon Group expect demand for these tools that are needed to scale solutions, to grow significantly.
Subscribe for Investment Insights. Stay Ahead.
Investment market and industry insights delivered to you in real-time.