---
insurance payouts for wildfire losses in US increased x40 in 2011-2018, compared to previous 30 years
AI uses a vast network live video feeds, drones, sensors and satellites to detect, and possibly predict, fires
insurtechs have seen investment increase from US$7.2 billion in 2019 to US$14.6 billion in 2021
---
Subscribe for Investment Insights. Stay Ahead.
Investment market and industry insights delivered to you in real-time.
From 1964-1990, insurance companies in the US paid less than US$100 million a year, on average, for wildfire losses. From 2011-2018, payouts increased to US$4 billion a year — an increase of x40. In 2018, California's massive Camp Fire caused up to US$12 billion in damages, destroying 18,804 structures and leaving 88 dead.
These wildfires have devastating effect on families, homes and businesses (from agriculture to tourism) – including, because of the scale of the cost, insurance companies.
Artificial Intelligence (AI) is offering a water-hose of data to try and — literally — put out the fire.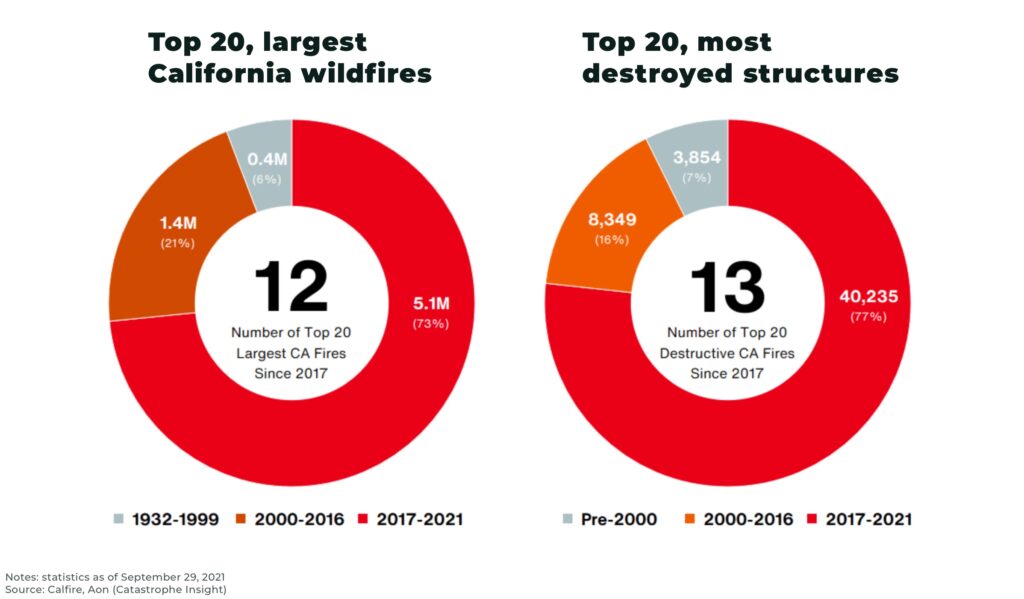 Impact of wildfires on insurance
Losses for insurance companies from the 2017-2018 US wildfires are estimated to total more than the combined losses of the preceding 40 years.
And it's not just California, with wildfires this year reported from Hawaii to Portugal. Global wildfire losses between 2018-2022 are estimated at US$69 billion, with US$39 billion paid out by insurance companies.
And it's anticipated the problem will only get worse.
85% of wildfires in the US are caused by humans, but land-use change, poor forestry management and climate change mean the fires are burning longer and hotter. A UN report warns extreme fires could increase by 30% by 2050.
This often means higher premiums, ending of policies, decrease in coverage exposure, as well as passing on risk to reinsurance (aka insurance for insurance companies).
For example, just in California, which is at the forefront of the crisis: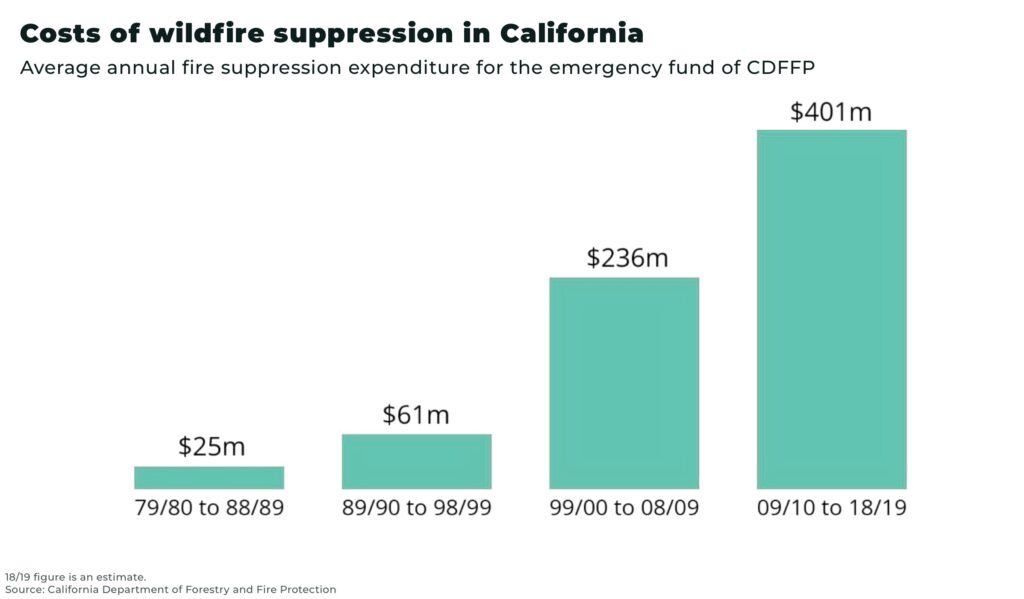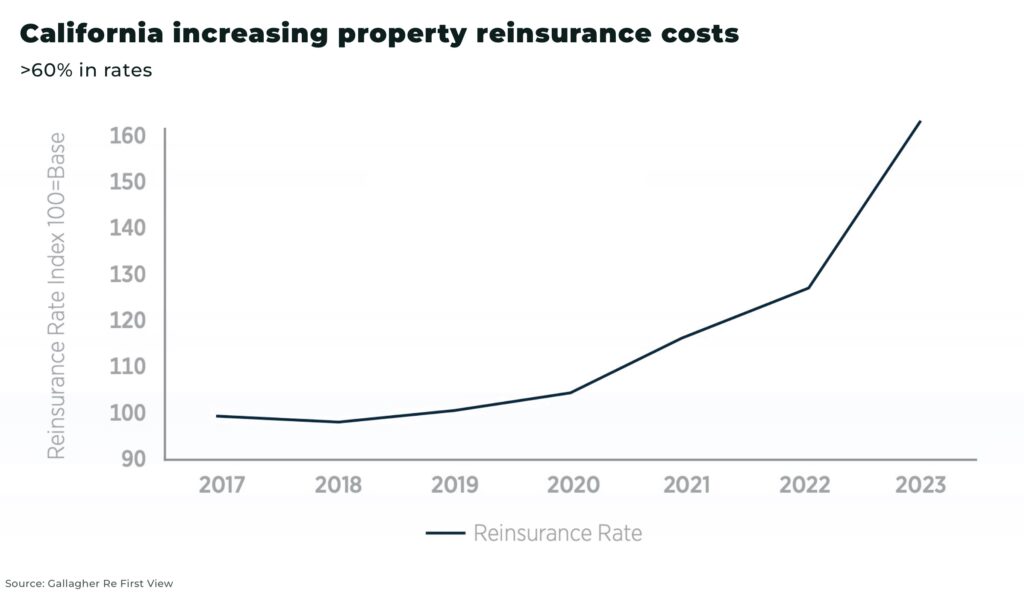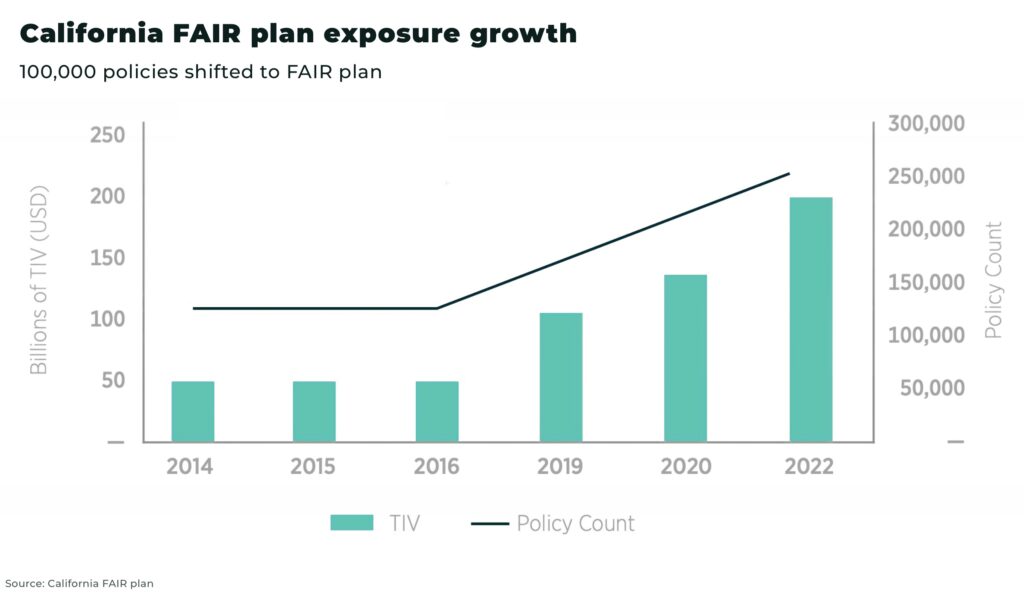 Subscribe for Investment Insights. Stay Ahead.
Investment market and industry insights delivered to you in real-time.
"State Farm's provider of homeowners insurance in California, will cease accepting new applications including all business and personal lines property and casualty insurance, effective May 27, 2023… State Farm General Insurance Company made this decision due to historic increases in construction costs outpacing inflation, rapidly growing catastrophe exposure, and a challenging reinsurance market"

— State Farm
Artificial Intelligence
AI offers to both help
fight wildfires
and the growing crisis in insurance
Fighting fires with AI
AI uses a vast network of high-definition cameras, live video feeds, drones, ground sensors, satellite imagery and aerial photography all feeding data into algorithms to be processed in real-time to, not only detect, but possibly predict fires.
You can view what such a system looks like at ALERTCalifornia, launched this year, with a public network of 1,000 cameras live online.
Wildfires are inherently difficult to predict and can spread quickly, so relying on manual human observation can lead to dangerous delays that allow wildfires to get out of control.
In contrast, the ALERTCalifornia AI program recently spotted a fire at 3am — when most people are asleep — in the remote scrubland of Cleveland National Forest, about 50 miles from San Diego. The AI automatically alerted a fire captain who called in support and, within 45 minutes, the fire was extinguished.
And the AI learns to become more accurate as more data is pulled in.
Combined with weather and climate data, including an array of variables such as regional vegetation, drought indices, etc some models claim to correctly predict wildfires 80-95% of the time — although, it should be noted, for now, models often miss many fires that occur, devaluing their use as an early-warning predictive system.
Affordable insurance with AI
Insurance companies are increasingly struggling to price policies accurately. Not only because of the unpredictable nature of wildfires, but also due to their reliance on decades-old models that work on regional-wide data, often updated every few years, to price risk.
AI promises to revolutionize the traditional insurance model by processing much more data, faster, as well as providing individual evaluations, for example, using regional wildfire loss history and property-specific variables, such as roof material, sprinklers, slopes, access for firefighters, vegetation and urban density, and many more.
For example, one property analytics and risk platform for insurance, ZestyAI, claims they calculated only 4% of California's residential properties are at risk of wildfires, compared to 21% by FAIR.
Another, kettle.ai, suggests 25% of California was being penalized for wildfire risk in just 0.1% of the country.
And California is already acting on this new data.
Subscribe for Investment Insights. Stay Ahead.
Investment market and industry insights delivered to you in real-time.
California wildfire regulation
In 2022, California became the first state in the US to require insurers to offer discounts to property owners for reducing wildfire risk.
It's new regulation that is almost impossible without AI.
To properly inspect millions of homes for Class A fire-rated roofs, non-combustible zones, sprinklers and a variety of other fire mitigation efforts, it would be almost extremely time-consuming to send inspectors to each property.
AI presents insurance companies with a model for use at scale to process these new regulations efficiently — and AI companies are already announcing AI-powered tools in compliance with the new rules.
Challenges
The insurance industry, by it's very nature, is risk-averse. Despite the acuteness of the challenge and the availability of a potential solution, it will take time for the technology to be fully embraced.
The same is for governments. The California Department of Insurance may lead the way, but it took three years and, according to those involved in the process, was still "difficult".
However, this may provide an opportunity.
One of the biggest challenges to a wider roll-out of AI is a lack of data available for models to process the huge number of variables for different locations at risk of wildfire. The more time for AI to work on their models, the better the results.
For example, creating wildfire systems that can accurately distinguish between smoke, low-hanging cloud, dust, haze, mist, and fog requires extensive datasets with varying environmental conditions.
The risks of AI controversy were also highlighted after recent push-back by property-owners against an updated wildfire map in Oregon state. The Oregon Department of Forestry now plans to redraw its wildfire hazard map after it labeled nearly 80,000 structures as high-risk and received over 2,000 comments from residents.
"There wasn't enough time to allow for the type of local outreach and engagement that people wanted, needed and deserved"

— Oregon State Forester Cal Mukumoto
Subscribe for Investment Insights. Stay Ahead.
Investment market and industry insights delivered to you in real-time.
Conclusion
The number of wildfires in the world has steadily declined since 2001, but we are seeing in specific locations many more severe fires, as they are made more likely and much worse by climate change and poor forestry management (lower water levels, warmer temperatures, uncleared brush).
"Of the 10 years with the largest acreage burned, all have occurred since 2004, including the peak year in 2015. This period coincides with many of the warmest years on record nationwide"

— EPA, Climate Change Indicators, Wildfires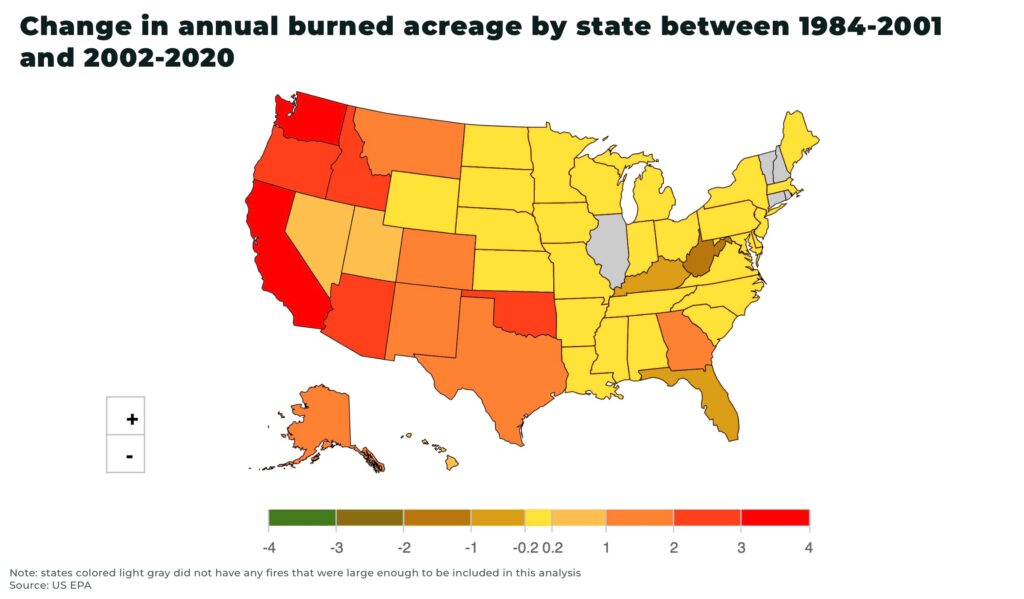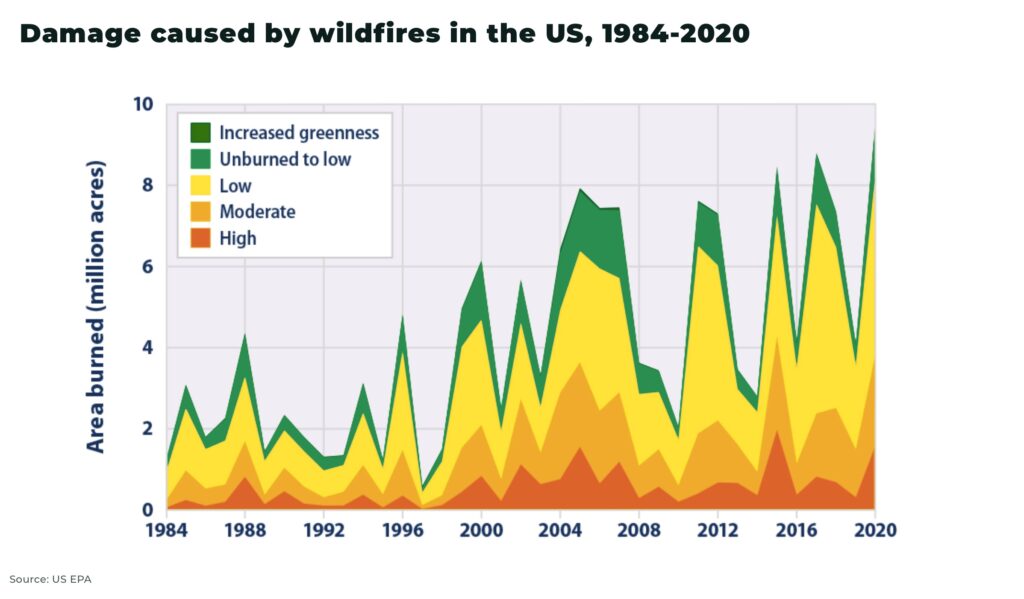 Whatever the cause, governments and companies are turning to AI for a solution.
A variety of startups are raising tens of millions each, as well as investment and deals from large insurance companies. Although there are few specific figures on direct investment into wildfire artificial intelligence, in a recent report 65% of insurance companies plan to invest US$10 million or more in AI over the next 3 years, prioritizing AI tech, according to executives surveyed.
Note, the estimated value of the two markets in focus:
the global insurance market is forecast to be valued over US$6 trillion in 2025.
AI is estimated to have the potential to increase corporate profits by US$4.4 trillion a year
In particular, so-called Insurtechs have seen investment increase from US$7.2 billion in 2019 to US$14.6 billion in 2021.
The promise is not just in fighting wildfires, but using AI against floods, landslides and possibly even volcanoes and other natural disasters.
Subscribe for Investment Insights. Stay Ahead.
Investment market and industry insights delivered to you in real-time.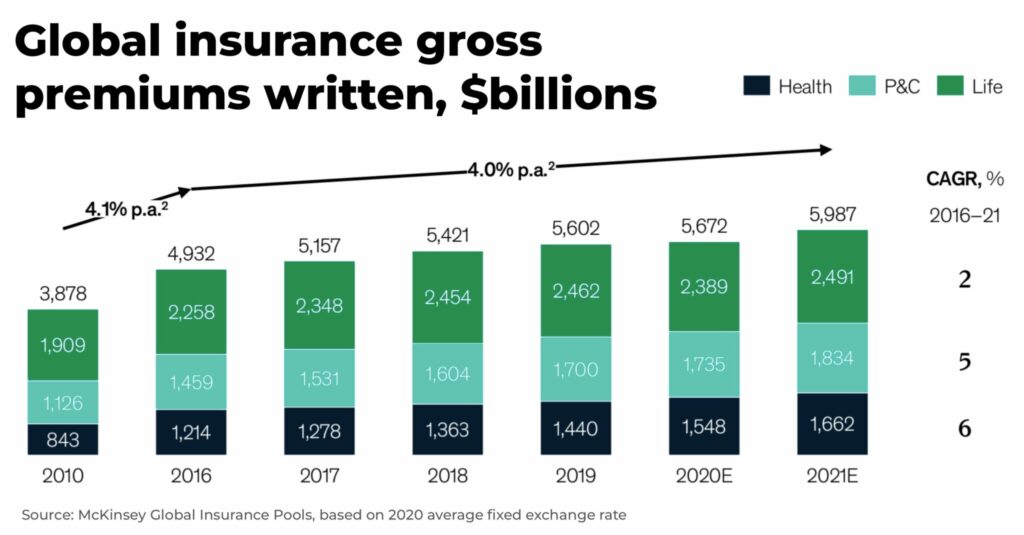 After its recent experience of wildfire destruction, California is leading the way in trying to tackle the crisis. And, despite the challenges, adoption of AI has the potential to be taken up much faster than expected.
We expect this to particularly be the case in regions with high risk of wildfires, such as the US, Canada, Southern Europe and Australia.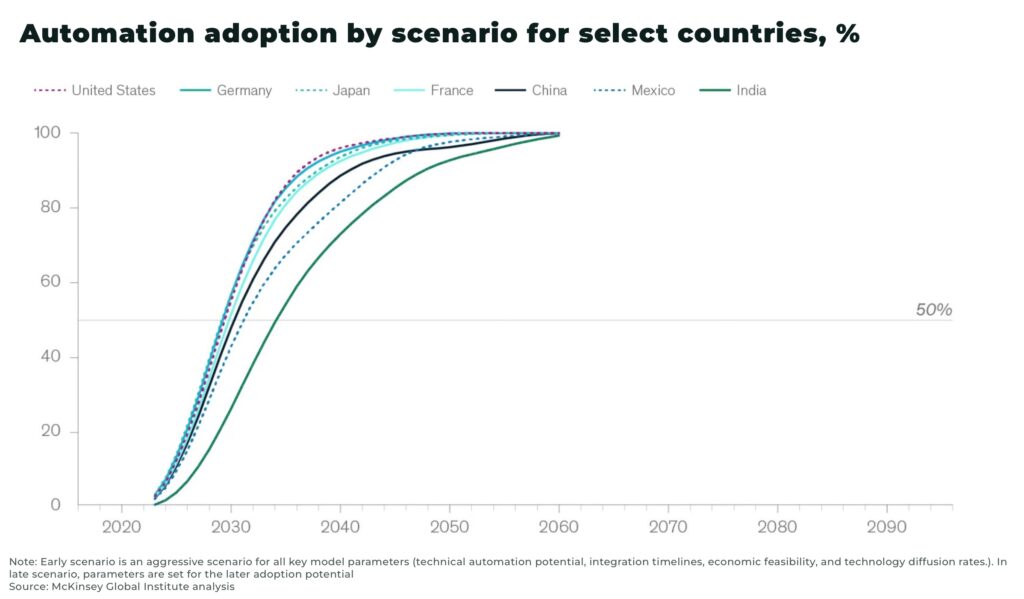 To gain exposure, investors have two main options:
major insurance companies, with a particular focus on AI research and investment
AI start up companies with a focus on wildfires and climate change
Stay Subscribed.
Company sponsored spotlight:

Aisix Solutions Inc (TSX.v: AISX / OTCQB:AISXF)

Aisix Solutions a Vancouver based global climate risk and data-analytics solutions provider trusted by organizations and consumers seeking a more predictive future.

With experience in artificial intelligence, data analytics, and climate risk assessment, they are on a mission to offer precise assessments that help people, businesses, and governments effectively manage climate-related risks and promote resilience in the face of climate change.
Subscribe for Investment Insights. Stay Ahead.
Investment market and industry insights delivered to you in real-time.