---
price of cobalt close to record highs not seen since the surge of 300% in 2018
global battery electric vehicle sales in Q1 2022 double Q1 2021
for investors, in the longer-term, cobalt is in a new price range and the trend is up
---
Subscribe for Investment Insights. Stay Ahead.
Investment market and industry insights delivered to you in real-time.
The price of cobalt has been close to record highs not seen since the surge of 300% in 2018. A fall is coming but, this time, the fundamentals mean the price could spring back and stay higher, for longer.
The global cobalt market is dominated by the Democratic Republic of Congo and China. This supply axis is now under severe strain, just as demand is hitting new highs.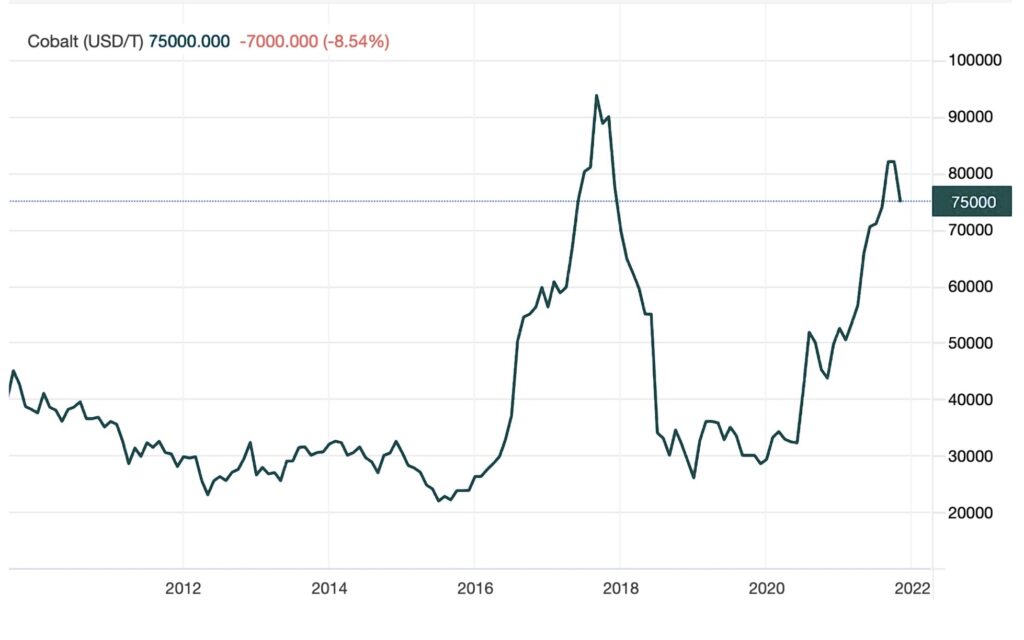 In 2018, cobalt hit a peak of nearly $100,000 a ton as investors overstocked on fears of a trade war between the US and China. The trade war never happened.
Congo holds over 50% of known global reserves and produced over 70% of global cobalt mine production in 2021. China is responsible for processing over 65% of global cobalt. Now, both countries are running into logistical challenges.
Let's start with the Congo. To transport the cobalt out of the country to the ports in South Africa involves navigating pot-holed roads blocked by lines, often tens of kilometres long, of trucks that are vulnerable to expensive road tolls and bandits. The congestion slows down supply but, more importantly, the South African trucking firms are starting to stay away. In the time it takes to make one trip into Congo, they can instead run numerous other trips and make as much money.
And, even when the cobalt does get on a ship, it struggles to get into China. The Chinese government has shut down many of its major cities, including Shanghai, as part of its "zero-Covid" strategy. This shutdown affects the ports where the cobalt is offloaded and the factories where it's processed. Output of refined cobalt in April was down 7% in March at 9,700 tonnes, with cobalt sulphate at 5,473 tonnes, down 4.8%, according to one state-backed report.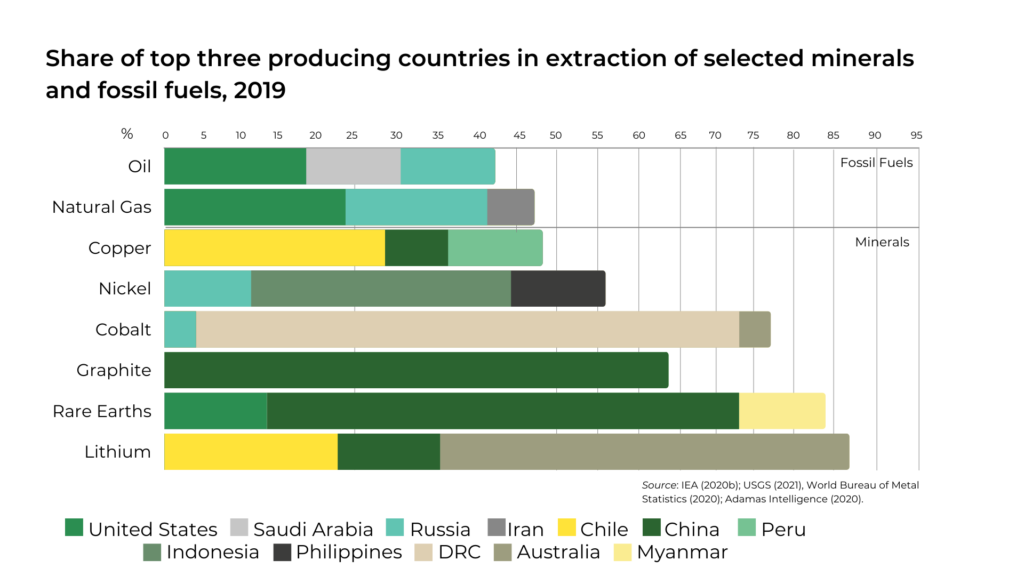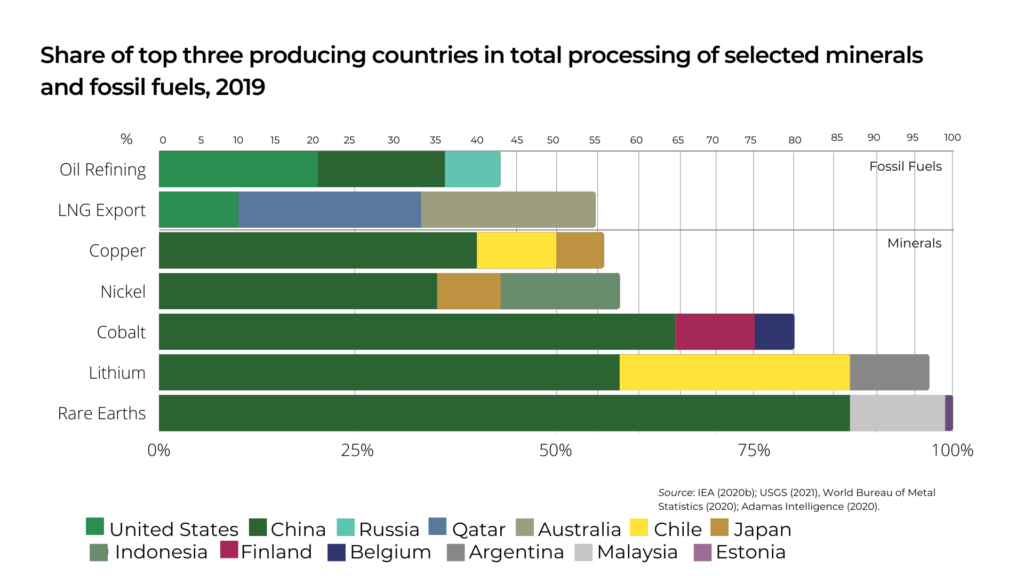 Then there's Glencore, by far the world's largest cobalt producer, who have lowered their production guidance for cobalt in 2022. In April, declared force majeure on its delivery commitments for cobalt hydroxide out of the Congo due to severe flooding in the South African port city of Durban.
Are these short-term problems?
The Congo has no major infrastructure investment plans. The problems with roads, rail, ports and truckers will remain for years. It's not a problem the cobalt supply chain has not dealt with before, but it can throttle any plans to rapidly expand supply to meet demand.
Chinese President Xi Jinping and the Politburo are doubling down on their "zero-Covid" strategy. Even in Beijing, many business have been shutdown and people told to work from home. Despite the economic pain, the government is tightening their regional lockdowns.
These lockdowns are behind the recent fall in prices, dampened demand (and higher prices) has meant cobalt refiners and cathode makers in China are lowering their production in the short-term.
But when the Covid restrictions in China are lifted and industry ramps up again, demand is expected to significantly increase over the next few decades. Cobalt is used in alloys and tools but, most importantly, is an essential element in electric batteries, in particular for electric vehicles.
Subscribe for Investment Insights. Stay Ahead.
Investment market and industry insights delivered to you in real-time.
Global battery electric vehicle sales in the first quarter of 2022 were more than double those recorded in Q1 2021, up 55% in Europe and 100% in the US. For the first time in the UK, overall electric vehicle sales registered a market share of more than 50%.
So far, despite global uncertainty, inflation and supply chain concerns, the market for electric vehicles seems only to be increasing faster than expected. And governments are pushing hard on the accelerator: California is the first US state to propose banning the sale of gasoline cars by 2035, joining countries like China, Japan, UK, South Korea, Germany and many more.
"For the longer-term, cobalt is in a new price range and the trend is up."

Anthony Milewski — The Oregon Group
But the supply problems are already hitting producers. Volkswagen, which sold nearly 100,000 electric vehicles in Q1 2022, announced they have sold out of their electric cars because of supply chain issues.
And it's not just batteries. Cobalt is used in super alloys for commercial planes and military aircraft. As much of the world moves on from national covid restrictions, commercial flights are busy again. And the war in Ukraine has increased demand for military aircraft.
While we're on the war in Ukraine, the second biggest producer of cobalt in the world is Russia. There have been no formal sanctions on the export of cobalt from the country, but some companies have already decided to take their business elsewhere regardless.
So, what events could intrude on cobalt's rise? A scientific discovery that renders cobalt unnecessary in battery production is possible but, in the unlikely event it was discovered tomorrow, it would take many years to go mainstream. A possible recession and rising inflation will hit consumer pockets but the pressing need to combat climate change is not going anywhere except up. The US and EU have realised that their dependence on China's refining is a risk and are looking to diversify with processing factories of their own but, again, this will take years.
And then there's the possible black swan events that could tip the market other way. For example, rising food and petrol prices may spark protests in the Congo; climate change may bring about more floods in South African ports; or perhaps, a new coronavirus variant prompts more lockdowns in China.
After the fall of the cobalt price in 2018, the cobalt market remains small with a reduced number of participants, and so is subject to price swings in a volatile geopolitical environment. But, for the longer-term, cobalt is in a new price range and the trend is up.
Subscribe for Investment Insights. Stay Ahead.
Investment market and industry insights delivered to you in real-time.