The US Inflation Reduction Act (IRA) will significantly increase demand for critical minerals — cobalt, lithium, nickel and copper — and it will be "very challenging" to meet this new demand, according to the latest S&P report.
demand for cobalt, lithium, nickel, taken together, will be x23 higher in 2035 than 2021
demand for copper will be x2 as high
This growth is equivalent to compound growth rates of 25% for cobalt, lithium, nickel, and 4% for copper.
"The IRA impacts minerals in two ways. On the demand side, it does so by providing major stimulus and subsidies for a wide range of mineral-intensive decarbonization technologies, from electric cars to off-shore wind turbines. On the supply side, it seeks to promote mineral development by imposing percentage requirements for mineral content from the United States or countries with which it has a free trade agreement ("FTA countries"). These requirements rise quickly. To qualify for IRA tax credits, 50% of the critical minerals in a vehicle's battery (by value) must meet these requirements in 2024 — rising to 80% by 2027. The IRA also seeks to reduce reliance on "foreign entities of concern""

— Inflation Reduction Act: Impact on North America metals and minerals market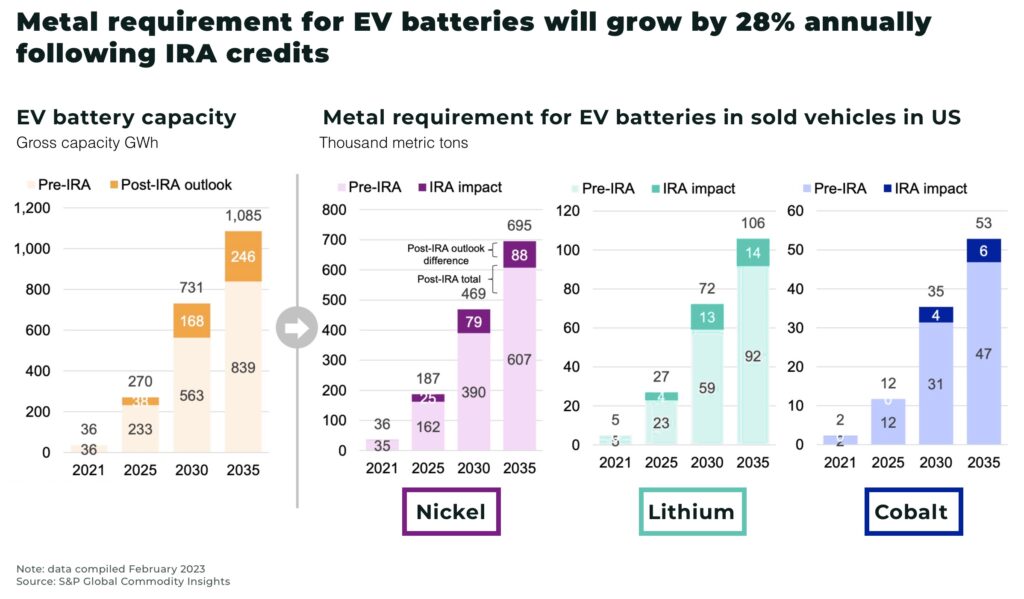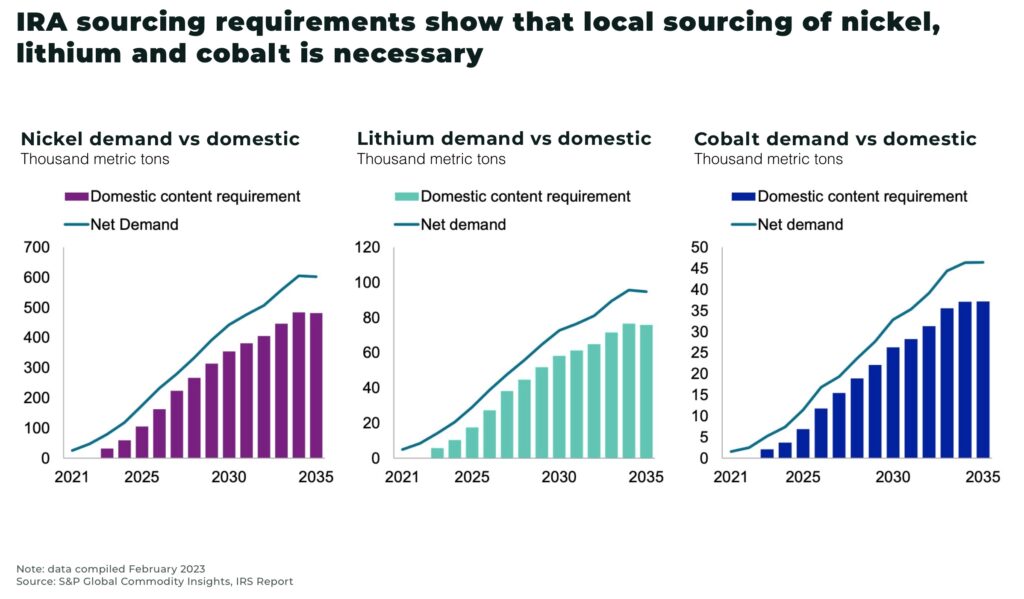 Domestic demand for will also challenge the US mining sector as local or FTA-sourced (free trade agreement) supply will likely be a major challenge for EV manufacturers looking to maximize IRA incentives.
Our report on how America's ambitious plans to invest almost US$1.6 trillion to counter climate change and update infrastructure will support demand worth almost $160 billion at today's values for copper, cobalt, lithium, graphite and nickel by 2040, according to our estimates: