---
lithium demand forecast to increase x40 by 2040
lithium prices reached US$80,800 per tonne in 2022, an increase of 1,000%
Zimbabwe holds some of the world's largest hard rock lithium reserves
China has invested over US$1.4 billion in Zimbabwe lithium projects
---
Subscribe for Investment Insights. Stay Ahead.
Investment market and industry insights delivered to you in real-time.
Demand for lithium is forecast to increase up to x40 times between 2022 – 2040, driven by global sales of electric cars and batteries.
The top three lithium producing countries are currently Australia, Chile and China, accounting for over 90% of global production.
But, with prices (hitting US$80,800 per tonne in November 2022, a rise of over 1,000% since the start of last year) and demand soaring, lithium production is being ramped up across the world. For example in the "lithium triangle" — Chile, Bolivia, Argentina — which holds roughly 85% of the world's lithium reserves.
And, Zimbabwe.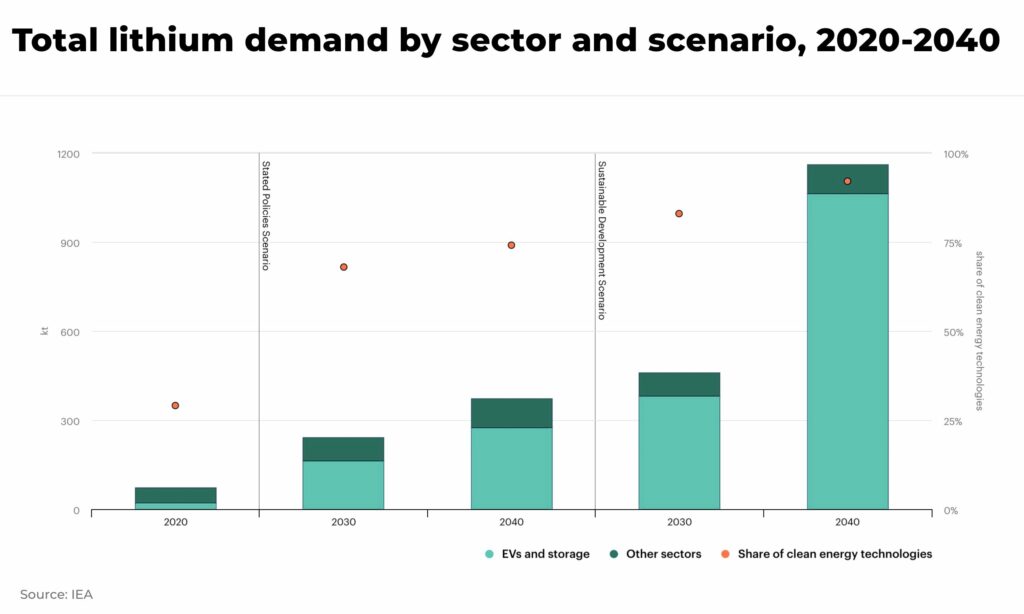 Lithium reserves
Zimbabwe holds some of the world's largest hard rock lithium reserves and was the sixth largest lithium producer in the world in 2021, according to US Geological Survey data.
The Bikita Minerals lithium mine in Masvingo province, is believed to be the world's largest-known deposit of the metal.
And production is set to ramp up quickly and significantly.
There are currently six hard rock lithium projects in the country, either operating or under construction (expected to be operational in the next 90-120 days), and there are more mines planned.
The projects represent over US$1.4 billion of investment from Chinese mining and battery manufacturing companies over the past year, advancing China's pursuit of critical minerals for the global energy transition:
Sabi Star Lithium Tantalum Project, US$76.5 million, aims to produce 1 million tonnes of lithium ore annually
Arcadia Hard Rock Lithium Mine, US$422 million, is considered one of the world's largest hard rock lithium reserves
Bikita Hard Rock Lithium Mine, US$380 million, plans to increase mining and processing capacity to 1.2 million tonnes per year, and build out a new production line with 2 million tonnes per year
Equity & construction of a high capacity pilot plant at Zulu Lithium Project, US$49.37 million
A lithium-salt processing plant, US$450 million, with a planned capacity of 130,000 tonnes per year
But the reason investors are choosing Zimbabwe is not just about the country's lithium reserves.
Infrastructure
Zimbabwe is not the only country in Africa with significant lithium reserves but, unlike for example the Congo, Zimbabwe has a well established road and rail network for the transportation of goods and ore. Last year, a national Emergency Road Rehabilitation Program was launched to repair the national road network and attract further foreign investment.
Dollar Economy
Zimbabwe's economy has been "dollarized" – it runs on the US dollar — after hyperinflation hit the national currency in 2007.
For foreign investors, this means everyone deals in US dollars, helping to facilitate investments.
Subscribe for Investment Insights. Stay Ahead.
Investment market and industry insights delivered to you in real-time.
Foreign Direct Investment support
The government in Zimbabwe is working to improve the ease of doing business in the country, enacting the Zimbabwe Investment and Development Agency (ZIDA) in 2020, serving as a one-stop-shop center to promote and facilitate both domestic and foreign investment.
In October 2019, the government outlined an ambitious target to quadruple mining sector revenue to US$12 billion by 2023 as part of its long-term economic reform. According to the Finance Minister, the mining sector is expected to grow by 10.4% in 2023.
Foreign investors are free to invest in most sectors of Zimbabwe's economy, including mining without any restrictions. Importantly, in 2020, the government amended its Indigenization and Economic Empowerment Act, which required majority ownership by indigenous Zimbabweans.
As part of this initiative, the government has given approval for a 5,000 hectare integrated US$2.83 billion battery-metals park proposed by Chinese investors to be constructed by 2025.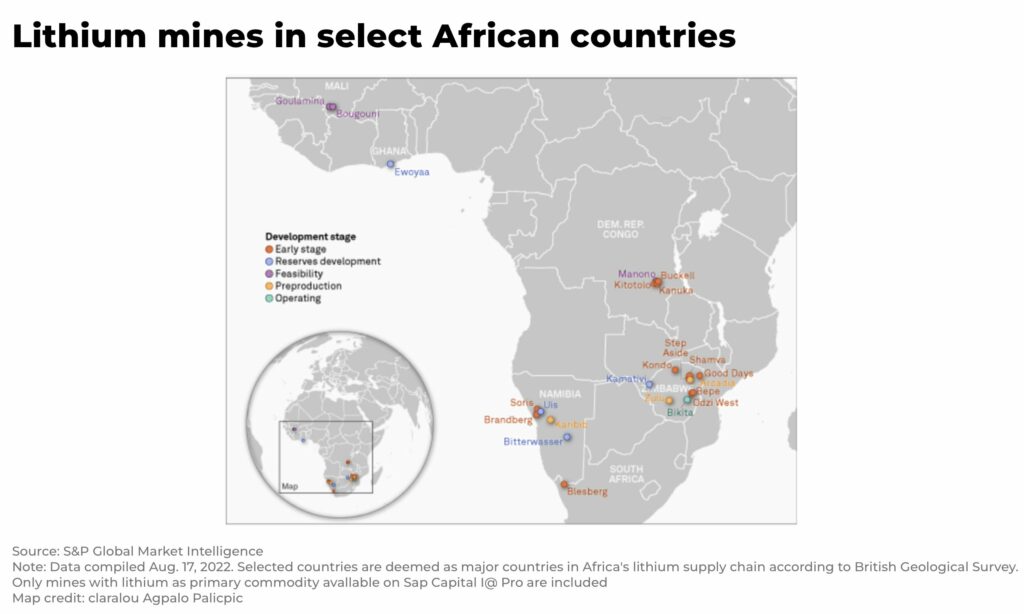 Geography
The Port of Beira in Mozambique serves as the shipping and logistics gateway to Central Africa with road and rail access to Zimbabwe, a landlocked country.
The port is also only 7,907 nautical miles from the Port of Shanghai, China, where lithium can be offloaded and processed — over 60% of lithium processing and refining capacity is based in China, which produces 75% of all lithium-ion batteries.
Rule of Law
Zimbabwe, in December 2022, banned the export of unprocessed lithium, with exemptions for large producers. The reason, with lithium prices so high, is that an increasing number of artisanal workers were digging up the lithium hard rock and taking it across the border to be shipped unprocessed. One wheelbarrow could be worth US$10-20.
This type of inefficient Direct Shipping Ore (DSO) is now illegal, further supporting and encouraging foreign investment.
Hard rock lithium
There are two main types of commercial lithium: brines and hard rock.
Brines occur mostly in the "lithium triangle" of Argentina, Chile and Bolivia, and are extremely capital intensive, with mines typically coming into production after 6-15 years of development.
Hard rock, or pegmatites that contain the lithium-bearing mineral spodumene, now represents the majority of global lithium supply (particularly from Australia).
One of the few Western lithium mining interests in Zimbabwe, Premier African Minerals, plans to start shipping 50,000 tonnes in March 2023 after signing a US$35 million deal in July 2011. With today's lithium prices, that CapEx could be repaid in under two months.
Hard rock lithium mines tend to be less CapEx intensive and faster to production than lithium brine operations which require the construction of vast evaporation ponds. Hard rock lithium is perfect for an industry that needs more lithium as soon as it can be shipped.
Subscribe for Investment Insights. Stay Ahead.
Investment market and industry insights delivered to you in real-time.
Lithium is needed now
A doubling of lithium prices can increase electric battery costs by 6%. And with rising mineral prices, raw materials for electric batteries now account for 50-70% of the cost, up from 40-50% in 2018.
Yet expected supply from existing lithium mines and projects under construction are projected to meet only 50% of lithium requirements by 2030.
Rising battery costs obviously can impact selling prices and consumer sales, so manufacturers of electric cars and batteries are desperate for a faster lithium supply.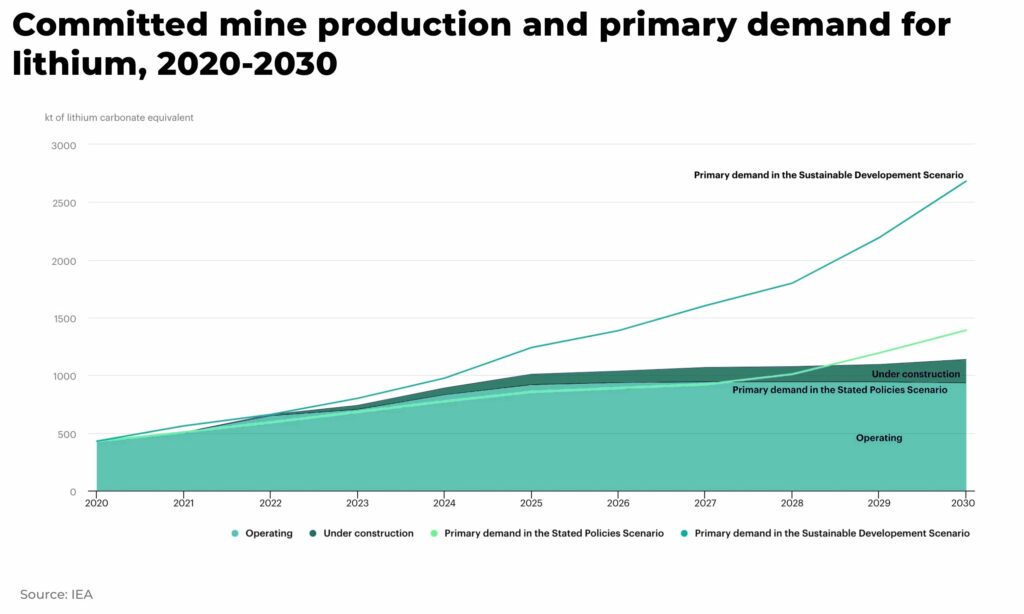 How to find exposure to lithium in Zimbabwe
For the adventurous, there are currently two hard rock lithium projects in Zimbabwe that are being developed by European and Canadian listed public companies:
Li3 Lithium Corp. (TSX-V: LILI)
Li3 Lithium is focused on acquiring and developing hard rock spodumene lithium assets in Zimbabwe and elsewhere in Africa, where the founders have significant experience and relationships. As evidenced by recent market growth, hard rock lithium deposits are forecast to continue to dominate the global supply of lithium given the scarcity, complexity and capex-intensive nature of alternative brine sources. At present, spodumene concentrate is at a record high price of US$5,500/tonne and forecast to go higher.
The Mutare Lithium Project consists of 1,500 hectares of licenses retained within the Mutare Greenstone Belt. The area was deemed prospective for lithium-cesium-tantalum pegmatites based on prior target generation work. Management believes the lithium exploration potential of the Mutare Greenstone Belt is analogous to that of the Pilbara Craton pegmatites in Western Australia.
Premier African Minerals Limited (AM:PREM)
Premier African Minerals Limited (AIM: PREM) is a multi-commodity mining and natural resource development company focused on Southern Africa with its RHA Tungsten and Zulu Lithium projects in Zimbabwe.
The Company has a diverse portfolio of projects, which include tungsten, rare earth elements, lithium and tantalum in Zimbabwe and lithium and gold in Mozambique, encompassing brownfield projects with near-term production potential to grass-roots exploration. The Company has accepted a share offer by Vortex Limited ("Vortex") for the exchange of Premier's entire 4.8% interest in Circum Minerals Limited ("Circum"), the owners of the Danakil Potash Project in Ethiopia, for a 13.1% interest in the enlarged share capital of Vortex. Vortex has an interest of 36.7% in Circum.
In addition, the Company holds a 19% interest in MN Holdings Limited, the operator of the Otjozondu Manganese Mining Project in Namibia.
Zimbabwe is poised to quickly become a major player in the lithium global supply chain, but the scramble for lithium in Zimbabwe has just begun. Stay subscribed.
Subscribe for Investment Insights. Stay Ahead.
Investment market and industry insights delivered to you in real-time.