Uranium ore processing by nuclear fuels company, Orano, in Niger has been halted as international sanctions against a military junta are impacting logistics.
"Given the ongoing closure of Niger's main supply corridor and diminishing stocks of chemical products, the SOMAÏR site has implemented a gradual reorganization of work by bringing forward its maintenance activities. These measures will mitigate the impact of logistical difficulties and enable production to resume under optimum conditions as soon as the situation permits"

— Orano, Situation update, Sept 8, 2023
Niger is the seventh largest uranium exporter in the world, producing 5% of the world's uranium, and is especially important for Europe as it represent's more than 24% of the EU's uranium imports.
The move comes as the Nigerien military junta has accused France of dispatched troops and equipment to Senegal, Ivory Coast and Benin as "part of preparations for an aggression against Niger", in collaboration with ECOWAS troops led by Nigeria.
The EU has declared they have three years worth of uranium stockpiles, although uranium analyst John Quakes suggests this inventory includes already converted, enriched and fabricated uranium, as well as reduced stocks from a pivot away from Russia.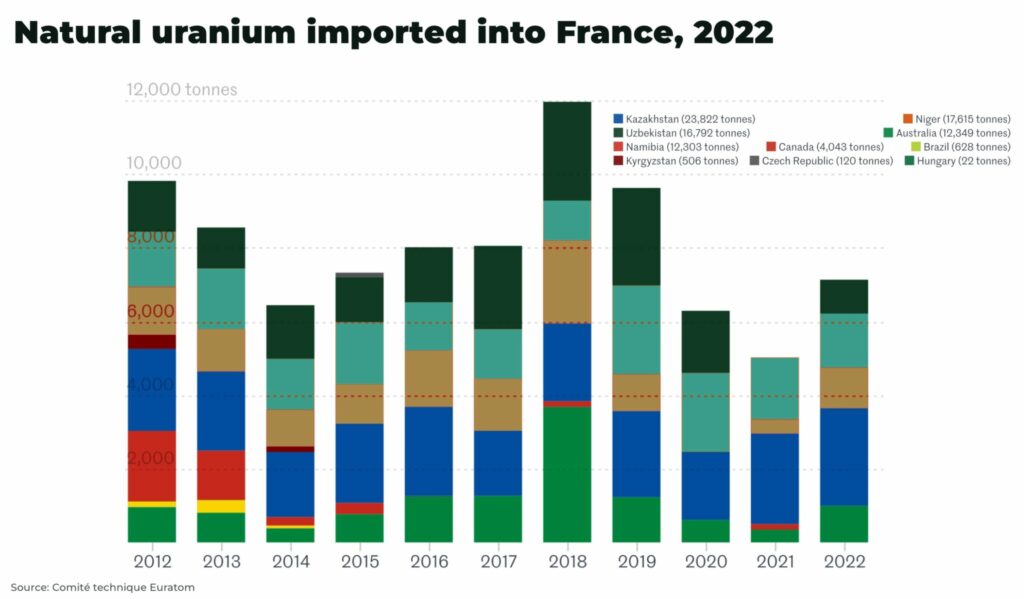 French nuclear fuel cycle company, Orano, is 90% owned by the French state and runs 3 uranium mines in Niger, Somaïr, Cominak and Imouraren. Only one of the mines is currently in production and Orano has not yet halted operations but, long-term, Imouraren holds of the world's largest uranium deposits.
Our latest analysis warned that international sanctions were impacting uranium exports from Niger and of possible conflict in the region: