---
Niger supplies 24% of EU's uranium imports
Nigeria, France back military intervention as influence of Wagner rises
critical commodities playing more central role in global conflicts
---
Subscribe for Investment Insights. Stay Ahead.
Investment market and industry insights delivered to you in real-time.
Nigeria's president Bola TInubu threatened military intervention in neighbouring Niger after a coup ousted democratically elected president, Mohamed Bazoum. America has called for the release of Mohamed Bazoum, and France's Foreign Minister has warned the threat of military intervention "must be taken very seriously."
What's this got to do with commodities?
Niger may produce only 5% of the world's uranium, the seventh largest uranium exporter in the world, but it represent's more than 24% of the EU's uranium imports.
This is a small economy with an outsized influence in the uranium market.
The crisis in Niger is a complex issue with a lot of domestic and regional dynamics — but it's also the latest in a new series of conflicts around the world where commodities play a central role, stretching from Niger to Pakistan, Ukraine to the Sino-Indian border.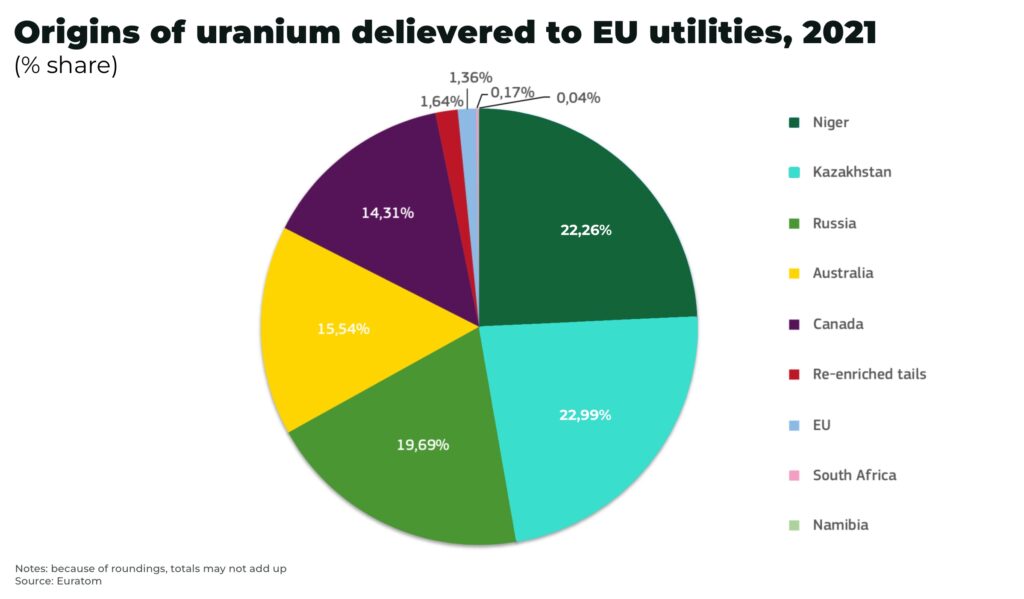 Not just another coup
This may sound like nothing new, another military coup in Africa, there have been 8 coups in 6 nations across the Sahel region in the last 3 years.
So, why was there not a threat of military intervention from outside forces in the other recent coups.
Firstly, let's be clear, as we mentioned at the top of this analysis, there are many, very significant local concerns, including:
General Abdourahamane Tchiani, the 62-year-old coup leader and self-proclaimed leader, has blamed insecurity, but was reportedly at risk of dismissal from his role as head of the presidential guards
Niger's real GDP grew 7.2% in 2022 and forecast to grow 7% in 2023, yet food prices and inflation are rising for many, in what is one of the poorest countries in the world with more than 40% of the population in extreme poverty
ethnic concerns, especially over military positions and president Mohamed Bazoum's background from the country's Arab minority
recent coups in neighbouring countries and weak institutions provided the pretext
To understand what makes it different this time — and why uranium plays a central role in this crisis — we need some background on the timeline and players:
Firstly, Abdourahamane Tchiani seems to be standing unexpectedly firm against significant Nigerian and Western pressure to stand down, cutting diplomatic ties with Nigeria, Togo, the US and France — and, more importantly, military ties with the US and France.
This matters because there are about 1,100 US troops and 1,500 French troops based in Niger.
The reason for the foreign troop deployment is to train and support the Nigerien military in the fight against Al-Qaeda, Islamic State and Boko Haram who are operating across the region.
But Niger has a long and complicated history with its former colonial power, France, which still runs the country's currency, the West African CFA franc, and views the country as critical to it's influence in the region.
And, whatever has happened behind the scenes between the US and the coup leaders, relations appear to have broken down.
As we said, it's complicated — but, all of the above has given an opening to the Russian mercenary group, Wagner. And this is key.
Subscribe for Investment Insights. Stay Ahead.
Investment market and industry insights delivered to you in real-time.
Russia and Wagner
We suspect Wagner had very little influence on the decision by Tchiani to commit to a coup, despite residents in Niger waving Russian flags soon after the coup.
But, as highlighted by Wagner's success in supporting the junta in neighbouring Mali, as well as a strategic alliance with the new military leaders in Burkino Faso, the mercenary group provides an alternative guarantor of security for the potential coup plotters.
Since the fall of the USSR, there were few guarantors of security that armed opposition groups around the world could turn to for support, giving the USA significant influence in pushing back against regimes that threatened their interests, the so-called unipolar moment.
This dynamic has now changed.
America has largely withdrawn from many of it's major overseas military engagements, for example, in Afghanistan.
And, Russia and China have stepped in to provide alternative source of support for regimes, for example, through China's Belt-and-Road initiative and Russia's Wagner group.
Wagner is a state-funded Russian mercenary group, with thousands of soldiers, widely regarded as an armed extension of Moscow's foreign influence, particularly in Syria, whilst also providing official deniability.
In Niger, soon after the coup, the leader of Wagner, Yevgeny Prigozhin, was quick to blame former colonial powers for the crisis:
"The population suffers. And this is the (the reason for) love for PMC (private military company) Wagner, this is the high efficiency of PMC Wagner. Because a thousand soldiers of PMC Wagner are able to establish order and destroy terrorists, preventing them from harming the peaceful population of states"

— Yevgeny Prigozhin, founder of Wagner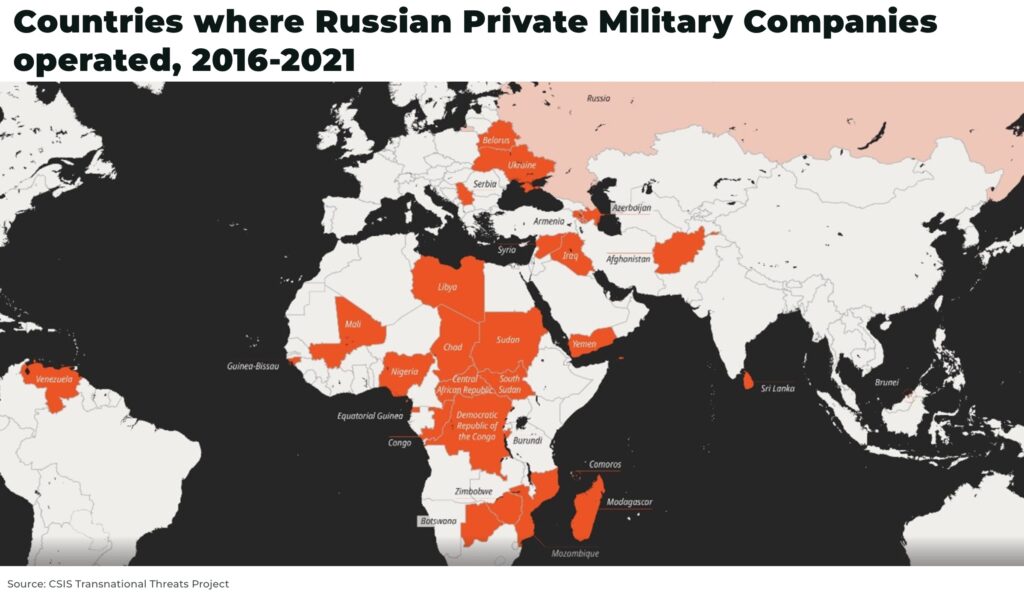 And now, the Niger junta has reportedly asked Wager for support against a possible military intervention.
A Wagner presence in Niger means Russian influence — with a focus on critical minerals.
"We believe that everywhere that Wagner goes, they bring death and destruction in their wake. They hurt local populations, they extract minerals and extract money from the communities where they operate"

— Matthew Miller, US State Department, Spokesman
As we've made clear, the US and France have a number of reasons – particularly their military bases and fight against Islamic extremism — to be concerned about Russian influence.
And, although there have been no official statements, we have little doubt that uranium supply is also a significant factor in any geopolitical discussions in Washington and Paris.
Subscribe for Investment Insights. Stay Ahead.
Investment market and industry insights delivered to you in real-time.
France and Niger's uranium
Niger uranium is of special importance to France, which generates 70% of it's national electricity supply from it's 56 nuclear reactors.
French nuclear fuel cycle company, Orano, is 90% owned by the French state and runs 3 uranium mines in Niger, Somaïr, Cominak and Imouraren. Only one of the mines is currently in production and Orano has not yet halted operations but, long-term, Imouraren holds of the world's largest uranium deposits.
Exports of uranium from Niger have effectively been halted after neighbouring countries closed their land and air borders. Of particular importance is Benin, which is a critical transport hub for the export of Niger's uranium.
However, this is not an immediate crisis.
Over the last decade, uranium imported into France came from a diversified supply chain, including: Kazakhstan (27%), Niger (20%), and Uzbekistan (19%).
And the EU has declared they have three years worth of uranium stockpiles, although uranium analyst John Quakes suggests this inventory includes already converted, enriched and fabricated uranium, as well as reduced stocks from a pivot away from Russia.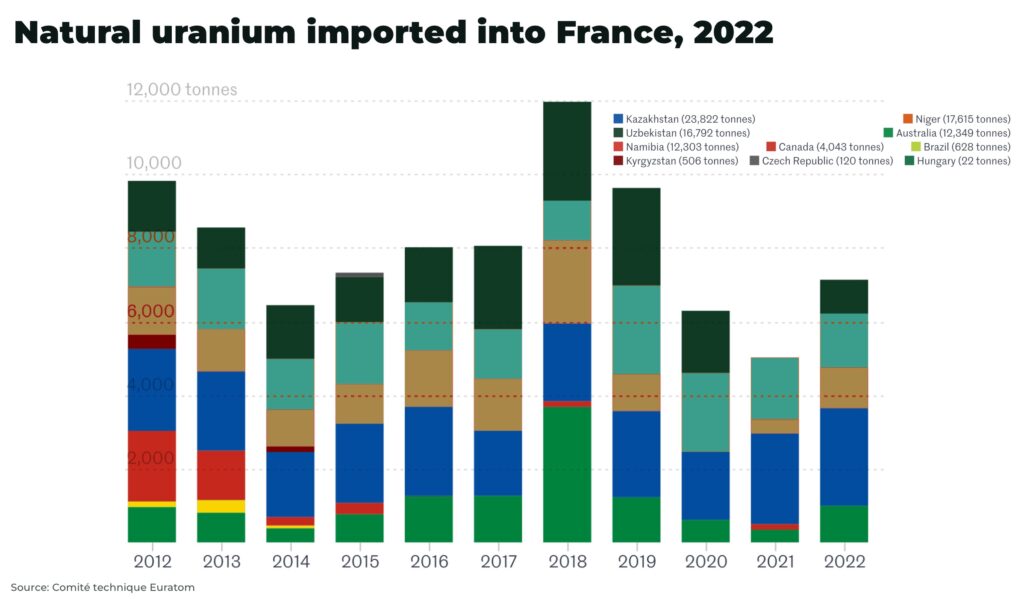 If uranium supply from Niger is disrupted significantly, then France will need to source from elsewhere, putting pressure on supply, just as demand is increasing.
Nuclear energy is undergoing a nuclear renaissance — see our report, The uranium bull market and the coming of the second atomic age — as countries try to lower energy costs that have spiked since Covid and the Ukraine war disrupted supply chains, as well as meet net zero targets. For example:
Western governments are desperate to avoid any further rises in energy costs, which have already driven up inflation, as well as forcing energy-intensive industry to shutdown across Europe.
And, as the US and Europe try to diversify and secure their supply chains of critical minerals after Covid economic lockdowns and the war in Ukraine exposed their vulnerability, the threat of Russian influence in Niger is ringing alarm bells.
Russia's uranium supply chain gambit
Russia was the world's sixth largest producer of uranium in 2022, with 2508 tonnes compared to Niger's 2020 tonnes as seventh largest producer.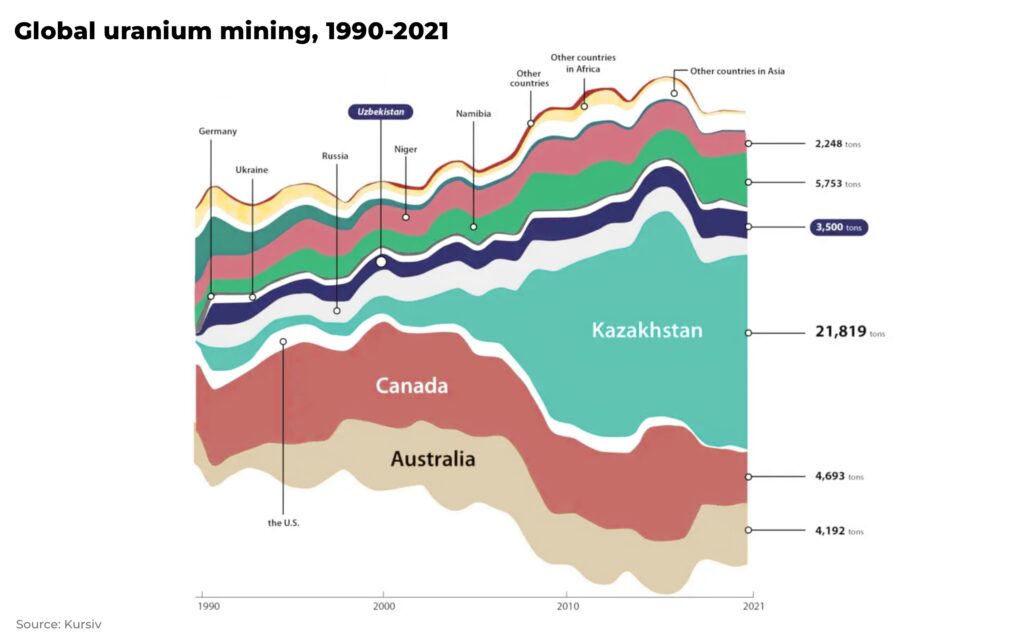 But, Russia also has significance influence over uranium production in Kazakhstan, which makes up 43% of global uranium supply, for example:
Kazakhstan recently approved the sale of a 49% stake in the country's second-largest uranium deposit to subsidiaries of Rosatom, Russia's state-owned nuclear company
in January 2022, the Russia-led Eurasia military alliance Collective Security Treaty Organization (CSTO), deployed troops to Kazakhstan to put down political unrest in support of the current president Kassym-Jomart Tokayev
a history of joint venture agreements worth tens of billions of dollars for exploration, mining, enrichment, as well as new nuclear reactors
(Read our analysis on the great game for Kazakhstan's resources: https://theoregongroup.com/energy-transition/mining/the-great-game-for-kazakhstans-resources/)
Subscribe for Investment Insights. Stay Ahead.
Investment market and industry insights delivered to you in real-time.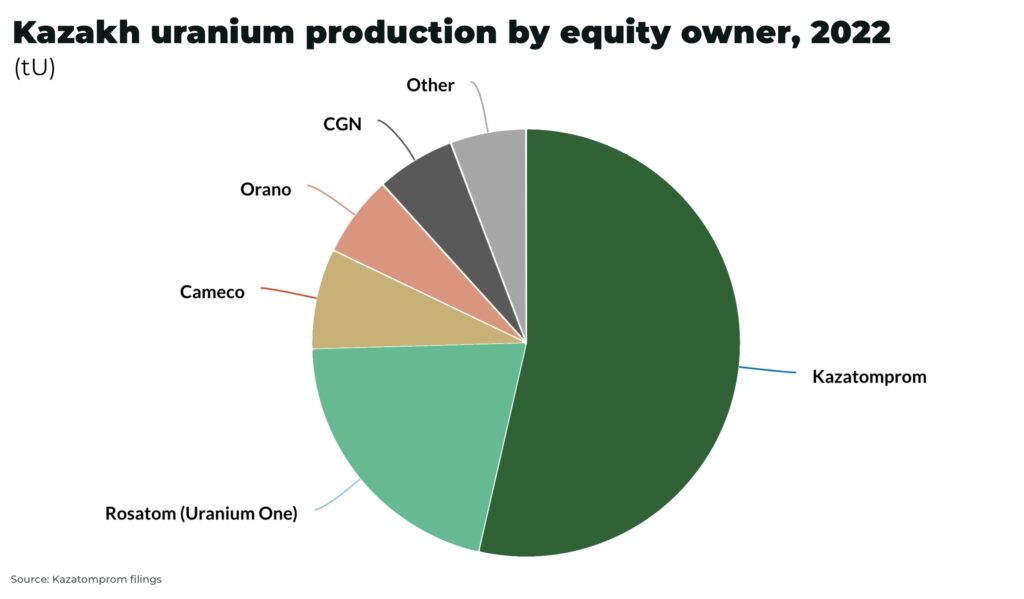 Critically, Russia accounts for almost half the world's uranium enrichment capacity, which processes uranium to fuel the majority of nuclear reactors operating or under construction around the world.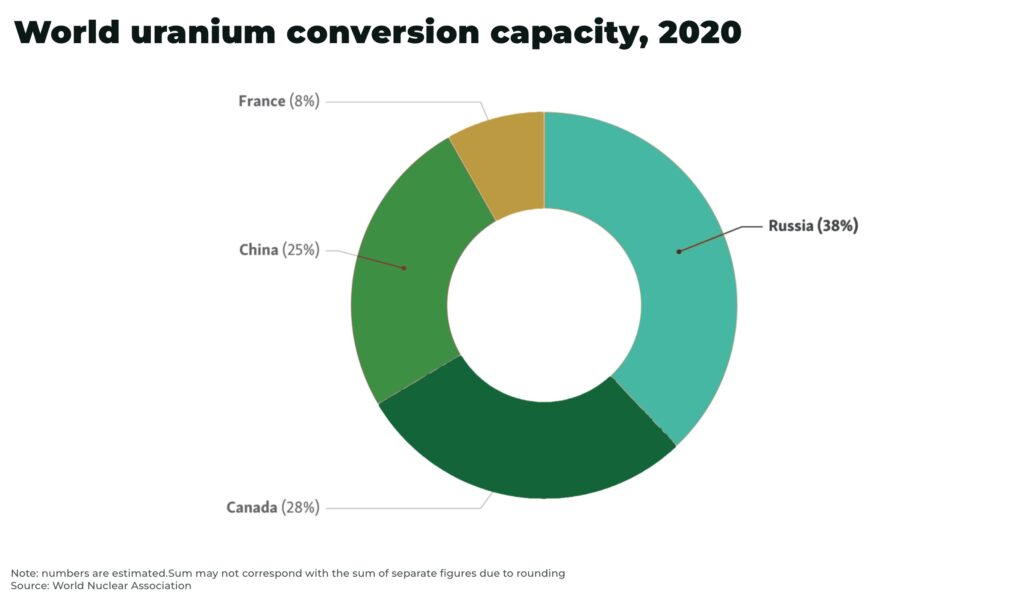 The US — the world's largest producer of nuclear power — is so concerned about the vulnerability of its uranium supply chain, it's investing US$700 million from the Inflation Reduction Act, as well as an "emergency requirement" request to Congress for US$1.5 billion to build out domestic production of high-assay low-enriched uranium (HALEU).
But this will take years to build out at scale.
In the short-term, supply is tight and vulnerable.
Conclusion
Niger's second largest export is uranium, after gold, worth more than US$284 million — almost 25% of the value of all Niger's exports.
Whoever runs the country, this is essential income, so we expect uranium exports to resume in the near future, unless a full blown civil crisis unfolds.
There is still opportunity for diplomacy to work — Nigeria's Senate has cautioned against military action — and Orano claims mining operations in the country continue as normal. The price of uranium has ticked up over concerns, but not sharply spiked.
But, Niger is a warning to commodity investors.
Commodities are increasingly at risk of playing a central role in local and international conflicts for geopolitical leverage and financial gain— putting the security of the commodities themselves at risk.
This will have a significant impact on how investment in critical minerals and energy commodities will play out.
We'll have a further update on the argument that the commodity wars are coming. Stay tuned.
Subscribe for Investment Insights. Stay Ahead.
Investment market and industry insights delivered to you in real-time.