---
Africa is global leader in greenfield investment projects
Africa has 30% of world's mineral resources and 12% of world's oil reserves
GDP growth for Africa estimated to be 4.6%, compared to 1.9% in the US, by 2027
population to grow to 2.5 billion people, half of whom will be under 25 years old, by 2050
---
Subscribe for Investment Insights. Stay Ahead.
Investment market and industry insights delivered to you in real-time.
Africa is the world's largest free trade zone with 1.3 billion people and US$2.9 trillion in total GDP across a land mass that could hold the US, Europe, China and India. The continent is split up into 54 nation states which, between them, are sitting on 30% of the world's mineral resources, 12% of the world's oil reserves, and 60% of world's arable land.
Put simply, Africa is a place of vast opportunity.
And investors are starting to notice: Foreign Direct Investment (FDI) into the continent reached a record US$83 billion last year, compared to US$39 billion in 2020*. It is also a global leader in greenfield investment projects by multinational enterprises with annual revenues of more than €750million.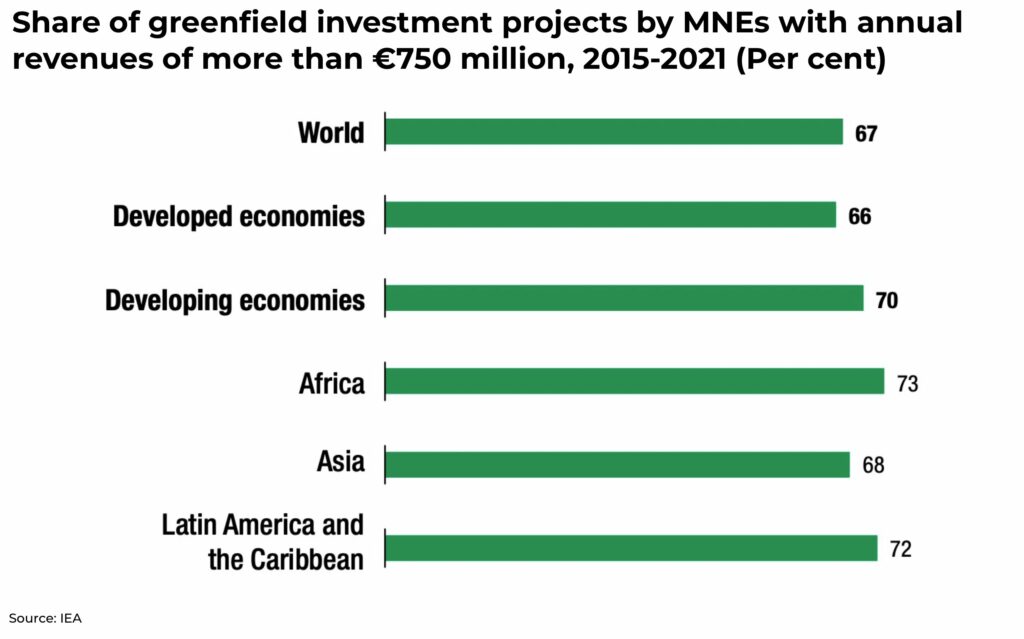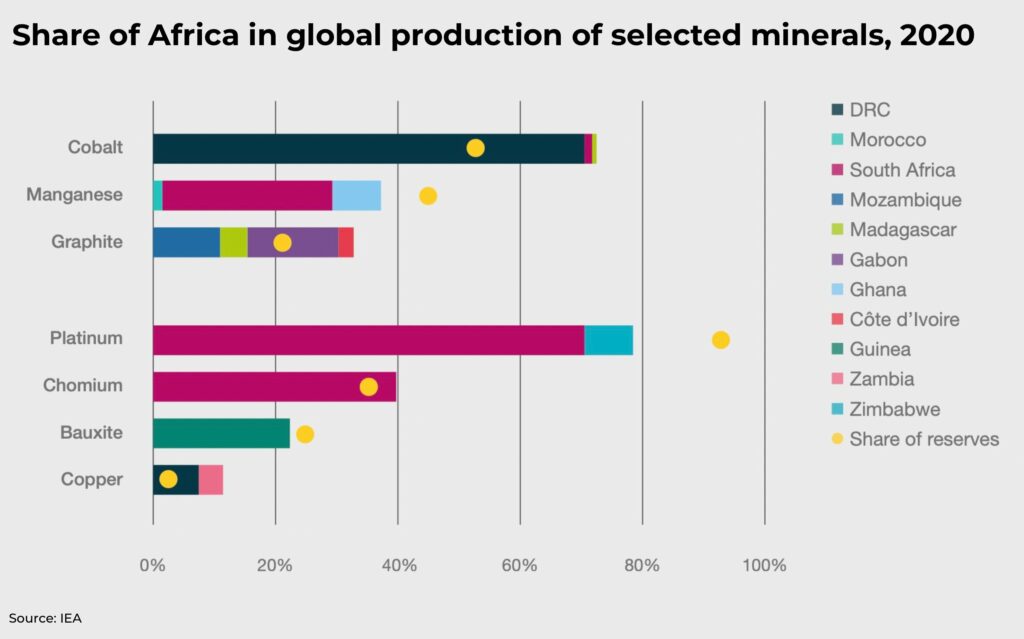 By 2027, the IMF estimates GDP growth for the region will be 4.6%, compared to 1.6% for Europe and 1.9% in the US.
Yet, compared to global investment in other regions, it is still the smallest share of FDI in the world.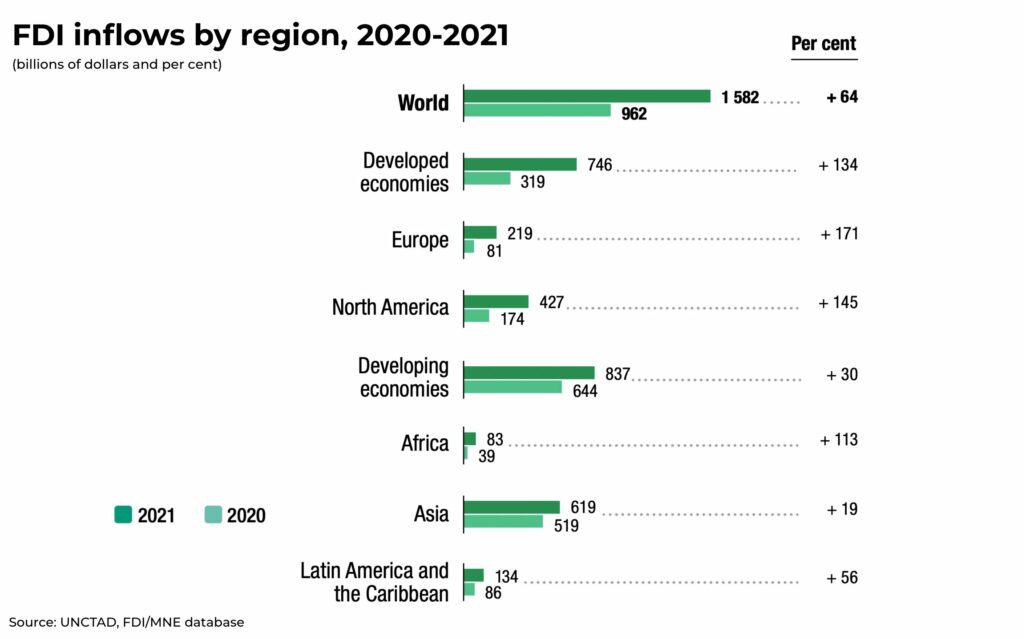 Before we get into the reason for investor hesitation, let's look a little more closely at Africa's potential.
Natural reserves
One of the world's largest LNG export facilities operates on the coast of Nigeria (40% of new global natural gas discoveries in last decade have been in the continent), 70% of the world's cobalt is exported from the Democratic Republic of Congo (DRC), six of the world's largest platinum mines are in South Africa, half the world's gold and 90% of its chromium is buried in the continent, and Gabon and South Africa have almost 40% of the world's manganese reserves. In renewable energy, Africa has the potential to generate 7,900 GW from solar and 461 GW from wind power, with the potential to be a global leader in green hydrogen.
The list goes on.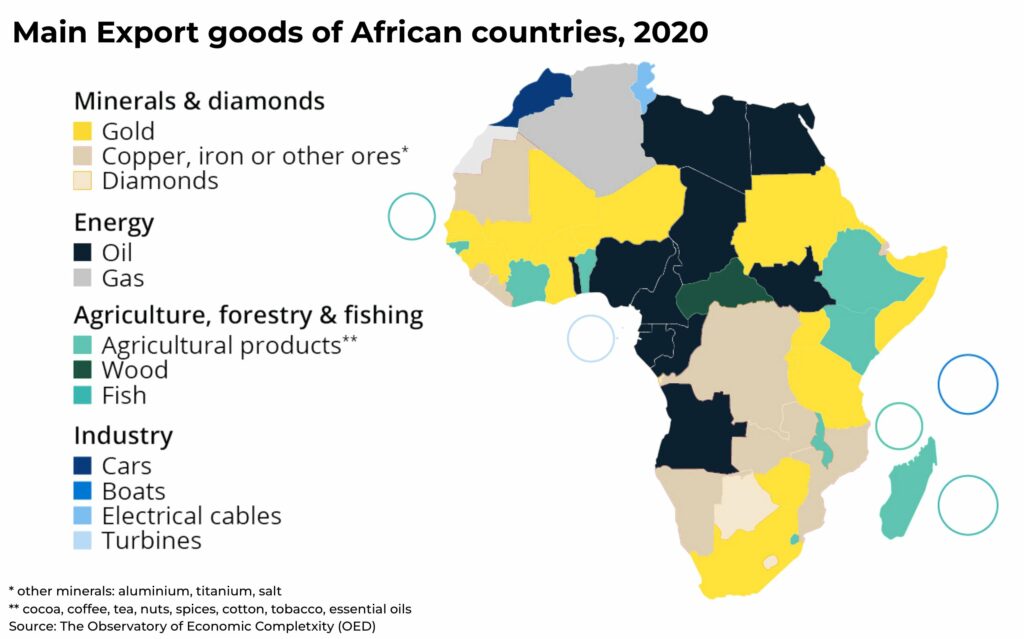 Investment friendly
Almost two-thirds of new investment policies introduced in Africa last year were to support investment, including tax incentives (compared with under half in Europe and Latin America).
According to the Mo Ibrahim Index on African Governance, an annual assessment of governance across the continent, foundations for economic opportunity have made "good progress" over the last decade.
In developed countries, such as the US and Europe, planning and permissions for new facilities can take years, sometimes decades. In Africa, permitting and regulatory controls can move much faster.
And the new African Continental Free Trade Area (AfCFTA) could see FDI increase by up to 159%, with the agreement set to include regulation on intellectual property, competition and liberalization of services.
"The AfCFTA sends a strong signal to the international investor community that Africa is open for business, based on a single rule-book for trade and investment" — H.E. Wamkele Mene, Secretary General, AfCFTA Secretariat.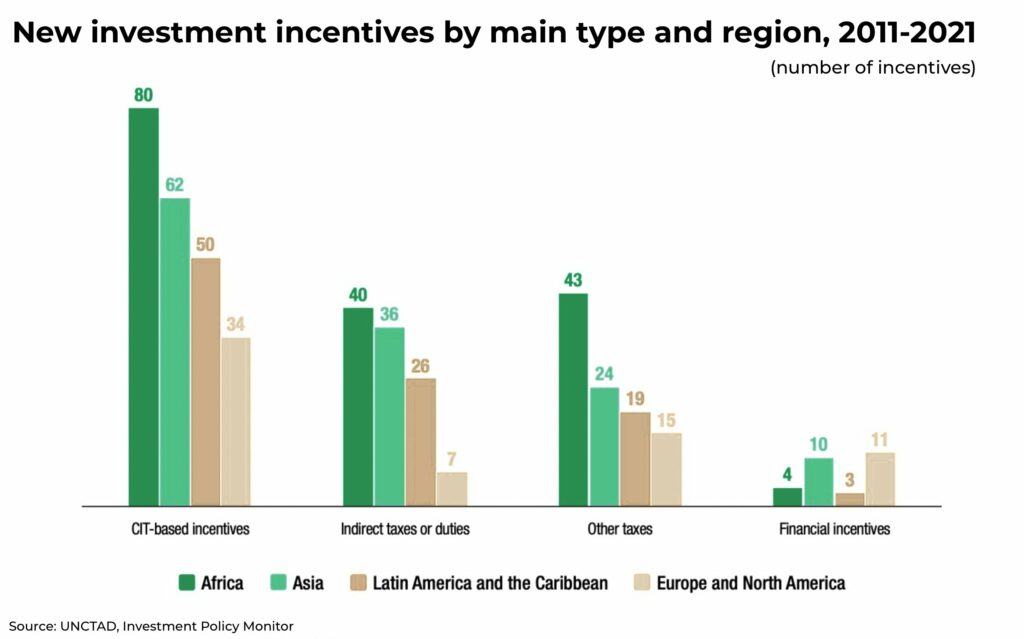 Population
Africa has the world's fastest growing population. By 2050, it's estimated the continent will have more than 2.5 billion people, half of whom will be under 25 years old.
The continent has a growing educated metropolitan population, with the urban population growing by 500 million people between 1990-2020.
In comparison, demographics across Asia, America and China are falling and the workforce is getting older… fast.
Subscribe for Investment Insights. Stay Ahead.
Investment market and industry insights delivered to you in real-time.
Give back
Investing in Africa provides an opportunity for business to "give back" with a significant ESG component to working on a continent with 424 million people living in poverty, as well as a continent that will suffer disproportionately for climate change yet accounts for only 3% of greenhouse gases.
When doing business in Africa, supporting local education, jobs, clean electricity and water supply, is integral to success.
Who's investing?
In the US, President Biden's Interim National Security Strategic Guidance states: "We will partner with dynamic and fast-growing African economies."
Yet, American trade with sub-Saharan Africa is less that 1% of all US trade in goods, at roughly US$32.6 billion which is down from US$36.8 billion in 2019. In comparison, China's trade with Africa reached a record high of US$254 billionlast year, a rise of 35% from 2020. European investors are the largest holders of foreign assets in Africa, with the UK holding US$65 billion and France with US$60 billion.
So, why the reticence to invest compared to other continents?
The most immediate concerns include the global economic fallout from the Covid pandemic and war in Ukraine impacting African governments' capacity to maintain economic growth.
But where the long-standing negative bias is concerned, jurisdictional risk is a good catch-all answer. As well as issues such as poor infrastructure in many regions, many African countries rank high on Transparency International's corruption index. The Democratic Republic of Congo (DRC) has long been the posterchild for this sort of risk with long periods of civil unrest, armed conflict, and even child labor.
Does this mean you should avoid investing in African projects? Not according to the companies that are already successfully invested, from General Electric to Google, Diageo to Anglo American Platinum. Investments in African startups grew faster than any other region from 2020-2021, increasing 200% compared to 90% globally.
So, as an investor, the question becomes how do you successfully invest in Africa?
The team is essential
For investors looking to gain exposure to the opportunities in Africa, our advice is: identify partners and companies who have operated successfully and safely in the continent. Everything starts and finishes with the right management team, it's not just part of the process.
The best way to identify a valuable team when doing due diligence is to check their experience and track record. Focus on management teams with the ability to navigate relationships with national governments, local communities, as well as international connections. What is their operational experience, can they execute — have they executed in the past? — do they enjoy living and working in Africa?
One place to start is through initiatives such as Prosper Africa, a US government initiative, to connect US and African businesses and investors. So far they have closed 800 deals worth US$50 billion in estimated exports between the US and 45 African countries.
Fortune favours the brave.
Subscribe for Investment Insights. Stay Ahead.
Investment market and industry insights delivered to you in real-time.
*note: this was inflated by a single large corporate reconfiguration in South Africa, but the continent saw a moderate rise in FDI