record 1 million ounces platinum deficit expected in 2023
two largest global producers of platinum, Russia and South Africa, have long term structural problems
platinum demand for hydrogen energy expected to increase significantly
Subscribe for Investment Insights. Stay Ahead.
Investment market and industry insights delivered to you in real-time.
Platinum is expected to reach a record deficit of over 1 million ounces in 2023, an estimate by the World Platinum Investment Council, that has been revised upwards from the start of the year.
The problem: supply (both mining and recycling) is expected to remain almost the same as 2022 with 7,224 koz (-31 koz), while demand rises by 27% to 8,230 koz (+1,738 koz).
Above ground stocks needed to meet this shortfall are worth only an estimated 5 months of yearly demand — and 85% (up from 5% four years ago) of these stocks are held in China.
"The largest deficit on record in terms of both absolute ounces and as a percentage of annual demand"

— World Platinum Investment Council (WPIC)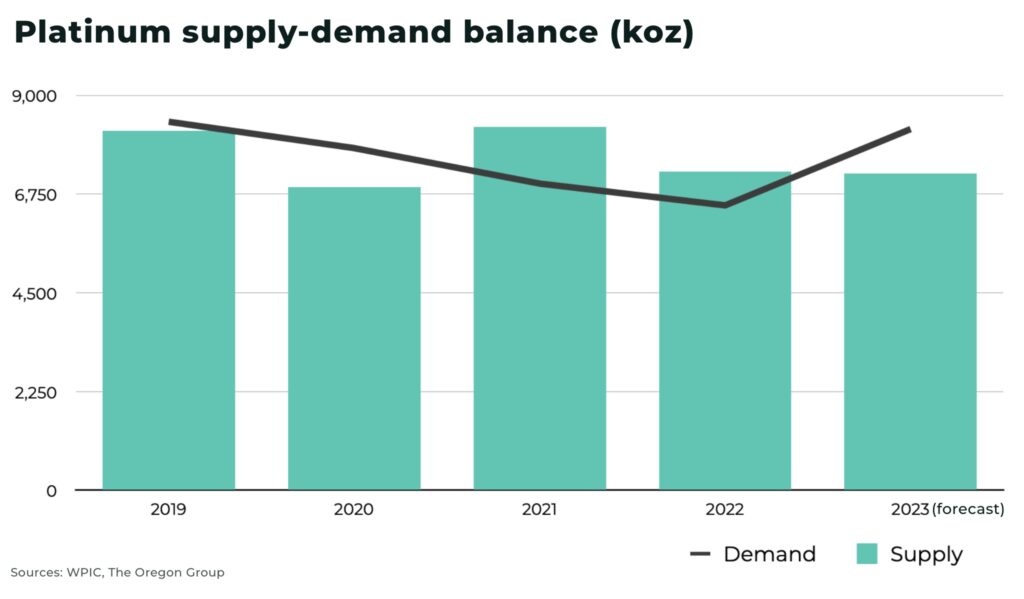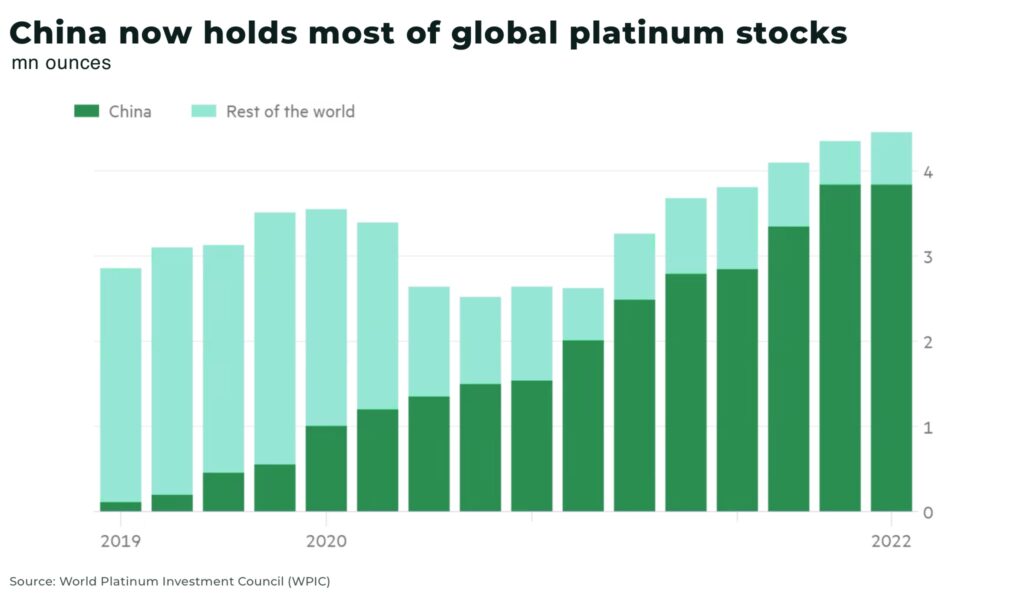 And the WPIC is not alone in its forecasts of significant deficits: Johnson Matthey, a specialist in catalyst and other sustainable tech, estimates a deficit of 128,000 ounces in 2023; and Consultants Metals Focus expects a deficit of 953,000 ounces.
Demand for platinum
Platinum is listed as a critical mineral in the US, Europe and China, particularly because of its unreactive nature, has a high melting-point and works well as a catalyst.
The metal is predominantly used in catalytic converters in cars, trucks and buses — due to its effectiveness in converting vehicle emissions into less harmful wase products — as well as jewelry, electronics, glass manufacturing, medical tools, and industrial uses such as a catalyst for the production of nitric acid, silicones and benzene.
The main factors driving demand for platinum in 2023 include:
automotive (+13%, +381 koz), as the semiconductor shortage eases, and vehicle production increases
industrial demand (+14%, +336 koz), with higher demand for platinum-bearing catalysts from the paraxylene industry
jewelry demand (0%, -6 koz), with India offsetting contractions in the Chinese market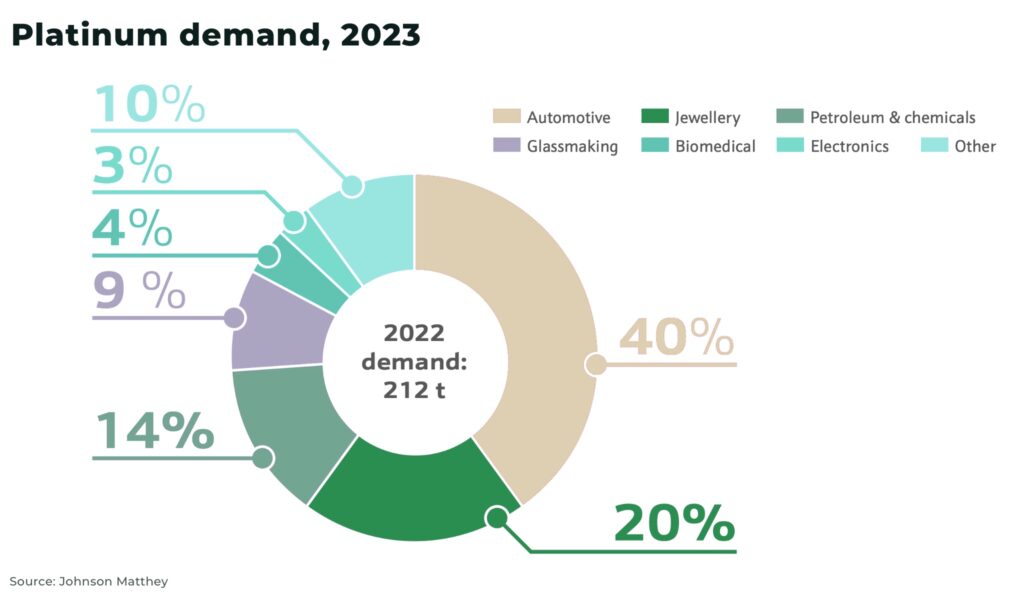 Subscribe for Investment Insights. Stay Ahead.
Investment market and industry insights delivered to you in real-time.
With the phasing out of internal combustion engines (ICE) across much of the West, it's expected that demand for use in catalytic convertors in combustion vehicles will fall in the medium to long-term.
However, two new markets for platinum have the potential to offset, and even increase, this expected fall in demand:
platinum as a catalyst in electrolyzers to produce green hydrogen (made via electrolysis which splits water into hydrogen and oxygen using renewable energy, such as solar or wind, so the entire production cycle is carbon neutral).
platinum as a catalyst in fuel cells, for example in electric vehicles (FCEVs), to recombine green hydrogen and oxygen to produce water and electricity
Platinum use in green hydrogen and fuel cells is currently very small, but hydrogen-related demand is forecast to increase to approx one-third of demand by the late 2030s.
Evidence of this growth can already be seen in the latest announcement of US$7 billion investment to establish 6-10 regional clean hydrogen hubs across America.
Fuel cell electric vehicle (FCEV) growth increased 40% in 2022, compared to 2021, but the numbers are still limited, with over 72 000 vehicles globally (over half in South Korea).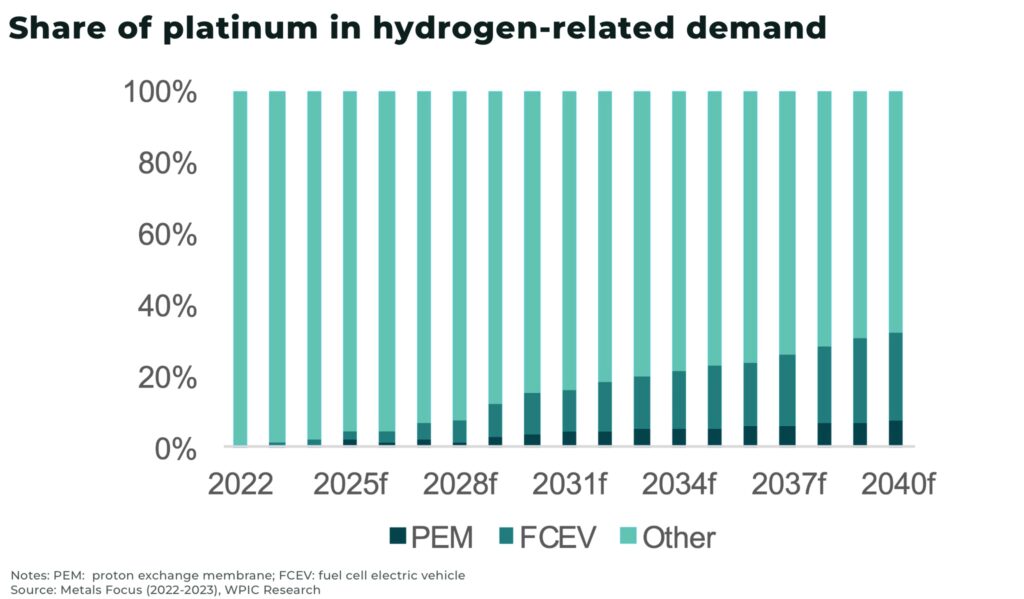 So, if demand is expected to be volatile in the medium term, why is the deficit expected to be a sustained problem?
Platinum supply crisis
There have been a series of unexpected, temporary problems with supply in teh last year, for example, with a shaft shutdown at Sibanye-Stillwater's Montana platinum mine.
But, the major crisis for platinum supply lies with the two-largest global producers of platinum, who are running into more structural problems:
in South Africa, by far the world's largest supplier of platinum, the deteriorating capacity of it's national electricity gird due to corruption, neglect and sabotage, meant blackouts were imposed for 200 days last year — and into this year as well. Without enough electricity, mines and refined production are forced to significantly limit capacity, by an estimated 5-15% lower than projections.

For example, South Africa's Impala Platinum's refined platinum group metal (PGM) — the world's largest platinum mine — output declined 4% in the year ended June 30, missing its production forecast
in Russia, the world's second largest producer of platinum, production and exports have been impacted indirectly by international sanctions since the invasion of Ukraine.

For example: in early 2022, Russian metals producer NorNickel announced sales of platinum (and other metals) fell due to problems with supply chian logistics and delays with imported equipment. A significant amount was exported to China, where imports of Russian platinum reportedly increased x279 in early 2023, compared to 2022.

In May 2022, the UK — the largest importer of Russian platinum — announced an increase of import tariffs on platinum from Russia and Belarus by 35%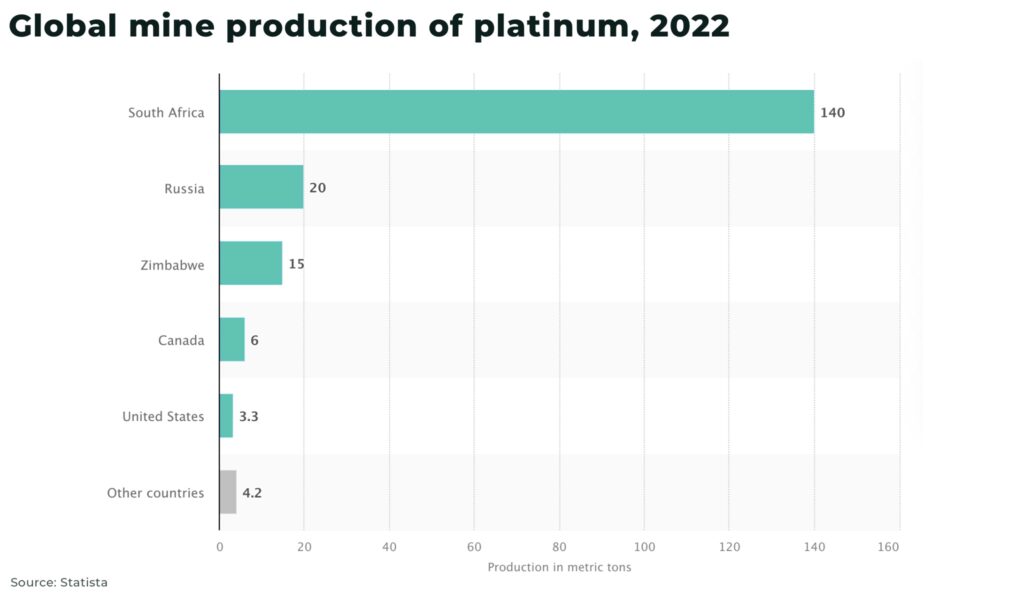 Subscribe for Investment Insights. Stay Ahead.
Investment market and industry insights delivered to you in real-time.
It's been suggested it could take 3-5 years to fix South Africa's power problems, although our experience suggests it will be a lot longer. Mining and processing companies will adapt, but it will take time and money.
And, even if there were a ceasefire in Ukraine tomorrow, we suspect sanctions and logistically issues would take years to resolve.
New platinum mines are planned, for example, mining firm Tharisa is investing US$391m to develop the Karo platinum group metal (PGM) mine in Zimbabwe. However, new mines can take over a decade to develop, and will be unlikely to offset the fall in supply from South Africa anytime soon.
"This year's forecast deficit is unlikely to be a one-off […] with challenges to supply expected to continue and future demand growth, supported by the needs of the hydrogen economy, likely to result in deficits continuing for a number of years"

— World Platinum Investment Council (WPIC)
Recycling
Recycling accounts for approximately 20-25% of global platinum supply, predominantly from end-of-life vehicle catalysts and jewelry.
However, platinum recycling supply is forecast to fall by 4% to 1,620 koz in 2023.
Weaker sales of jewelry in China have meant a decrease in "selling-back activity". And, anticipating price rises, scrapyards and dealers are holding back from selling their stocks of recycled platinum on the market.
Should investors be buying platinum?
The price of platinum is approximately 50% lower than it was 10 years ago, already pricing in some of the expected long-term decline in demand from automakers in catalytic convertors.
However, in the short-term, the market may have moved too early and we believe there will be increasing volatility in the price.
Post-pandemic, vehicle production may still down on 2018-levels, but is rising fast. Production in 2023 is forecast to be 5% higher than 2022, despite economic concerns, as car sales in the US (and elsewhere) are up.
And, even with lower auto production, platinum demand from automakers increased by 12% in 2022, as the metal was increasingly used to replace palladium in gasoline autocatalysts.
And, in China, industrial demand is also increasing with the expansion of glass and chemical industry, despite concerns over the economic slowdown.
Above-ground inventories will help alleviate some of the pressure but, similar to recyclers, we expect many sellers to hold until prices begin to increase.
The medium to long term, platinum prices will depend on how quickly the expected drop in demand for autocatalysts is offset by demand for green hydrogen and fuel cells.
The impact of this volatility is highlighted by the move of some investors in South Africa to seek exposure to the price of platinum through ETFs, and reducing their exposure to the mining industry.
There are two main approaches for exposure to platinum:
equity investments in platinum miners; we would recommend location will be a priority with both junior and major companies, looking for secure supply chains and infrastructure (such as electricity supply)
direct exposure to the physical metal through ETFs; as highlighted above, expect volatility in the short-term, and timing will be everything in judging the transition from catalytic convertor demand to hydrogen-demand in the long-term — both of which will take longer than many of the public deadlines suggest
For interested investors, the catalyst for the change in the platinum market has begun.
Subscribe for Investment Insights. Stay Ahead.
Investment market and industry insights delivered to you in real-time.