manganese sulphate demand expected to increase x29 by 2050
98% of high-purity manganese sulphate production in China
60% of electric batteries included manganese in 2022
Subscribe for Investment Insights. Stay Ahead.
Investment market and industry insights delivered to you in real-time.
Manganese sulphate demand is forecast to increase x9 by 2030 and x29 times by 2050 — the fastest growth rate of any key metal used in electric batteries — just as supply is expected to tighten.
Sometimes referred to as the "forgotten" critical mineral, manganese is the fifth most abundant mineral in the earth's crust, with a large geographic base and diverse distribution, helping to keep prices low and stable.
This is now changing.
The problem: an estimated 96% of processed high-purity manganese sulphate, critical to electric battery chemistries and electric vehicles (EV), is concentrated in China.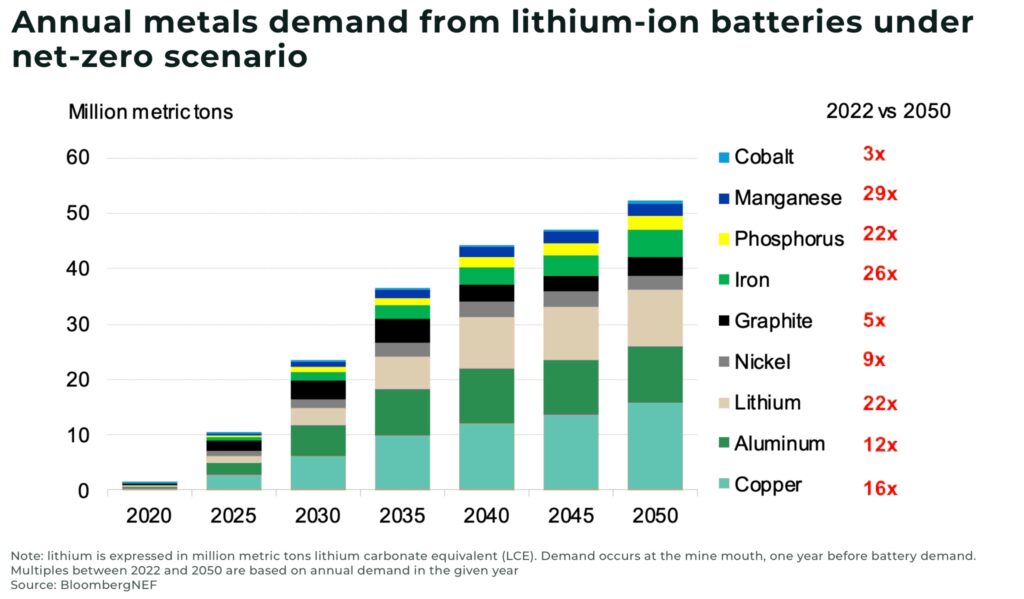 Global manganese production
Currently, 90% of global demand for manganese is dominated by the iron and steel industry's use of ferro-manganese, a market worth an estimated more than US$70 billion. Mine production, in tonnage, is bigger than the cobalt, lithium and nickel markets combined, with almost 50 million metric tons in 2021.
South Africa, Gabon, Australia account for two-thirds of global production.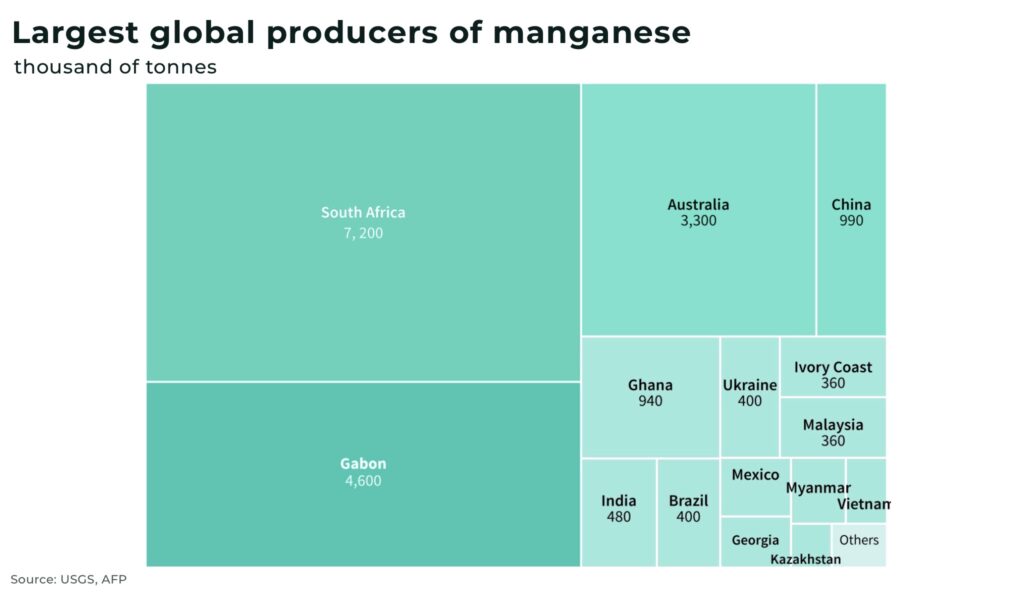 Manganese sulphate in electric batteries
Manganese, once it's refined into manganese sulphate, is also a critical mineral in the development of electric batteries.
In 2022, more than 60% of the world's electric batteries included manganese, with the mineral used to support chemical stability and longevity in the batteries. For example, a Chevy Bolt battery can use over 24 kg of manganese sulphate.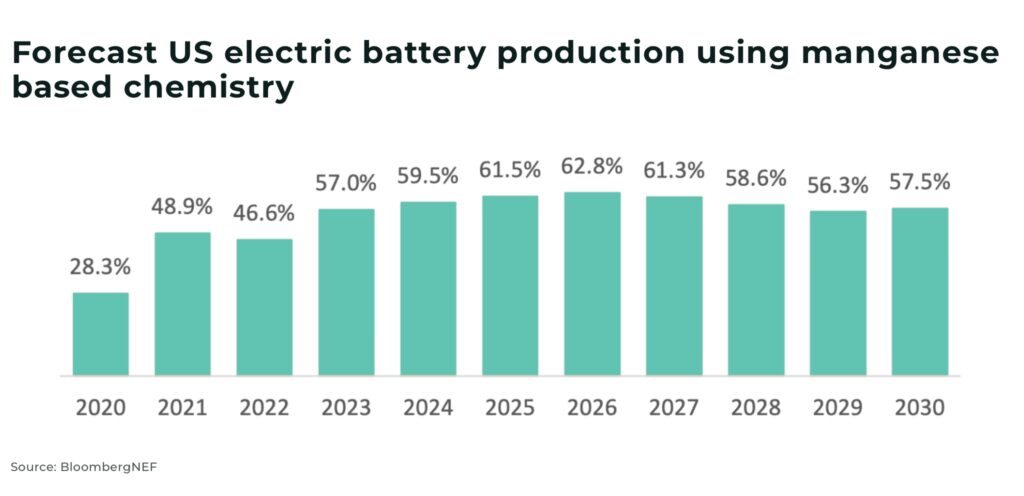 Subscribe for Investment Insights. Stay Ahead.
Investment market and industry insights delivered to you in real-time.
But, as highlighted in our in-depth analysis on which critical minerals will power NextGen electric batteries, electric battery producers are working to improve battery chemistries — in particular, a move away from cobalt and nickel — to increase mileage, decrease costs, and improve their environmental impact.
Manganese batteries include:
LMR, lithium-and-manganese-rich
LMFP, lithium-manganese-iron—phosphate
LMO, lithium-manganese-oxide
LMNO, lithium-manganese-nickel-oxide
NMCA, nickel-manganese-cobalt-aluminum
NMC, nickel-manganese-cobalt
Manganese promises to replace cobalt and nickel and increase a battery's energy density with alternative cathode chemistries, such as lithium-manganese-nickel-oxide (LMNO), lithium-iron-manganese-phosphate (LMFP), or nickel-manganese-based cathodes (NMX) with similar structures to NCM.
Many of the big EV automakers are researching manganese batteries, including Tesla, Volkswagen and Ford. This year, China's Gotion High-Tech, a supplier to Volkswagen, announced an electric battery breakthrough, using LMFP, to reach an estimated range of up to 1,000km.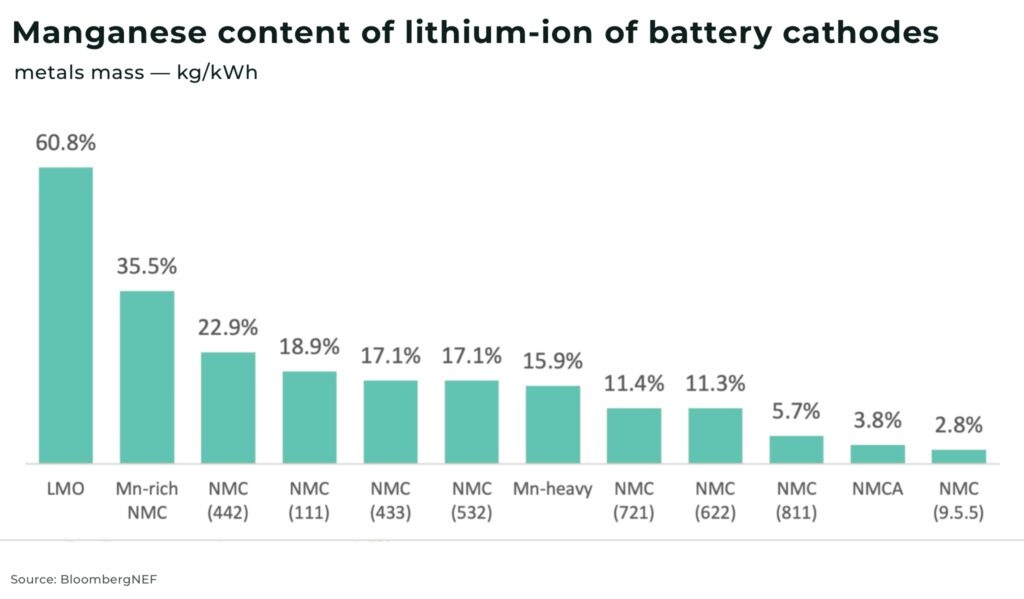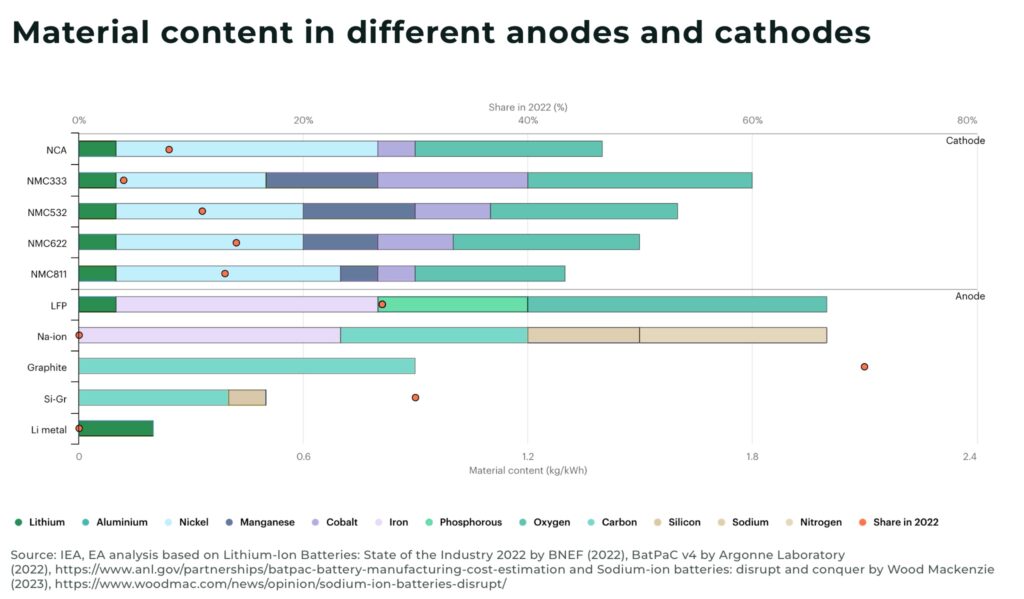 "Battery demand, however, will reshape the manganese chemical industry, which is expected to become the main bottleneck for manganese demand"

— Aloys d'Harambure, executive director of the International Manganese Institute
And it's not just new battery chemistry fueling demand the forecast demand for manganese sulphate. The soaring sales of EVs, expected to increase from 27 million passenger EVs in 2022 to over 100 million by 2026, means more minerals are needed.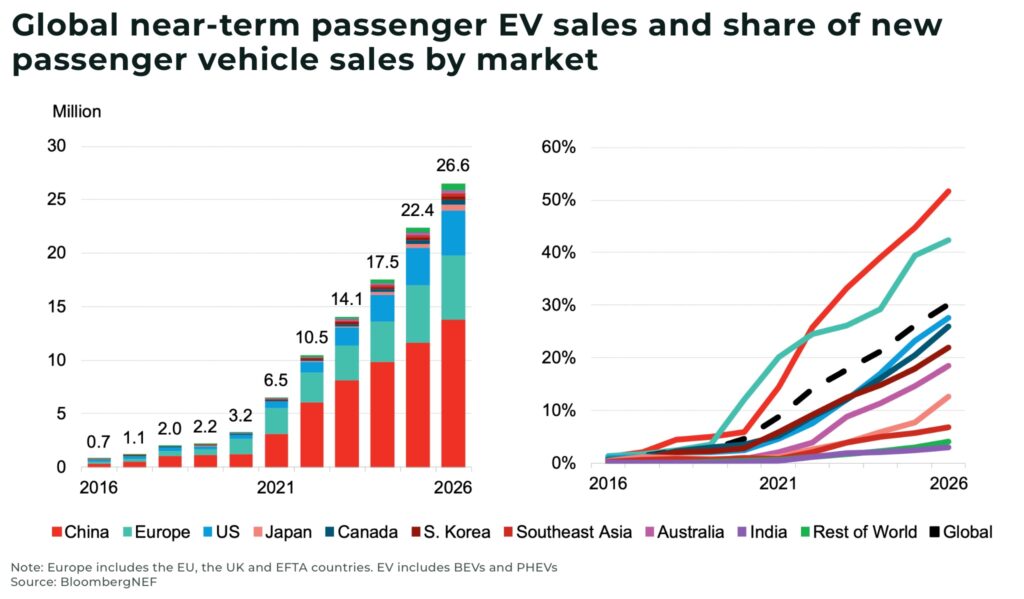 Subscribe for Investment Insights. Stay Ahead.
Investment market and industry insights delivered to you in real-time.
Manganese sulphate processing
Production of high-purity, battery-grade manganese sulphate — or High Purity Manganese Sulphate Monohydrate, HPMSM — on an industrial scale requires specific factories, and currently China supplies an estimated 96% of global supply.
There are currently only two plants outside of China, which account for approximately 4% of global production:
Concerns is growing over the risks of such a concentrated source — as highlighted by supply chain disruption with Covid lockdowns, the war in Ukraine, as well as recent US-China sanctions.
For example, North America is expected to require over 200Kt of high-purity manganese sulphate a year by 2031.
"Manganese's elemental properties, its lower-cost application in batteries, and its concentration in China is why western OEMs, governments and businesses need to address upcoming market deficits; and it's important that they engage with that future story now"

— Jess Roberts, Benchmark's Head of Forecasting
Manganese production in the West
Manganese has been listed as a critical mineral by both the US and EU, with governments working with legislation and tax credits, to diversify and secure supply of manganese sulphate:
So, for example, the IRA provides tax credits to companies that source an increasing percentage of minerals mined and processed in the US or nations registered as a domestic jurisdiction for US investment. Beginning in 2027, the applicable percentage will be 80%.
This new legislation has incentivized considerable investment in manganese sulphate production in the West. For example:
Benchmark Minerals is tracking at least 30 HPMSM projects across the world, 24 of them outside China.
Demand and supply deficits
Automakers are turning to manganese in the hope that it will help offset the volatility in price from other metals, as well as improve efficiency and safety of their electric batteries.
There will be a trade-off between a variety of chemistries, costs, as well as environmental and safety factors. This trade-off will significantly influence the level of demand for manganese sulphate, however, we forecast manganese sulphate will play a significant role in the next decade.
An unexpected technological breakthrough that negates the use of manganese sulphate would still take years to develop and rollout.
In this timeframe, manganese sulphate processing capacity in China at current levels will struggle to meet expected EV demand, with expected deficits by 2028.
This timeframe will be brought forward if:
EV adoption of manganese batteries happens on a faster, larger scale than anticipated
EV sales increase faster than forecast
or, if there is a deterioration in geopolitical tensions
Manganese sulphate processing capacity outside of China is expected to start coming online from 2025. But it will likely not be sufficient to meet demand.
This will mean increased volatility in the manganese sulphate deficits and prices past 2030.
Subscribe to stay ahead.
Subscribe for Investment Insights. Stay Ahead.
Investment market and industry insights delivered to you in real-time.