This year has been something of a record-setter: record temperatures, record droughts, record number of wildfires — the sort of records that grab the attention of the public, instead of just the climate scientists.
Since countries started keeping temperature records in the late 1800's, seventeen of the eighteen warmest years have occurred since 2001.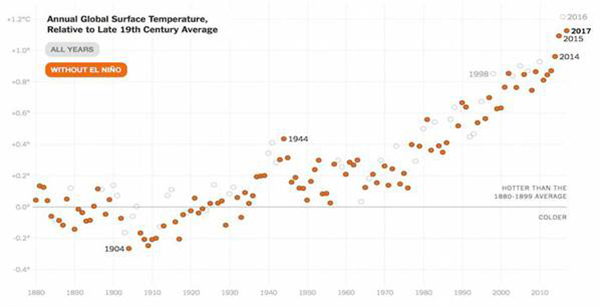 A temperature trend like that is no friend to the world's energy grids, many of which have crashed multiple times this year under the strain of overuse and, in many cases, under-supply. For example: according to Forbes, this summer saw a large drop in wind speeds in areas of Europe that have invested heavily in wind power.
It's these problems that comprise some of the most compelling reasons for the rapid growth of the global energy storage industry. I've long considered energy storage to be the classic iceberg scenario: it's not been accurately factored into analyst expectations for battery metal growth because, quite simply, no one has been able to grasp just how big it could be. However, with some of the news coming out in recent months, something is starting to emerge… and it's big.
The most recent headline: the capacity of energy storage systems in the US will roughly triple in 2018. A new report released by GTM Research and the Energy Storage Association trade organization predicts the US energy storage market will increase ~200% this year as costs fall and state support increases.
US
California has plans to build an energy storage facility that is triple the size of the largest battery in the world in Australia (see below). Recurrent Energy has filed for approval to build a 350-megawatt solar power farm over 2,500 acres, located east of Palm Springs.
AES Energy Storage and Siemens have joined forces to create a new energy storage company called Fluence Energy, to build a 100 MW/400 MWh storage project as part of a $2 billion repowering project in Long Beach.
Also in California, this time in Santa Clara county, the go-ahead has been given for a new 75 MW / 300 MWh lithium-ion battery storage facility. The Hummingbird Energy Storage project, led esVolata, is scheduled to be up and running by 2020.
In Nevada, the state has announced it has contracted 100 MW of battery energy capacity.
Even Hawaii plans to build a 4.88MW solar power plant which will contain a 3MW/15MWh battery storage system – part of Hawaii's plan to rely 100% on renewable energy by 2045.
China
In the first half of this year, energy storage projects amounting to 340.5MW of new capacity were under construction across four provinces of China (China Energy Storage Alliance). That's nearly equal to the entire current installed capacity in China.
Canada
A vast new energy storage system with 48MW / 144MWh capacity – will be built in the city of Sault Ste Marie, Ontario. It will be developed by Hecate Energy, which already operates a 53MWh project in Ontario.
Australia
It may have been completed last year, but no blog post on this subject would be complete without mentioning the largest success story so far – Tesla's 100MW/ 129MWh Powerpack project in South Australia. It was built in 100 days, is the largest battery in the world, and has already proven to be highly reliable and highly profitable, earning an estimated $1million only a few days after being switched on.
That last point is worth repeating: highly profitable. Energy storage isn't just about facilitating the move away from fossil fuels, it's about making more money. This is one of those rare occasions where the right thing to do for the planet is also the right thing for power companies' bottom line.
Tesla now has plans to build new systems from New Zealand to Nevada.
Also in Australia, CWP have announced that a "c.200 MW solar-plus-storage project" has been approved, and will be co-located with Sapphire Wind Farm to create a hybrid wind-solar-storage facility. The company has also tabled plans for a "c.600MW" solar and storage plant, Parkesbourne, near Goulburn, New South Wales (NSW).
UK
The UK's largest battery storage facility – a giant 50 MWs – has just been completed in Hertfordshire, British Solar Renewables (BSR) has announced.
Last year the UK installed 112 MWs across four projects, bringing the country's total to 370 megawatts. The primary use case is frequency regulation, in which the batteries defer more expensive payments to conventional generators, freeing them up to focus on energy.
South Korea
South Korea's transmission and distribution utility Kepco set itself a target in 2014: 500 megawatts in four years.
One of the largest projects: Hyundai Electric & Energy Systems Co. is building a 150 MW lithium-ion unit. It's hoped this will go live later this year near the southeast coast.
Looking ahead
Notice a trend when you look at some of those projects? I'm talking about the fact that many of these projects are renewable/storage installations. It's long been reported that renewables don't play well with today's power grids, which is why nuclear energy is seen by its advocates to be the only large-scale answer to ditching fossil fuels.
However, energy storage is evolving into a superior answer to the problem. We are seeing new renewable installations coming online with storage, and old existing installations getting retrofitted with storage.
So, what does the future hold? Well I fully expect the number and the size of storage projects to dramatically increase as demand for energy continues to rise, installation costs fall and we step closer to fossil-free transportation and energy. In other words: more, bigger and faster.