---
silver market deficit in 2022 the "largest" on record
industrial use of silver approx 40%, and this expected to rise, driven by PVs and EVs
silver mine production fell by 5 million ounces in 2022
---
Subscribe for Investment Insights. Stay Ahead.
Investment market and industry insights delivered to you in real-time.
The global silver market ran arguably the "largest deficit on record" in 2022, with a shortfall of 237.7 million ounces. The combined deficits of 2021-22 offset the cumulative surpluses of the previous 11 years.
Prices are not yet reflecting these challenges and may well fall further in the short-term. But, in the long-term, the fundamentals will begin to reassert themselves.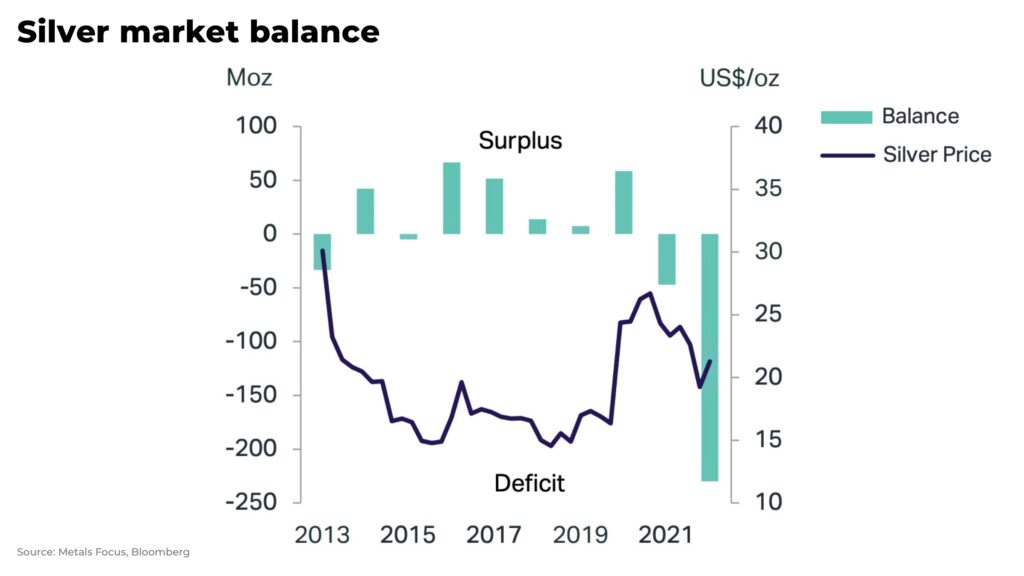 So, what are the dynamics behind recent moves in the price of silver.
Silver is both a precious metal, whose relative scarcity means it is used as a monetary metal (similar to gold, platinum and palladium), as well as an industrial metal of increasing importance.
The dollar, inflation, and interest rates
As a precious metal, silver is often used as a monetary safe-haven when there is macroeconomic risk. For example, the invasion of Ukraine or the recent US bank crisis.
But one of the most important financial dynamics behind the price of silver is the value of the dollar, the world's reserve currency. So, in the short-term, when the US Federal Reserve raises interest rates to fight inflation, the value of the dollar is often pushed higher. And the price of silver falls.
However, despite the historically fast interest rates in the last year, the price of silver has still stayed relatively high.
This is because the dynamics pushing up the price of silver are undergoing some fundamental changes.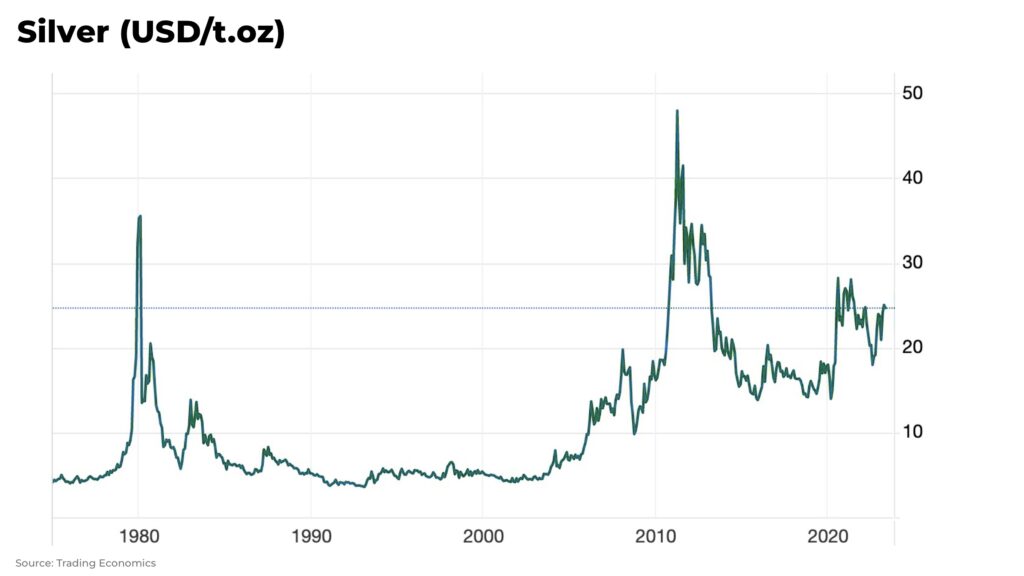 Industrial metal
The industrial use of silver, unlike the most important precious metal gold, is approximately 40%. And this is expected to rise.
As the world's most conductive element, silver is increasingly a critical metal in the energy transition, especially solar panels and electric batteries.
Electronics and electrical demand for silver increased 6% in 2022, driven largely by solar photovoltaics (PV), electricity grids and a recovery in the global automotive industry.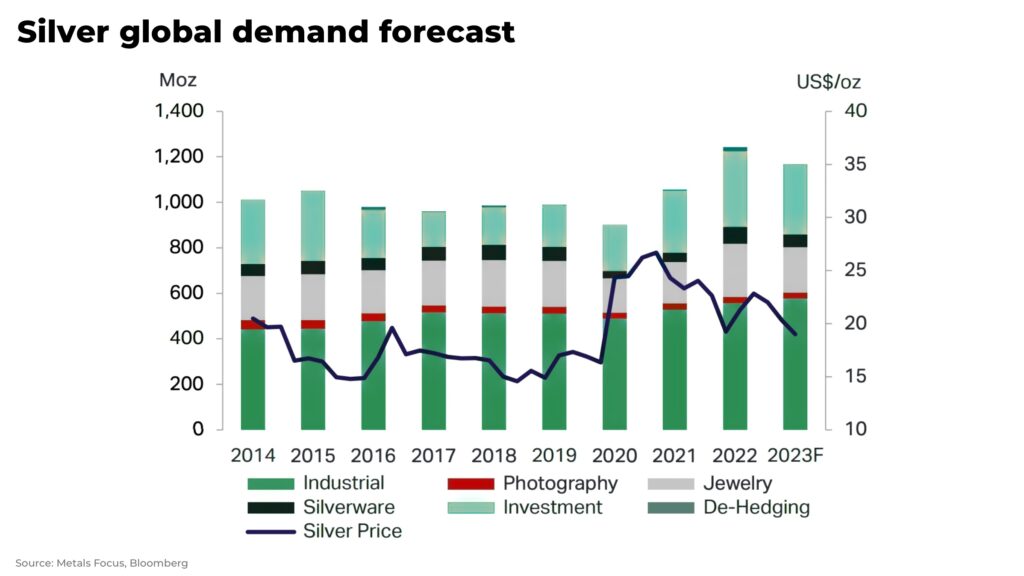 Solar
Global consumption of silver in PVs reached 140.3 million ounces in 2022, almost triple the level in 2010.
And, as governments around the world turn to solar power as part of their clean energy mix to meet their net-zero targets, it's expected demand will continue to increase, rising more than sevenfold between 2021 and 2030.
Subscribe for Investment Insights. Stay Ahead.
Investment market and industry insights delivered to you in real-time.
Electric Vehicles
In each electric vehicle (EV) battery, an average of 0.88 ounces of silver are used, far more than in combustion engines.
The IEA estimates 350 million EVs must be on the road in 2030, compared with 16.5 million in 2021, to meet global net-zero targets.
The forecast increase in EVs would create new demand for 8,730 metric tons of silver. At last year's average price that equates to metal worth $7.7 billion.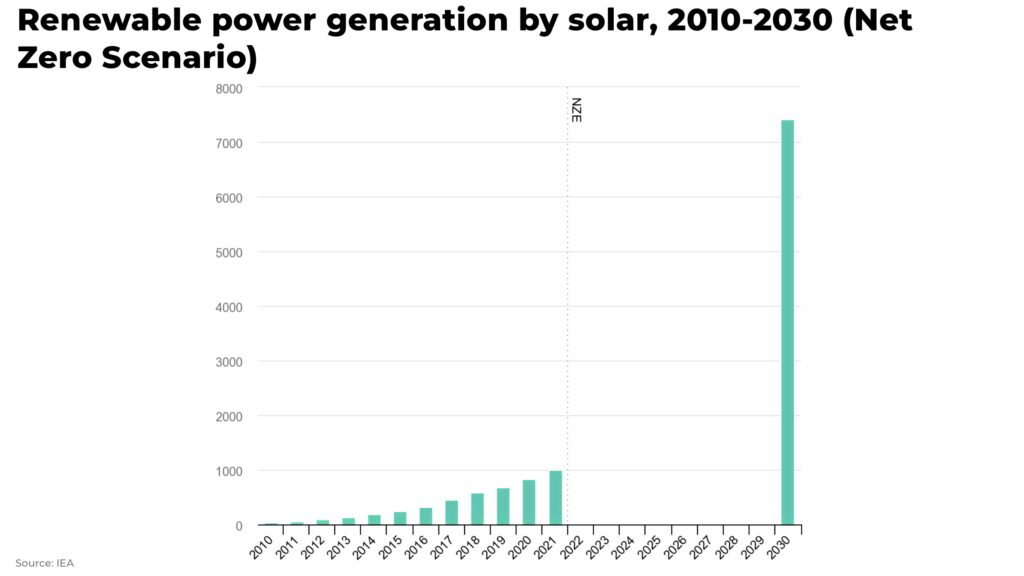 Thrifting
However, predicted growth in solar energy generation and growth in EV batteries does not have a linear relationship with silver demand because of a process known as thrifting, by which manufacturers try to reduce, replace and recycle the most valuable and volatile metals, including silver, in their production lines.
So, for example, the amount of silver used in the average installed solar module has recently halved.
Despite this, research firm CRU suggests the solar sector will support continuing demand of 80 million-90 million ounces of silver per year between now and 2030, worth around $2 billion at last year's average, as the capacity to reduce silver usage in solar panels declines and usages of substitute materials such as copper carry their own substantial costs and drawbacks.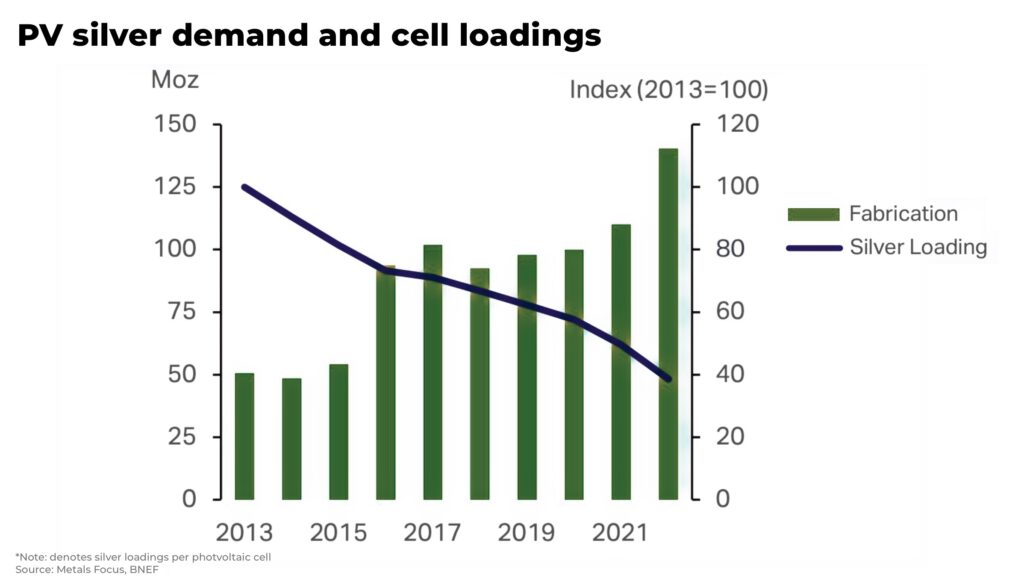 The same lack of certainty exists so far as EV batteries are concerned, but the trend towards greater usage seems clear.
Also, driven by higher prices, recycling volumes rose by 3% in 2022 to a 10-year high of 180.6 million ounces.
Subscribe for Investment Insights. Stay Ahead.
Investment market and industry insights delivered to you in real-time.
Silver supply
The rise in global demand of silver is happening as supply is struggling to keep up.
Supply remained flat in 2022, at approximately 1 billion ounces, and mined production fell by 5 million ounces, to 822 million ounces.
There are two principal ways silver is mined, each putting their own specific constraints on supply:
approximately three-quarters of mined supply comes as a byproduct from polymetallic gold, lead, zinc and copper mines. This means higher silver prices do not necessarily lead to higher production, though they may incentivize more scrap generation and liquidation of investment positions. (Equally, of course, higher prices for those other metals may incentivize greater silver supply)
the rest comes from primary producers, but investment in developing mines has faltered in recent years — just as ore grades have declined. As we have outlined previously on The Oregon Group, mining investment in silver, similar to other metals, has been held back by concerns over costs, legislation, Covid, permitting, etc
This lack of investment comes as the grades and reserves of silver ore mined from primary producing mines are also suffering a decline across Peru, China, Australia, Mexico, Argentina and Russia.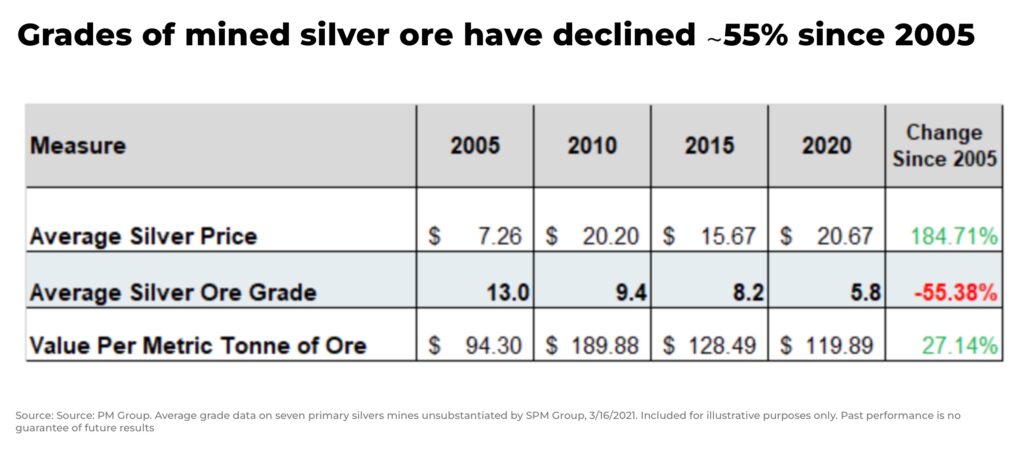 Lower ore grades are more costly to mine and process. Larger volumes of material must be mined to produce the same volume of metal, which carries with it higher costs in terms of energy, waste and water management. These factors are supportive of higher prices
But investment is beginning to increase.
"This year, we expect mined silver supply to rise by 2.4% y/y to 842.1Moz (26,193t). This will largely be due to additions from new projects. Juanicipio, for example, is expected to reach full capacity in H1.23 and this will be a major driver of growth in Mexico. Elsewhere, the continued ramp-up of La Coipa and commissioning of Salares Norte will push Chilean output higher"

— World Silver Survey, 2023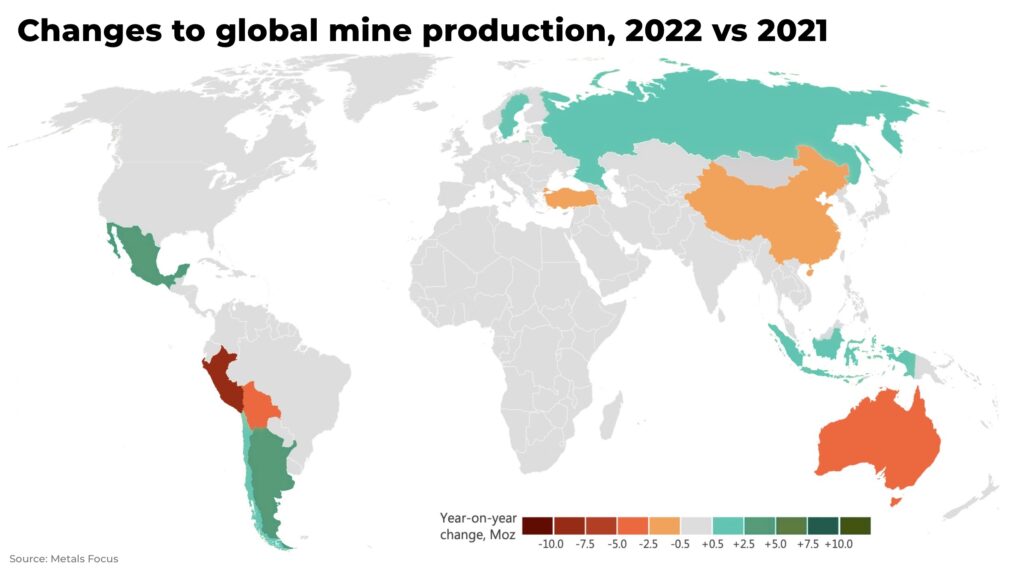 Jewelry
Demand for silver jewelry increased by 29% in 2022 to a record high of 234.1 million ounces. This was mostly driven by an increase in demand from India, but is expected to increase as the market in China opens up after zero-Covid restrictions have been lifted.
How to invest
Silver has a wide range of avenues for investment from equities, to physical metal, to ETFs based on physical metal.
We expect volatility as the market prices in rising inflation and FED interest rate hikes/cuts, but with geopolitical risk up and supply down, silver is a metal we will be keeping a close eye on.
Subscribe for Investment Insights. Stay Ahead.
Investment market and industry insights delivered to you in real-time.