---
the global nickel market estimated to be worth US$38.44 billion in 2023
in March, 2022, prices surged 250% to over US$100,000/tonne within hours. The LME suspended trading in nickel for the first time since 1988
there is a crisis of confidence in the LME as rival exchange set to be launched
---
Subscribe for Investment Insights. Stay Ahead.
Investment market and industry insights delivered to you in real-time.
The London Metal Exchange (LME) is in crisis, with significant impact on investors.
The main problem for the oldest and largest metals market — a cornerstone of the global nickel market estimated to be worth US$38.44 billion in 2023 — is confidence. And this impacts pricing of the metal.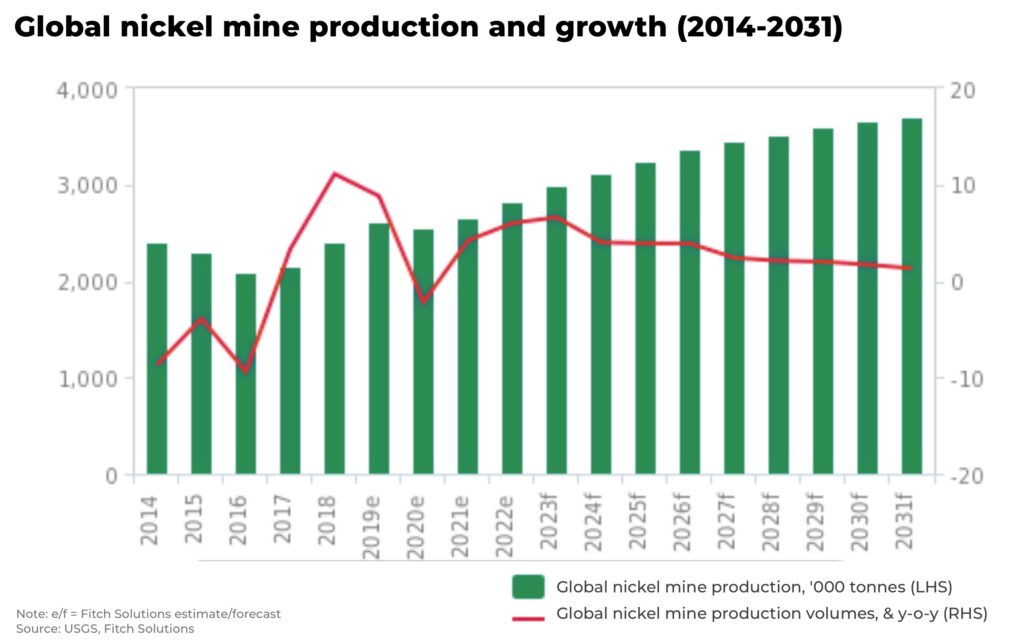 What is the LME?
The LME has been so important because it provides a market of last resort for commodity producers, for example in nickel, copper or aluminium. The LME promised to back up all their contracts with physical metal.
So, if you're a producer with deliverable nickel (the LME has specific specifications, for example, they will not take ferronickel or nickel pig iron) and you were unable to sell to a customer, it was possible to place it on the LME for an assured price, whatever the quoted price might be, and you would be paid shortly after.
It was an automatic sale. Everyone trusted it.
And this system of bidding also helped determine a price for the commodity across the marketplace, making it very important for producers of nickel who had very few other established benchmarks for pricing.
And, in turn, it was important for buyers who always had a place from where to buy the commodity, ensuring liquidity.
What happened?
It is a complex story so we will focus on the most important themes and what it means for investors. If you are interested in more details, we recommend following Mark Burton's coverage.
In March, 2022, the LME suspended trading in nickel for the first time since 1988, when prices surged 250%, to over US$100,000/tonne, within hours.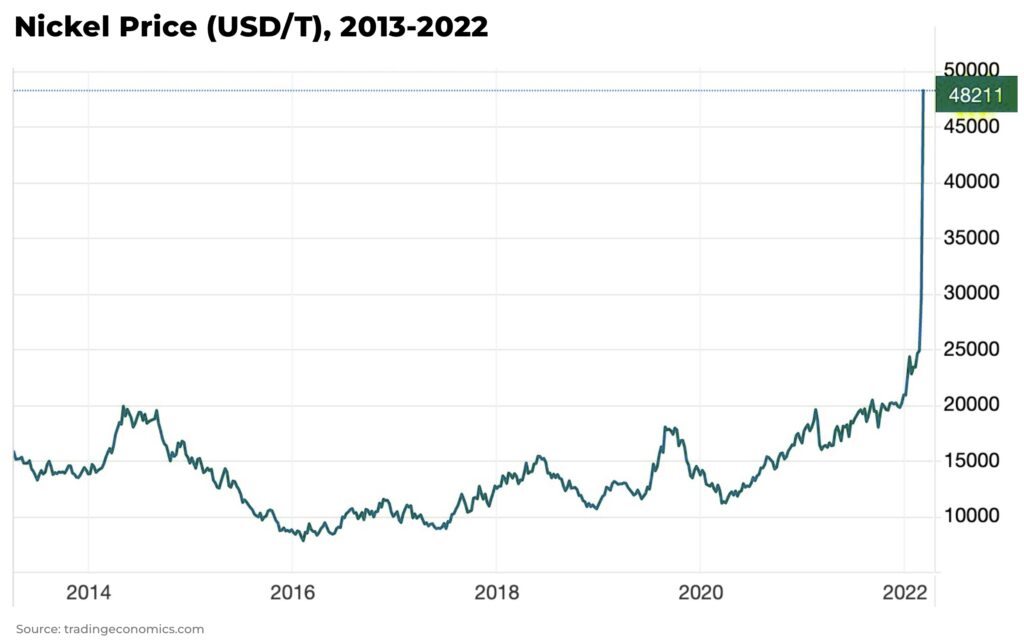 Xiang Guangda, founder of Tsingshan Holding Group (the largest producer of nickel and stainless steel in the world), made a bet against rising nickel prices which collided with Russia's invasion of Ukraine and concerns over Western sanctions against Russia, the world's fourth largest nickel producer.
The Hong Kong Exchanges and Clearing Limited-owned LME decided to controversially void all trades from midnight until 8.15am on March 8, 2022 when trading was stopped, totaling over US$4billion.
And, with the cancelled contracts, so trust in the LME was eroded.
"The moment we realized what was really happening, we felt we could no longer entrust the LME with our clients' money. We had been trading LME futures for more than 30 years, but mid-March we regretfully started to liquidate all of our LME positions"

— Transtrend, a $6.7 billion Dutch algorithmic fund, Market integrity at risk, the case of LME nickel
The LME is now being sued by hedge funds and asset managers who's winning nickel trades were canceled. The LME says the claims are without merit, but US hedge fund Elliott Associates is suing for US$456 million.
Last year, a UK High Court dismissed a case brought by hedge fund AQR Capital Management and others that demanded phone call transcripts and meeting notes about the exchange's decision to cancel the trades.
And in March 2023, the UK Financial Conduct Authority (FCA) launched it's first ever investigation of a UK exchange over possible misconduct in the decision to halt trading.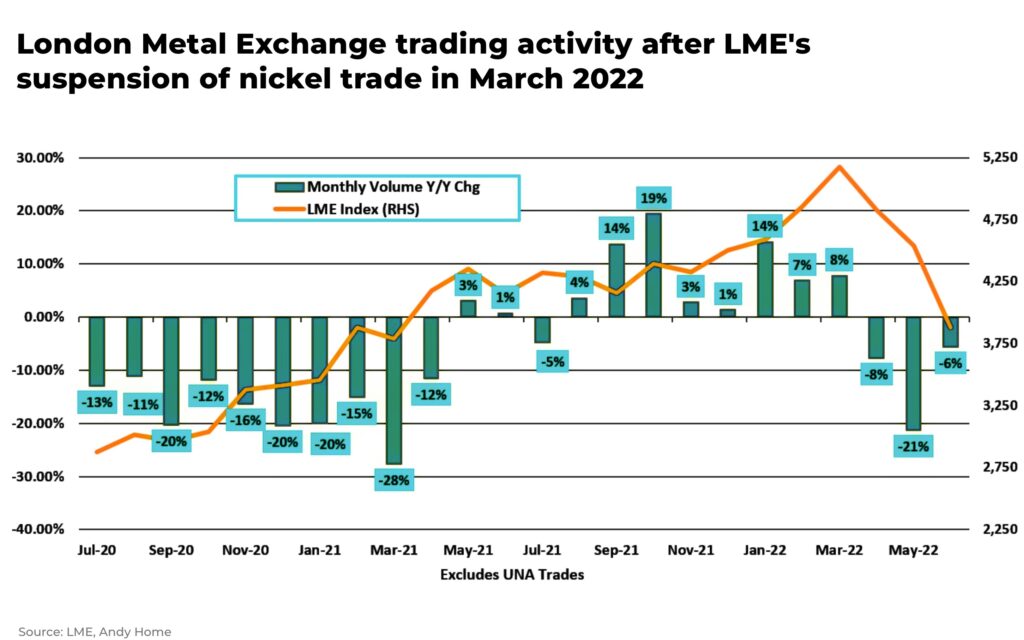 And to make matters worse…
In March 2023, the LME announced bags of nickel briquettes had been replaced by bags of stones at one of its warehouses in Rotterdam, casting doubt on their audit and authentication processes.
Again, eroding trust in the system.
Subscribe for Investment Insights. Stay Ahead.
Investment market and industry insights delivered to you in real-time.
A new exchange?
The position of the LME is now being challenged. The pieces of a potential rival are still being put into place, but a clear picture is emerging.
Global Commodities Holdings (GCH) plans to launch a nickel trading platform in 2023 with an explicit bid to offer an alternative to the LME. It is headed by former LME SEO, Martin Abbott, and includes Anglo American, Glencore, BHP Group and Rio Tinto as shareholders.
The Chicago Mercantile Exchange (CME) plans to launch a nickel contract with prices established from GCH's platform.
There is also the Shanghai Futures Exchange (SHFE), but due to capital restrictions in China, the SHFE struggles to have the global reach of the LME.
Is it possible to replace the world's oldest and largest nickel exchange?
If enough producers and consumers move to a new platform, the LME will struggle to maintain both its liquidity and physical nickel backing, making their contract increasingly irrelevant.
In response, the LME has launched a series of measures to protect its nickel contract, including cutting waiting times, scraping fees for new brands of the metal that can be delivered against its contract, and conducting an independent review of events leading up to March 2022.
Note, the LME has weathered a similar crisis before, in the 1980s, with the collapse of the international tin cartel that threatened to bankrupt LME brokers.
How do traders find a nickel price?
With trust in the LME at record lows and potential new rival contracts on the horizon, it is difficult for traders to find a reliable benchmark price for their nickel.
This is particularly so with an increasing amount of non-deliverable LME nickel being produced (especially ferronickel and NPI).
Currently traders are increasingly using signals from the Shanghai Futures Exchange, as well as the LME and other sources, to price their metal.
We recommend investors have on hand traders and consultants with deep, professional knowledge of the marketplace to find a reliable and secure position.
We expect the uncertainty in the marketplace to last at least another 3-5 years as the marketplace attempts to establish a new trusted benchmark or the LME regains trust amongst producers, brokers and buyers.
It is a volatile market which brings uncertainty, but also an opportunity for the prepared investor.
Subscribe for Investment Insights. Stay Ahead.
Investment market and industry insights delivered to you in real-time.