US$280billion pulled from clean energy stocks since 2022
renewable energy firms sounding alarm over rising costs
expect a significant industry shake up, with new risks and opportunities
Subscribe for Investment Insights. Stay Ahead.
Investment market and industry insights delivered to you in real-time.
More than US$280billion has been pulled from clean energy stocks since an all time high in August 2022. And, with 10-year US Treasury yields crossing 5% for the first time in 16 years — tightening lending conditions — green energy investment may fall further.
The S&P Global Clean Energy Index, tracking 100 of the biggest companies in global clean energy-related businesses, has dropped 40% since highs in 2021 — despite trillions of dollars in tax credits, subsidies and government loans.
This matters for commodity investors, with new risks and opportunities.
For example, an offshore wind plant needs x13 more minerals than a gas-fired plant; an electric vehicle (EV) needs x6 more minerals than conventional cars.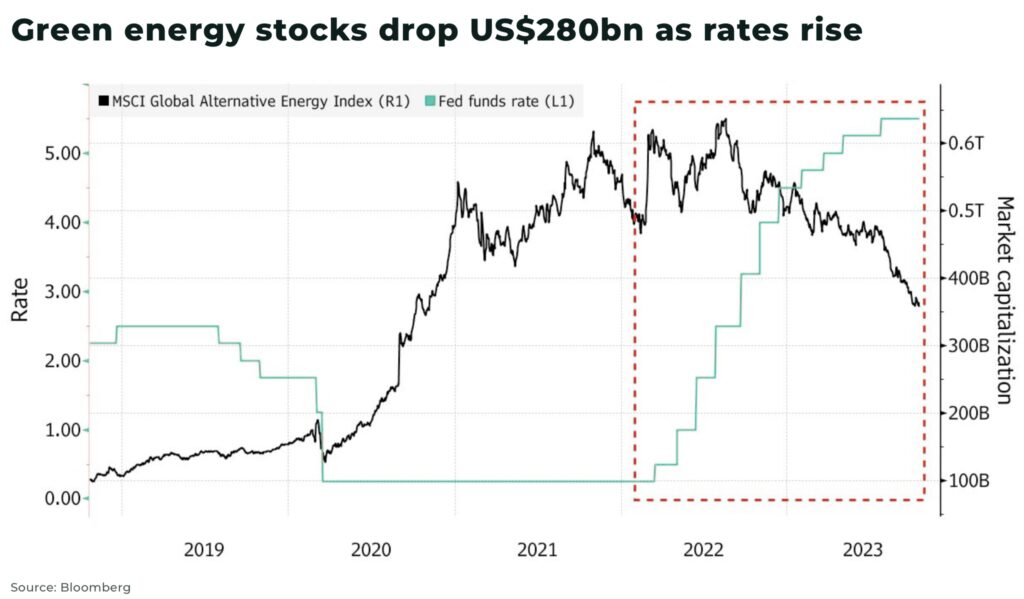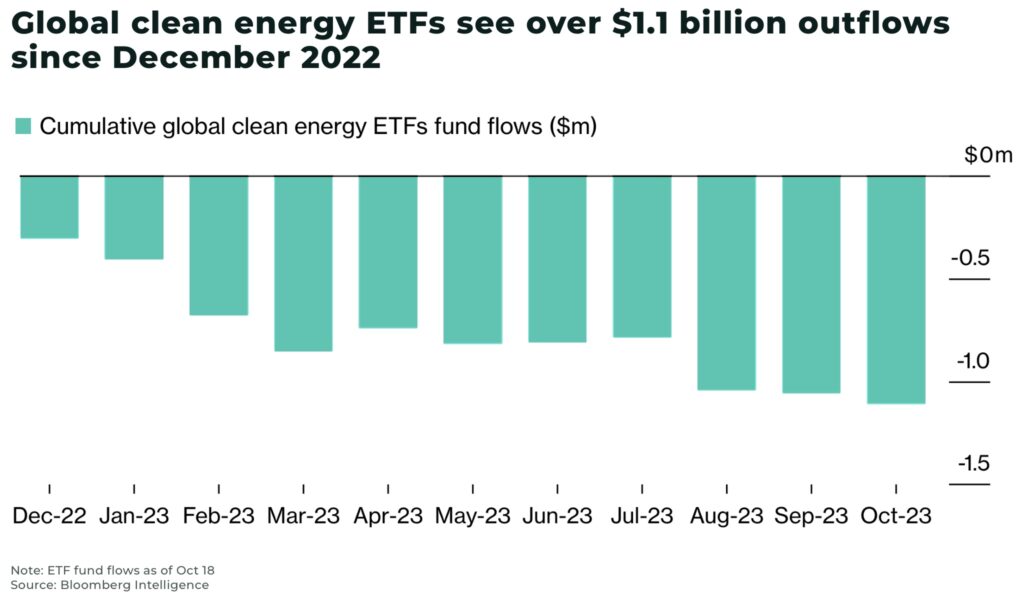 Renewable energy vs Interest rates
The levelized cost of electricity (LCOE) — basically, the cost of electricity generation — has fallen dramatically:
in 2010, the LCOE for offshore wind was 258% higher than the cheapest fossil fuel cost. In 2022, it was only 17% more expensive
in 2010, solar PV was 710% more expensive than the cheapest fossil fuel cost. In 2022, it was 29% lower
But, in 2023, the LCOE for wind and solar began to rise, and are forecast to remain 10-15% above 2020 levels in 2024.
We do not expect interest rates to be lowered significantly for some years to come, unless there is a serious financial downturn.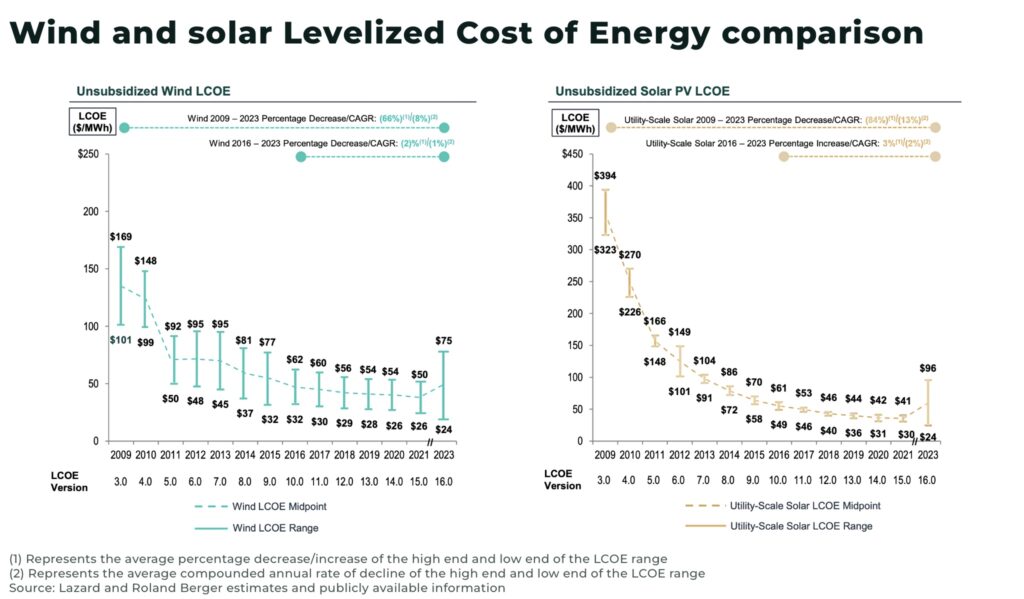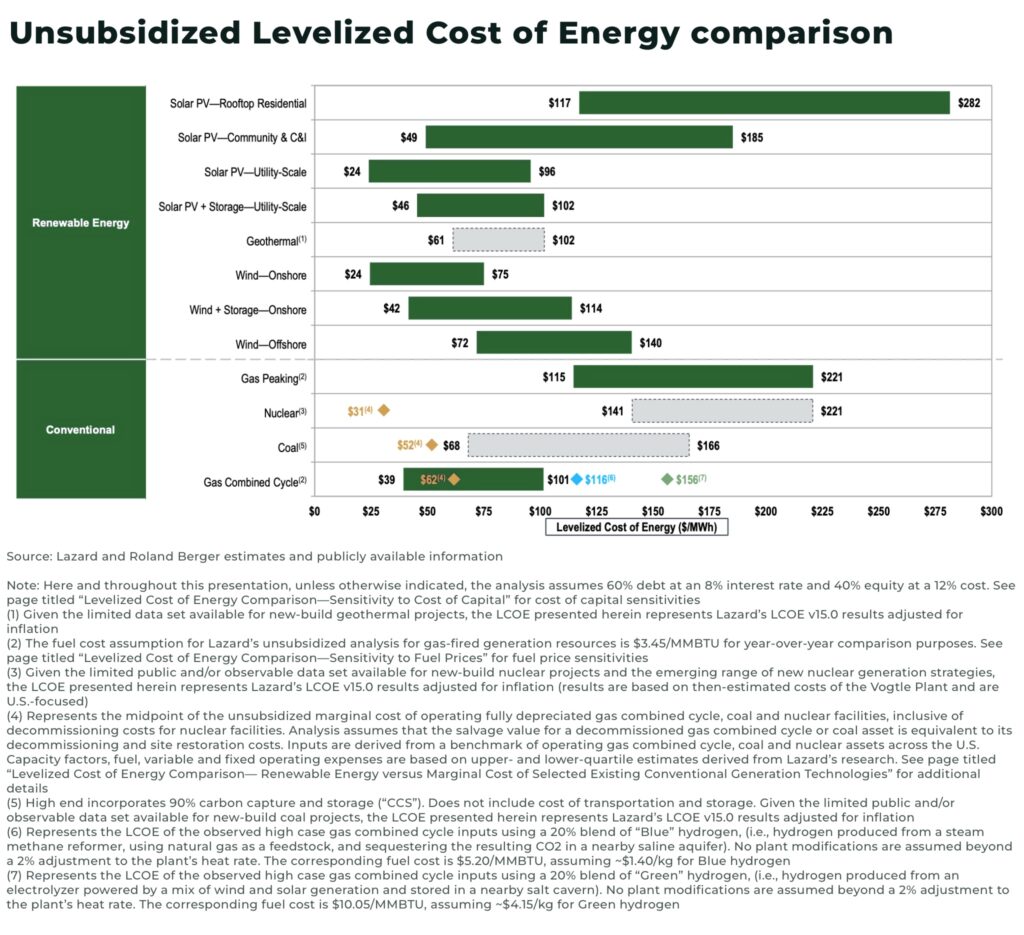 Subscribe for Investment Insights. Stay Ahead.
Investment market and industry insights delivered to you in real-time.
Rising interest rates and inflation mean, not only increasing debt servicing costs, but also increasing costs of raw materials, shipping and logistics, labour, as well as limiting the capacity of governments and consumers to support the transition.
This is particularly problematic for renewable energy companies who often agree long-term contracts that fix the price through Purchase Power Agreements (PPA) at which they will sell their energy, before project development.
One analysis, commissioned by the Netherlands Renewable Energy Association (NVDE), estimates additional costs on renewable energy in the EU due to interest rate rises total €17 billion euros until 2030 and €163 billion euros until 2050. A further 1% increase in interest rates raises the costs by another €6 billion euros until 2030 and by €55 billion euros until 2050.
This means many existing contracts will be loss-making, unless interest rates fall, prices rise, or government subsidies increase.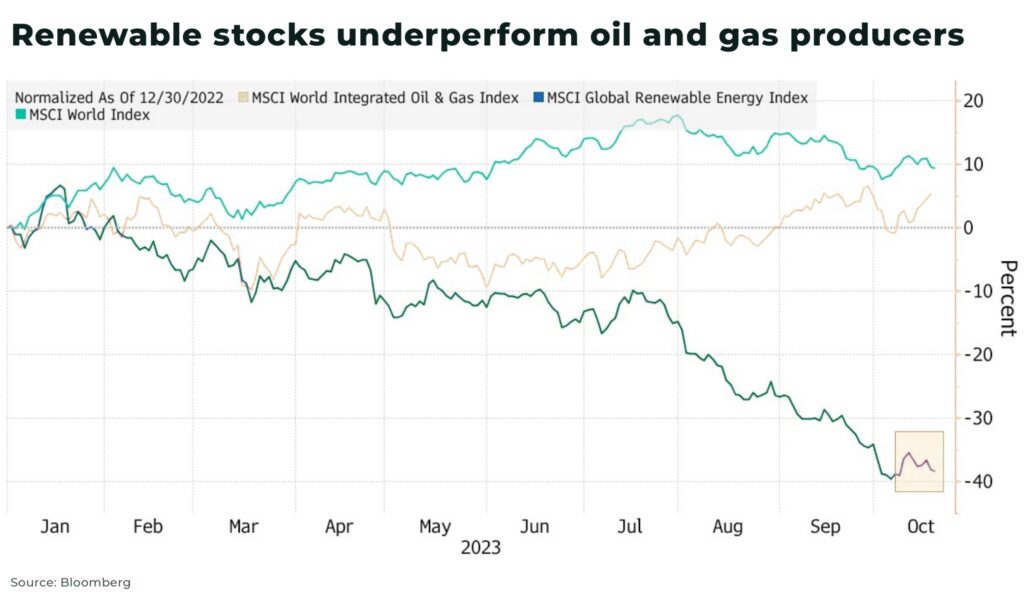 Wind turbines stop turning
To be clear, there's more going on than just interest rates with other factors such as logistics, labor, inflation, technology, etc also impacting costs and timeframes.
But, the impact of interest rates is significant and impacts the whole industry, but especially so for wind power. For example: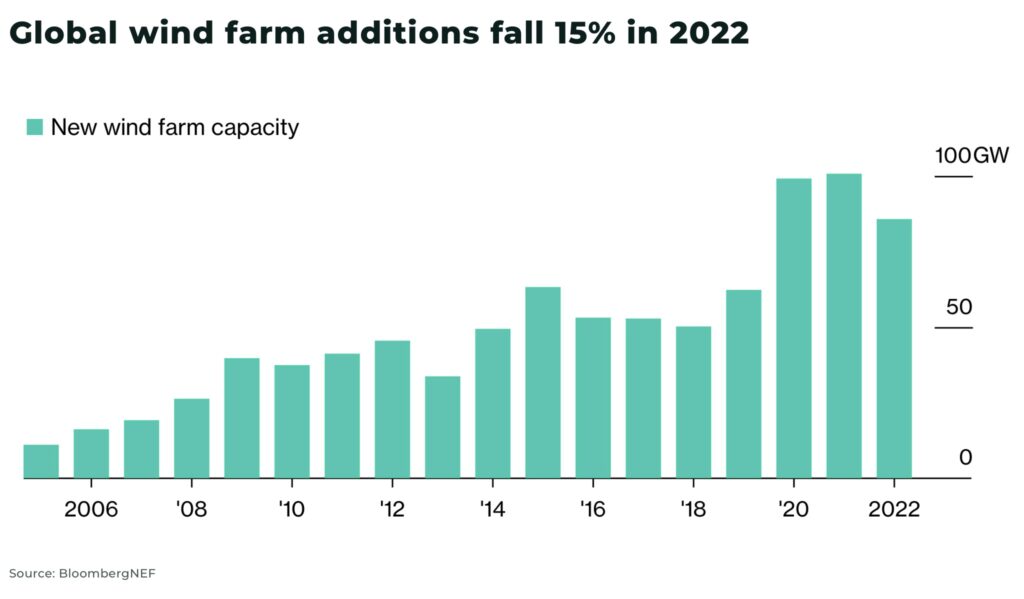 But, also in solar:
And, in EVs:
Tesla, General Motors and Ford have all slowed their production of EVs, citing economic uncertainties and underscoring fears of a slowdown in demand
Li-cycle announced a pause in construction of it's lithium-ion battery recycling plant, despite significant backing from the Biden administration, due to rising costs
a report by the UK's largest automotive marketplace, warns buyer interest in new EVs has fallen 65% since 2022
Subscribe for Investment Insights. Stay Ahead.
Investment market and industry insights delivered to you in real-time.
China
Chinese renewable companies are also experiencing their own sell-offs as the country grapples with an economic slowdown. And so, they are looking for other markets.
Cheaper alternatives and stockpiling, from solar panels to EVs, from China threatens to bankrupt Western manufacturing companies.
"This is creating concrete risks for companies to go into insolvency as their significant stock will need to be devalued"

— Solar Europe, industry trade group, Record-low solar PV prices risk EU's open strategic autonomy
Which way will governments blow?
The sunken costs in the energy transition — an estimated US$1.1 trillion in 2022 alone — as well as the priority of climate change for many voters, means it is highly unlikely the energy transition is about to be completely derailed.
Government deadlines for their net-zero targets are — as yet — largely unchanged.
The latest World Energy Outlook report by the IEA, forecasts:
x10 times more EVs on the road globally
solar PV generating more electricity than the entire US power system today
renewable energy's share of the global electricity mix nearing 50%, up from 30% today
and x3 more investment into new offshore wind projects than new coal and gas power plants
However, perhaps as a warning, the UK has been the first to pushback:
UK Prime Minister Rishi Sunak announced a 5-year delay in the ban on sale of new petrol and diesel cars, so the law for all new cars to be zero emission is now 2035 (the same as the EU)
no offshore wind developers took part in the country's latest auction, saying the maximum price had been set too low
And the UK is not alone. For example, in Germany, a law to phaseout gas boilers for heat pumps provoked a furious backlash that nearly toppled the governments.
We anticipate a number of changes, especially by government, in the industry in the face of these rising costs:
existing renewable projects will be supported — the EU is planning to announce new measures to support the wind industry this year — but the focus will increasingly be on facilitating logistics, such as connecting to the grid, skills, auction systems, supply chains, etc
governments will begin to roll out new subsidies (for example, the Inflation Reduction Act subsidies will not be enough as costs rise), but they will be on a smaller, more targeted scale, with much greater scrutiny over cost-effectiveness of which energy projects to be supported
wind power, especially offshore wind power, will face the greatest financial scrutiny in the next few years
solar power will be supported, especially from Chinese manufacturing and government support, but there is a significant bottleneck of stockpiles to be used first
a significant, renewed push for nuclear power from countries across the world
developing countries will struggle to finance their own green renewable energy transitions through borrowing, creating challenges for the energy transition outside of developed economies
One particular note: the stakes for the renewable energy industry, with these rising costs, increase significantly ahead of next year's US election. The candidates have not yet been chosen, but we expect growing resistance, especially among Republicans, to extending subsidies to renewable energy in the face of growing costs.
What does this mean for commodity investors?
Interest rate rises are not enough to derail the energy transition, but it will slow the momentum, especially in wind power.
Retrenchment in any industry is normal, especially when economies slow down, and the more successful companies survive.
This is, as we argue, in our analysis on "What would "Peak Green" mean for commodity investors", a good thing for both investors and the campaign for net-zero, allowing sensible investments to be made with the long-term support of both governments and voters — and now, the economy.
For commodity investors, this offers both greater risk and opportunity:
more volatility in the short-term, as governments and economics adjust to the new reality, offering investors opportunities to invest in the "winners"
a longer timeframe for net-zero commodity demand, as projects struggle to find finance in the short-term, which will particularly hit 2030 deadlines, but will mean renewable commodity demand will extend into 2050
Stay subscribed to stay ahead.
Subscribe for Investment Insights. Stay Ahead.
Investment market and industry insights delivered to you in real-time.