---
diesel prices increased 70% on last year despite low oil prices
US crude oil refining capacity above 90%, but still the lowest since 2014
high diesel prices impacting manufacturing, down 1.2% in October, year-on-year
electric vehicles, hydrogen power and biofuels offer opportunities for investors
---
Subscribe for Investment Insights. Stay Ahead.
Investment market and industry insights delivered to you in real-time.
Diesel prices in October surged 70% higher than prices last year, and cracks (differential to crude price) increased 425% — record levels, while oil prices remain low.
High prices are a problem because it's diesel that makes the economy run; from transport to factories, heating to construction, farming to mining.
"High diesel prices are fuelling inflation, adding pressure on the global economy and world oil demand"

— IEA, monthly oil market report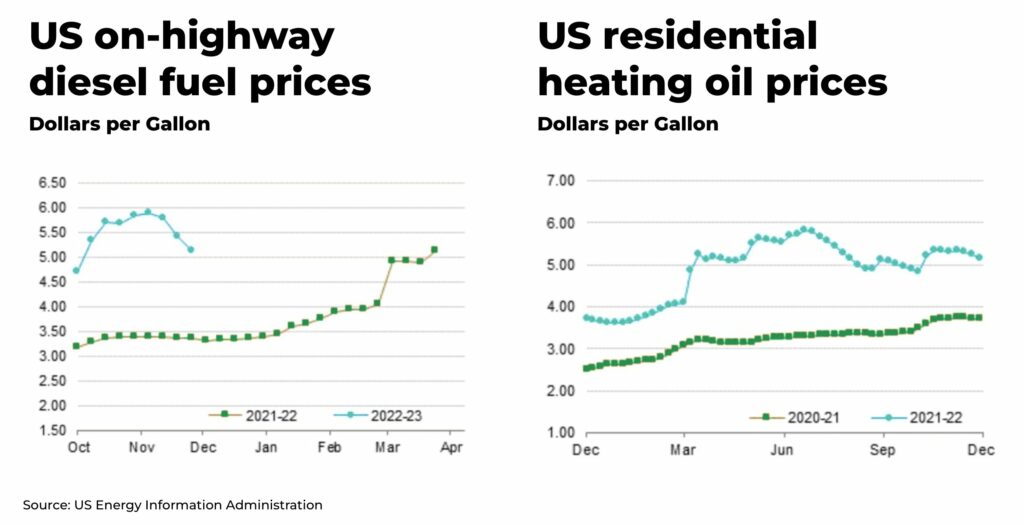 Diesel price volatility
But, despite Christmas delivery and heating season (especially when there is heavy snowfall on the US East Coast), diesel prices are beginning to come down. The national US average price of diesel fell 7.9 cents at the end of November to $5.20 per gallon, according to GasBuddy.
That's good for consumers at the pump, but not necessarily a good thing for the economy. And it could be about to get a lot worse.
On the surface, one reason prices are down, is that production is up: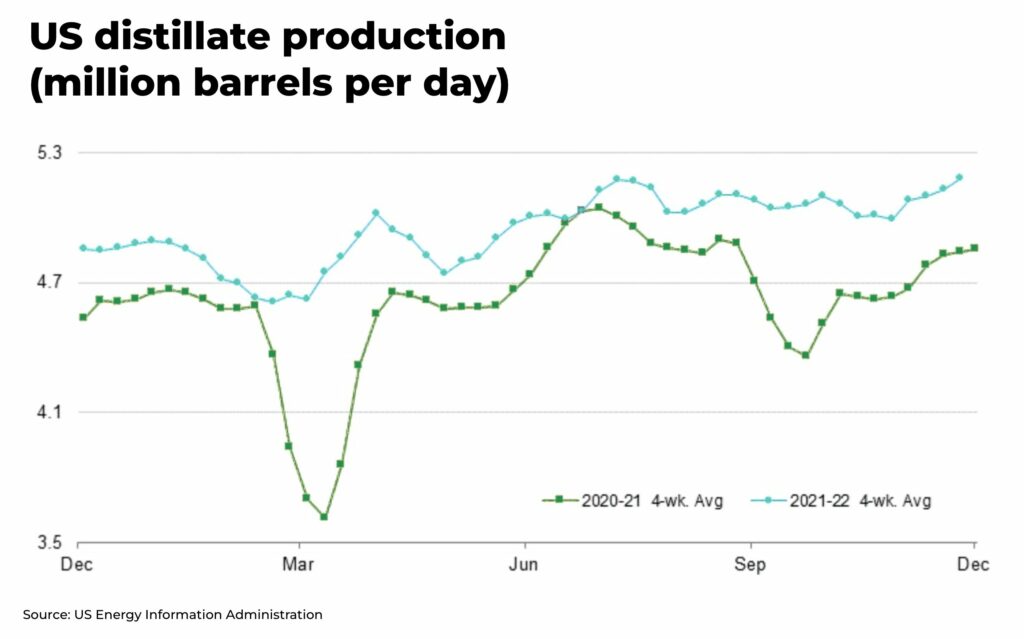 But, on last year, prices are still higher: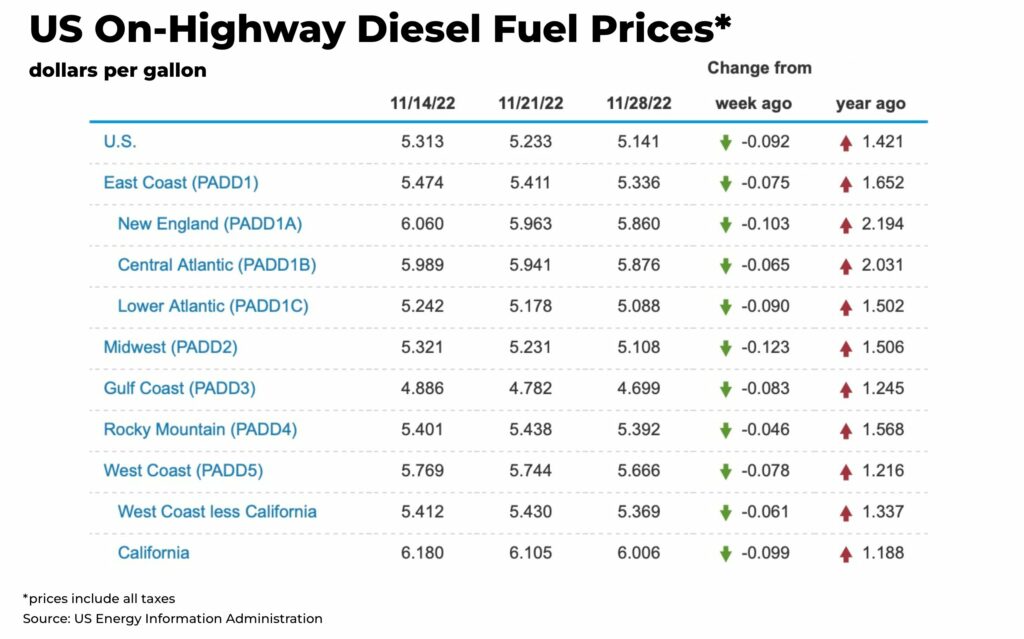 We believe prices still have further to fall, especially in the US.
One worrying reason is that demand destruction is kicking in. High prices means consumers and businesses will start using less diesel to save money, and so inventories begin to climb again.
There are signs this is already happening.
Demand for diesel, or distillate fuel, is falling with a subsequent knock on effect to the economy.
US manufacturing has contracted for the first time since May 2020 — 1.2% lower than the 50.2% in October.
"Of the six biggest manufacturing industries, two — Petroleum & Coal Products; and Transportation Equipment — registered weak-to-moderate growth in November"

— Institute for Supply Management, Report on Business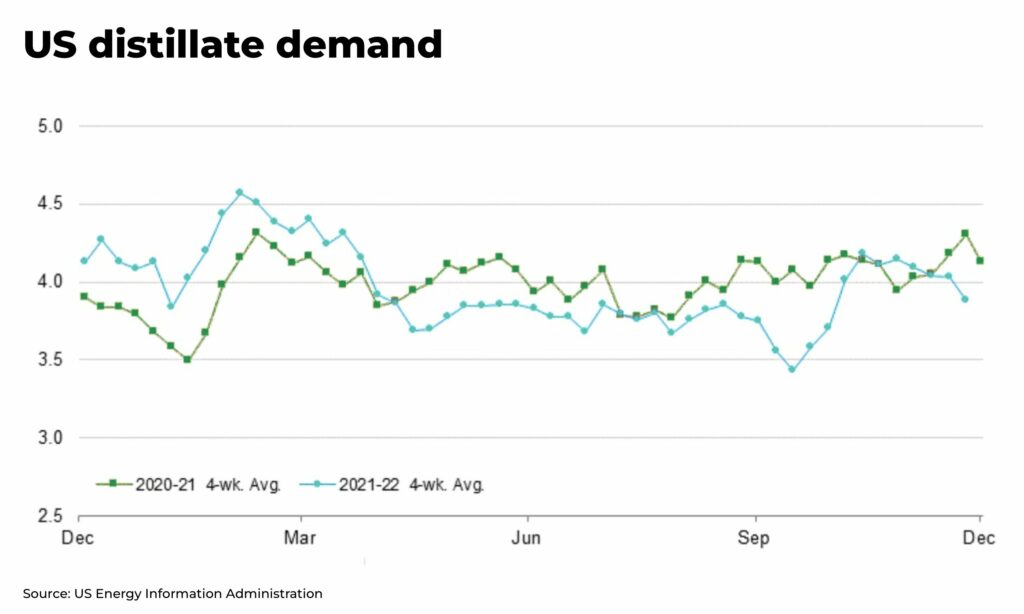 Let's back up for a moment.
Why there is a crisis in the diesel price
Firstly, this is a global diesel crisis.
After the Covid pandemic, demand for diesel soared as the global economy opened back up. But, an estimated 3.5million barrels of refinery distillation capacity had shut down during the national lockdowns, meaning a net decline of 1million barrels a day.
For example, one of the biggest shutdowns was on the US East Coast, Philadelphia Energy Solutions plant after a fire caused by a corroded pipe, that produced 335,000 barrels a day.
US crude oil refining has been running at extremely high levels — above 90% of capacity — for the last six months, but capacity is still the lowest since 2014, according to the EIA.
So, the government has drawn down on stockpiles. In October, the US had only approximately 26 days worth of diesel left in storage.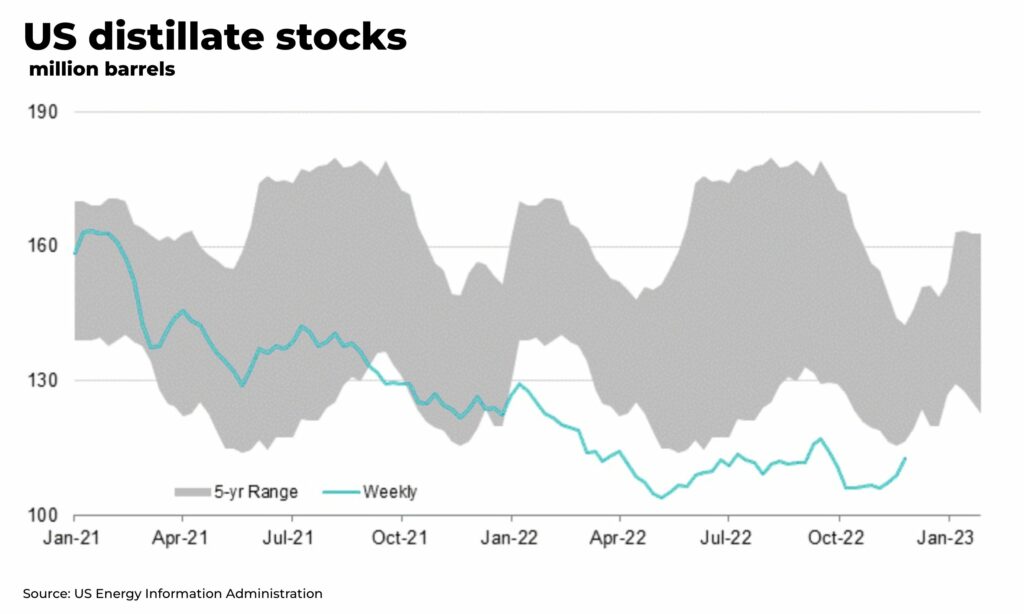 A major diesel crisis is also brewing in Europe.
On February 5 2023, the EU ban on all imports of Russia oil product imports comes into effect. By October 2021, the EU had reduced it's imports of Russia diesel to 560,000 barrels a day. But it's not certain where this remaining, significant shortfall can be made up.
Refinery strikes and embargoes in France and the Netherlands in the last few months didn't help.
If demand for diesel stays high, the EU will start having to bid — during a global tanker shortage — against US, Middle East and India. Note, in India, demand for diesel has surged by 21% from October and by 27% from last year.
Subscribe for Investment Insights. Stay Ahead.
Investment market and industry insights delivered to you in real-time.
If demand does not stay high, then most likely it's because industry and the economy are unable to afford it. And high energy costs are already have a major impact on the deindustrialization of Europe's economy.
In China, exports of diesel have been severely restricted for the past year. In October, the government relaxed the quota and diesel exports doubled to nearly 1.06 million tons. But it's not enough to make up for the tight market of the last year that helped keep global inventories low.
"It's certainly the biggest diesel crisis that I have ever seen"

— Dario Scaffardi, the former chief executive officer of the Italian oil refiner Saras SpA who's spent almost 40 years in the industry, told Bloomberg
The International Energy Agency (IEA) has forecast a small decline in diesel and gasoil demand next year as persistently high prices stoke already high inflation rates and hit economic activity.
Net global capacity declined in 2021 for the first time in 30 years, according to the IEA
We expect volatile prices to be a problem for the long-term.
The reason is that refining capacity in the US and elsewhere is closing down, and not being built back during these boom times. Net global refining capacity declined in 2021 for the first time in 30 years.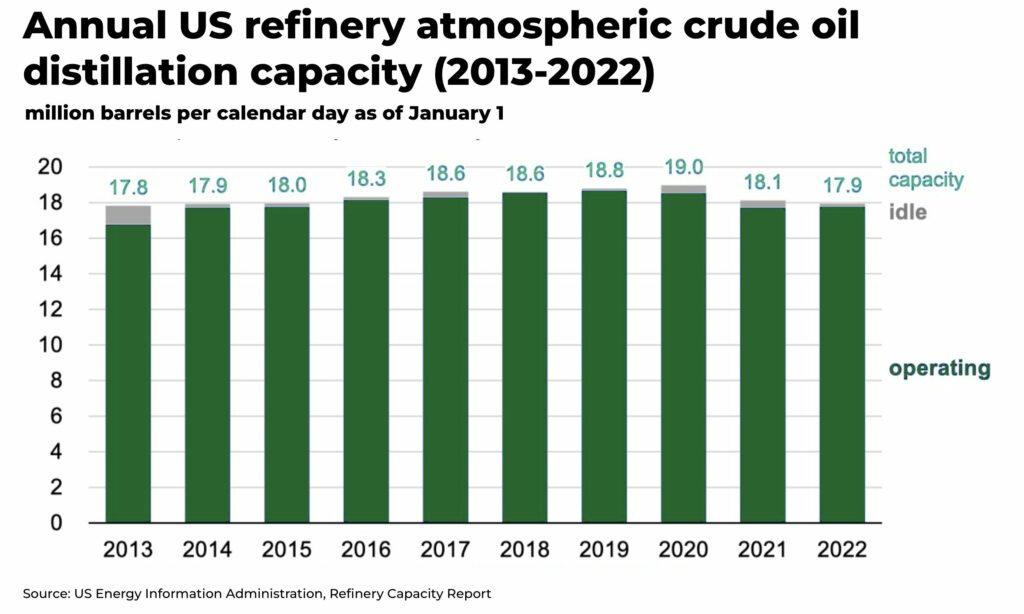 And, as highlighted by this interview with Chevron's CEO, Mike Worth, it's very unlikely any new refineries will be built in the US. There is a similar trend in Europe.
The push by national governments for an energy transition to meet net zero targets and tackle climate change means many companies are reluctant to invest billions in new refineries that could take a decade or more to return the investment.
The future of diesel for investors
So, where should investors be looking to get ahead of the diesel crisis?
New refining capacity is scheduled to come online by the end of next year, particularly in the Middle East, North Africa and Asia. Many of the major projects could account for an increase of nearly 3.0 million b/d of new refining capacity by the end of 2023. However, many of these projects have already been subject to major delays, due to logistics, construction, labor, finances, or political complications.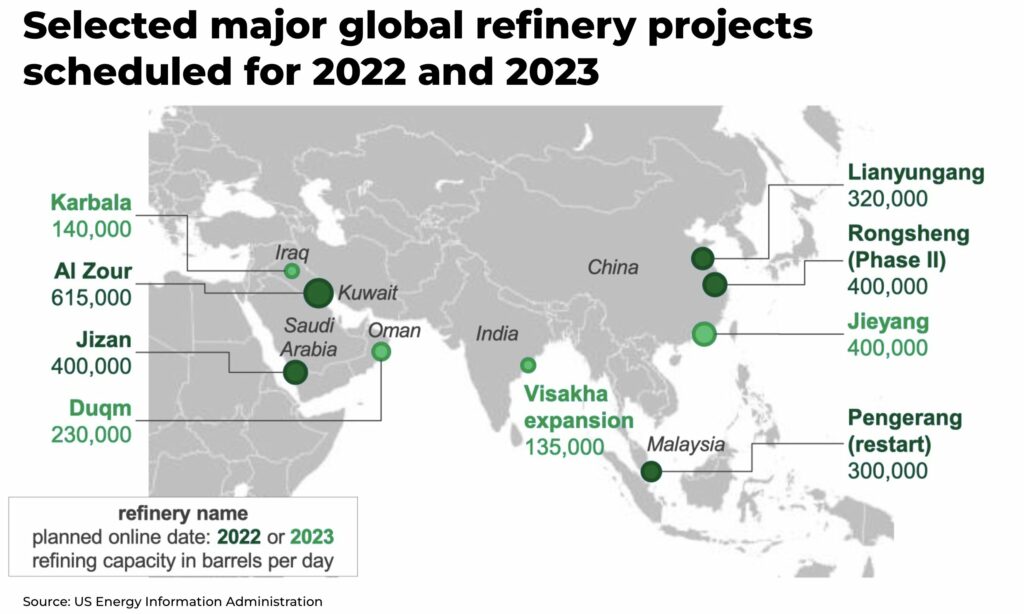 There are three other major areas offering significant potential growth:
Electric Vehicles
Biofuels
Hydrogen Power
This month, Elon Musk announced the completion of a 500 mile drive with a Tesla Semi weighing 81,000 lbs. It's set to enter mass production at the end of 2023. Ford and others are also getting in the market.
More than 15 million commercial vehicles are registered in the US, 76% of them powered by diesel engines.
So, replacing these with electric vehicles would have a significant impact on diesel demand, and many governments have already set deadlines for the end of sales for vehicles running on fossil fuels.
This, obviously, would have a significant impact on green metals and commodities essential to the energy transition — an area of key expertise for The Oregon Group, so don't forget to sign up for our exclusive investment insights.
You can read our introduction to the forecast growth of hydrogen power, with demand potentially increasing 7-fold under global net zero by 2050 scenario.
Demand for biofuels — renewable, biodegradable fuel produced from vegetable oils, animal fats, or recylced fats and grease from restaurants – is forecast to quadruple from 3.6% of global transport energy demand in 2021, mainly for road transport to 15% in 2030.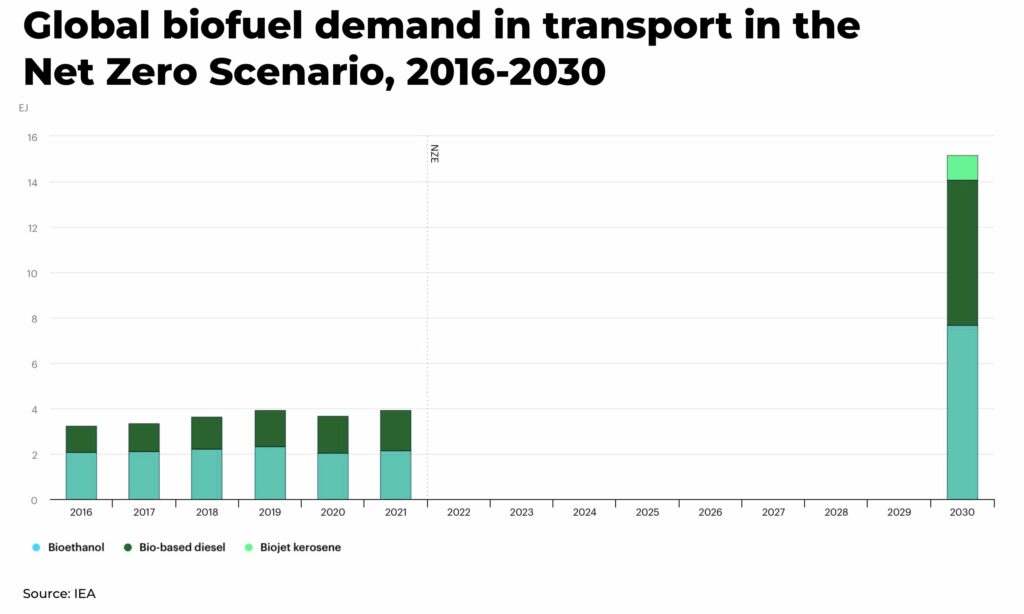 Global investment in liquid biofuels more than doubled in 2021, reaching just over $US8 billion and governments around the world have, or are proposing, relaxed, delayed or postponed biofuel blending requirements.
Diesel will still be king of the road and industry for at least another decade due to its cost and efficiency.
But the direction of travel is clear and for the first time in over hundred years there are signposts to a variety of new opportunities for investors.
Subscribe for Investment Insights. Stay Ahead.
Investment market and industry insights delivered to you in real-time.