---
Department of Defense budget request of US$842 billion for 2024, increase of $26 billion over 2023
US lacks domestic production of 14 critical minerals, and import-reliant for more than 50% for 31
US military is driving investment and legislation for secure critical minerals supply chains
---
Subscribe for Investment Insights. Stay Ahead.
Investment market and industry insights delivered to you in real-time.
On March 9, 2023, the Biden-Harris Administration submitted to Congress a proposed 2024 budget request of US$842 billion for the Department of Defense (DoD), an increase of US$26 billion over 2023 levels and US$100 billion more than FY 2022.
"To sustain our military advantage over China, it [the budget] makes major investments in integrated air and missile defenses and operational energy efficiency, as well as in our air dominance, our maritime dominance, and in munitions, including hypersonics"

— Secretary of Defense Lloyd J. Austin III, Department of Defense Releases the President's Fiscal Year 2024 Defense Budget
None of this is possible without critical minerals to build it and power it.
Yet, as highlighted during the economic lockdowns during the Covid pandemic and the economic fallout from the invasion of Ukraine, global supply chains are increasingly vulnerable — and so a national security risk.
Another geopolitical shock could threaten supply chains in unpredictable and dangerous ways.
And the US has taken notice.
Supply shock
The Department of Energy found, of the 35 mineral commodities identified as critical, the US lacks domestic production of 14, and is more than 50% import-reliant for 31.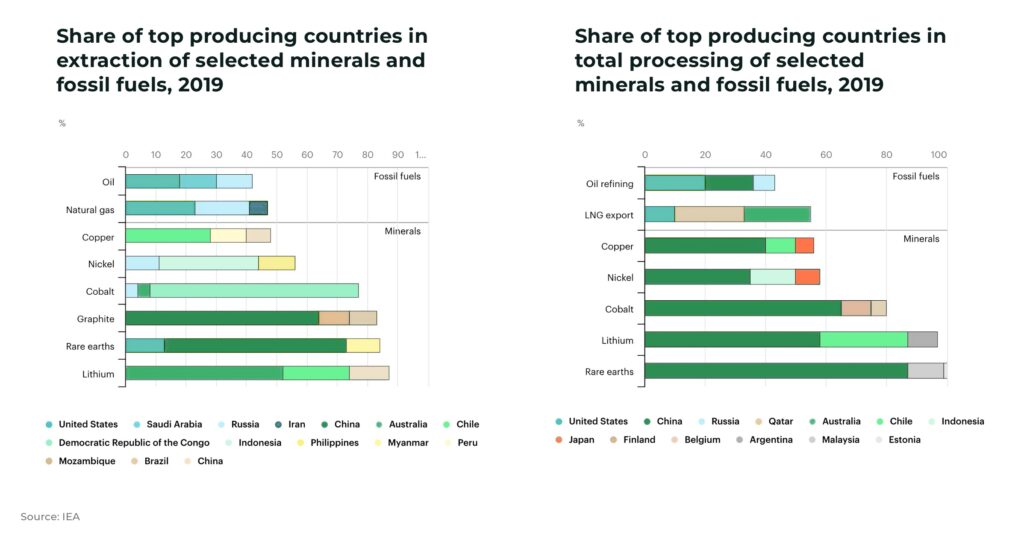 China dominates significant supply and processing of critical minerals, for example, over 80% of Rare Earths.
Russia is one of the top three crude oil producers and the world's second largest natural gas exporter, as well as a key exporter of critical minerals like palladium, aluminium, nickel, platinium, neon, and antimony.
"With the invasion of Ukraine, there are certain materials that come out of both Russia and Ukraine that are critical to our munitions [where] the market has become disrupted, and it's just not functioning"

— Deborah Rosenblum, a Pentagon official performing the duties of assistant secretary of defense for industrial base policy
Subscribe for Investment Insights. Stay Ahead.
Investment market and industry insights delivered to you in real-time.
Critical minerals for weapons
To build advanced, lightweight military systems — from missile guidance systems to artificial intelligence capabilities — rare earths and critical minerals are essential. For example:
The list goes on, with the US list of critical minerals increased from 35 minerals in 2018 to 50 minerals in 2022.
"Strategic and critical materials are vital to our national defense and economic prosperity, enabling the United States to develop and sustain emerging technologies. They also improve our warfighting capability, support family-sustaining jobs, and strengthen our alliances and partnerships. Though there is more work to be done, the Department of Defense remains committed to a whole-of-government approach to preserve our access to strategic and critical materials. This is important not only for our national defense, but to ensure our national economic well-being"

— Secretary of Defense Lloyd J. Austin III, The Defense Department's Strategic and Critical Materials Review
And, the war in Ukraine is depleting current ammunition stocks to "uncomfortably low" levels.
Money for mining
Both the Trump and Biden administrations have authorized funding to secure supply of critical minerals, in particular:
The budgets allocated are enormous, and diverse.
The latest Department of Defense budget request for 2024 includes:
$275.6 million to establish and expand domestic industrial mine and process critical capabilities
$441 million to expand existing production and onshore capabilities for critical chemicals
$125 million to invest in domestic battery cell manufacturing capabilities to enable the Department to have a stable, qualified, and secure supply
Subscribe for Investment Insights. Stay Ahead.
Investment market and industry insights delivered to you in real-time.
But these figures disguise the leverage the federal government is using on other examples of funding, including: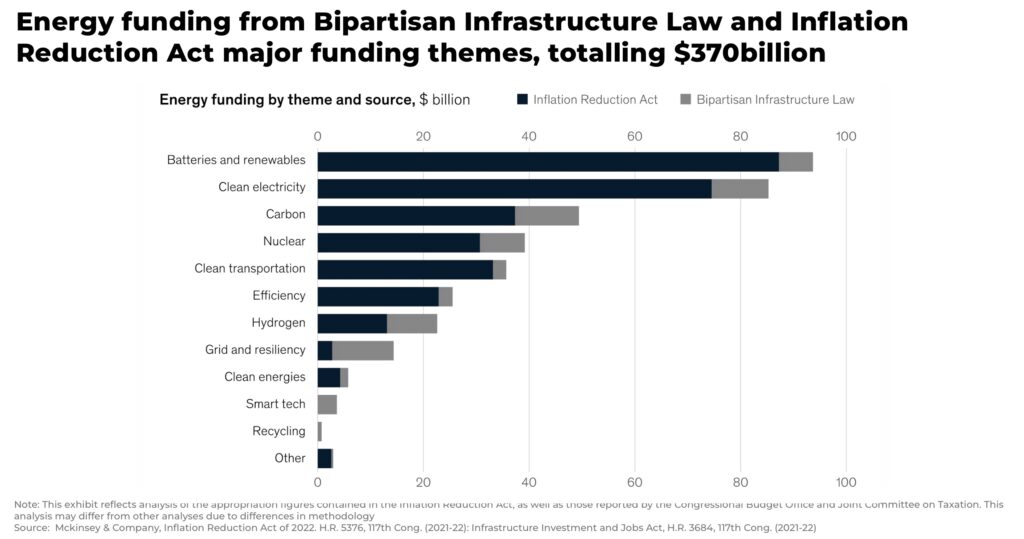 Not all minerals can be sourced from the US (too few reserves, lack of permitting, etc), so international alliances are a key part of the plan to secure supply.
International mining alliances
In 2022, the US State Department established the Minerals Security Partnership with 10 US-aligned countries to secure production, processing and recycling of critical minerals. The partners include Australia, Canada, Finland, France, Germany, Japan, the Republic of Korea, Sweden, the UK.
And these partnerships are starting to impact investments in the global critical mineral supply chain:
Australia:
A new agreement between the US and Australia, signed in March 2023, coordinates policy and investment between the two countries — in particular, paving the way for Australia to treated as a domestic US supplier to access investment from legislation such as the DPA and IRA.
In 2022, the Pentagon financed a US$120 million deal with Australia's Lynas Rare Earths Ltd to build the largest Heavy Rare Earths separation facility outside of China.
The moves come as revenue from Australia's exports of critical minerals, such as lithium and nickel, is forecast to nearly equal the current second-biggest export earner coal by 2028.
Canada:
A new agreement between the US and Canada, signed in March 2023, accelerates cooperation on critical mineral supply chains.
The US military is reportedly soliciting for applications from Canadian mining projects that could qualify for funding through the Defense Production Act. Canadian officials have presented the US with a list of 70 projects that could warrant funding.
The moves come as Canada has begun to restrict foreign owned investments in the critical minerals sector, particularly affecting Chinese investments. The provinces are also looking into ways to shorten permitting times.
(Read our analysis: Plugging Canada into America's battery belt)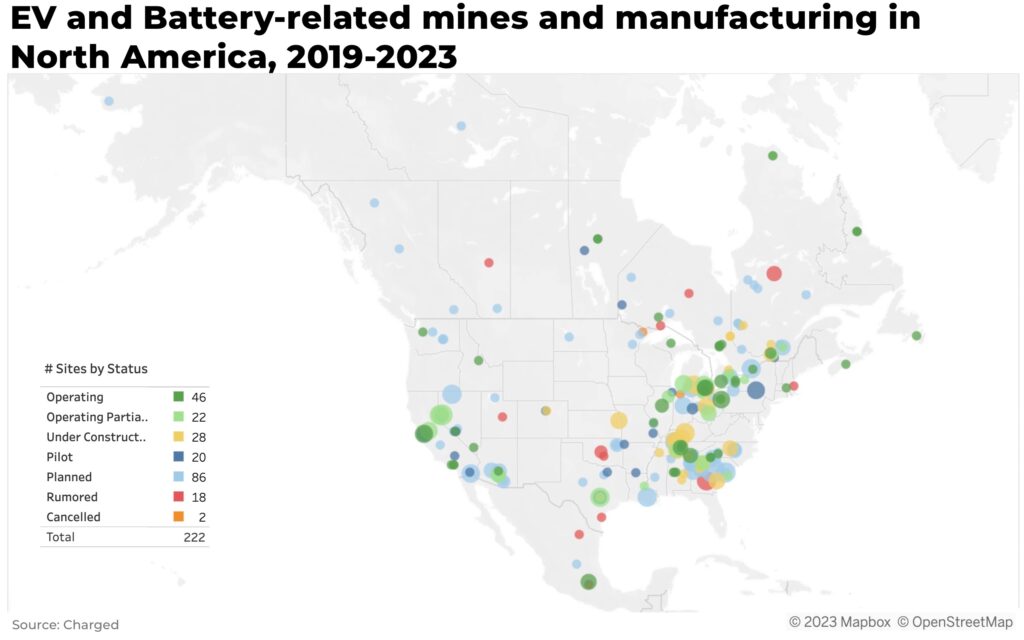 Subscribe for Investment Insights. Stay Ahead.
Investment market and industry insights delivered to you in real-time.
Stockpiles
The US is also starting to increase its stockpile of critical metals and rare earths.
In 2022, the Department of Energy, Department of Defense, and Department of State agreed to set a foundation for a critical minerals stockpile to support the U.S. transition to clean energy and national security needs.
At least US$1 billion has been approved for the appropriation of critical minerals and other essential commodities for the National Defense Stockpile (NDS.
To put the US stockpile in perspective: the Defense Logistics Agency stores 47 commodities with a current market value of over $1.5 billion at 6 locations, including base metals such as zinc, cobalt, and chromium to the more precious metals such as platinum, palladium, and iridium.
There is no private sector company in the world that sells this wide range of commodities and materials.
The critical decade
US investment is both opening up new opportunities for supply, but also demand.
The next decade will be crucial for the critical minerals industry.
Demand is forecast to rise significantly as the energy transition picks up speed, but supply tighten as existing mines struggle to keep up and new investment takes years to build out enough capacity.
Net-zero deadlines are approaching, with carbon emissions needing to be reduced by 40% to keep global warming to no more than 1.5°C, as called for in the Paris Agreement.
And, concerns are growing over the potential for another major geopolitical incident that could disrupt global supply chains further.
And so, the Department of Defense will likely be competing against a tight market to reduce their reliance on foreign imports, further impacting prices.
Investors
For investors who want to stay ahead of the commodities and critical minerals market, it's important to remember the market is being driven not just by consumer demand and net-zero targets, but also national security.
Defense concerns over US supply chains are a guiding force behind what the US government includes in new legislation, where international agreements over minerals and mining will likely be agreed, as well as the long-term momentum behind the energy transition itself.
And remember, this is a concern not just in the US, but China, Russia, and every other major power.
Stay subscribed to stay ahead.
Subscribe for Investment Insights. Stay Ahead.
Investment market and industry insights delivered to you in real-time.