---
inflation hit 9.1% in June, the highest level for forty years
clean energy investment forecast to be more than US$1.4 trillion in 2022
renewable energy needs to reach 32% share of global energy consumption by 2030 for the world to hit the Paris Agreement net-zero agreement by 2050
---
Subscribe for the macro, so you can invest in the micro
Investment market and industry insights delivered to you in real-time.
Inflation, hitting 9.1% in June, is at its highest level for over forty years in the US, as well as hitting other major economies across the world. Simply put, the value of your wealth is being eroded with very few safe havens. 
But one investment offers an historic opportunity for growth and security: the energy transition.
Clean energy investment is expected to exceed US$1.4 trillion in 2022 — accounting for almost 75% of growth in global energy investments which are set to rise over 8% in 2022 to reach a total of US$2.4 trillion.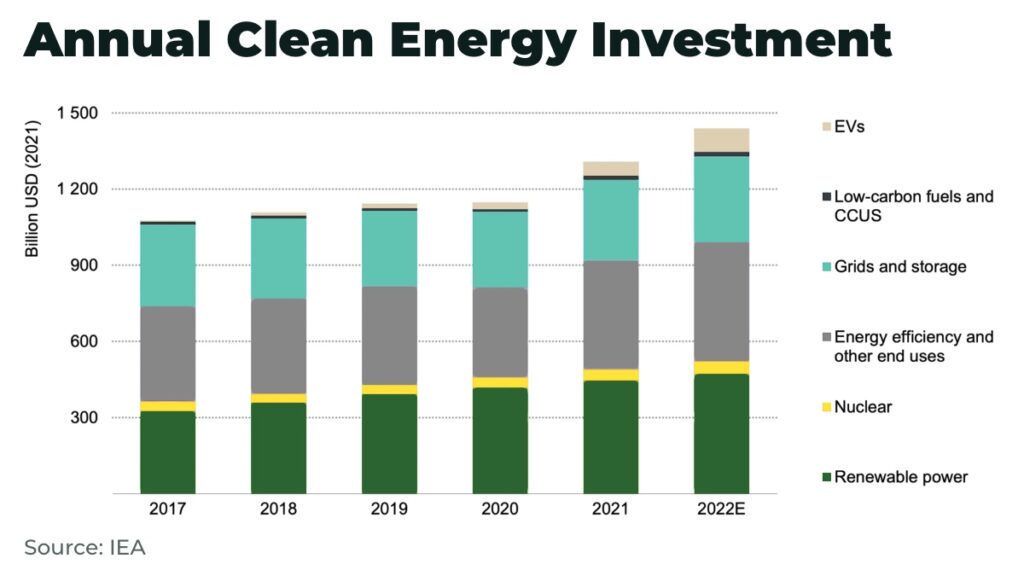 But, hold on, won't such vast sums of finance push inflation higher with so called "greenflation"? To answer that, let's break down what's driving the current spike in inflation.
The problem is excessive demand for key commodities and constrained supply.
It started with the Covid-19 pandemic. Government action helped consumers save money by pumping financial stimulus into households. But, the rapid spread of the virus and lockdowns created major disruption across multiple industries. When the global economy began to open up, supply chains were on the back foot.
Then the Russian invasion of Ukraine and the subsequent Western sanctions pushed up the price of commodities such as natural gas, oil, food and fertilizer. This has further impacted the ability of industry to keep prices low. (You can read our analysis on rising oil prices, natural gas prices, and food prices)
But there are also other shifts in the marketplace that are currently less publicized but arguably more fundamental to growth and security. In particular, we are talking about the energy transition.
"In the long-term, investment in the energy transition will help to save us from perhaps the worst inflation threat of all — the cost of extreme climate change."

— Anthony Milewski, The Oregon Group
As governments and companies strive to meet their net-zero targets, investment in traditional energy supply chains is falling — in the last 10 years, global energy investment dropped by 35% — while renewable energy is not yet able to meet demand and many "green" technologies, such as hydrogen, remain more expensive.
This has left the world acutely unprepared for the geopolitical shocks of the last few years.
For example, German industry would not be on the brink of collapse as Russia threatens to turn off natural gas exports, if it had access to sufficient clean energy such as renewables and nuclear.
Subscribe for the macro, so you can invest in the micro
Investment market and industry insights delivered to you in real-time.
Russia's move to weaponize its position as a major supplier of fossil fuels has meant that energy security is now an urgent priority for governments across the world. The energy transition is needed to meet the challenges of geopolitical instability and climate change.
The challenge for economies, and the opportunity for investors, is the transition period.
You see, the energy transition requires a big increase in the use of commodities such as lithium, nickel, uranium, and cobalt — many of which saw record price rises after Russia invaded Ukraine.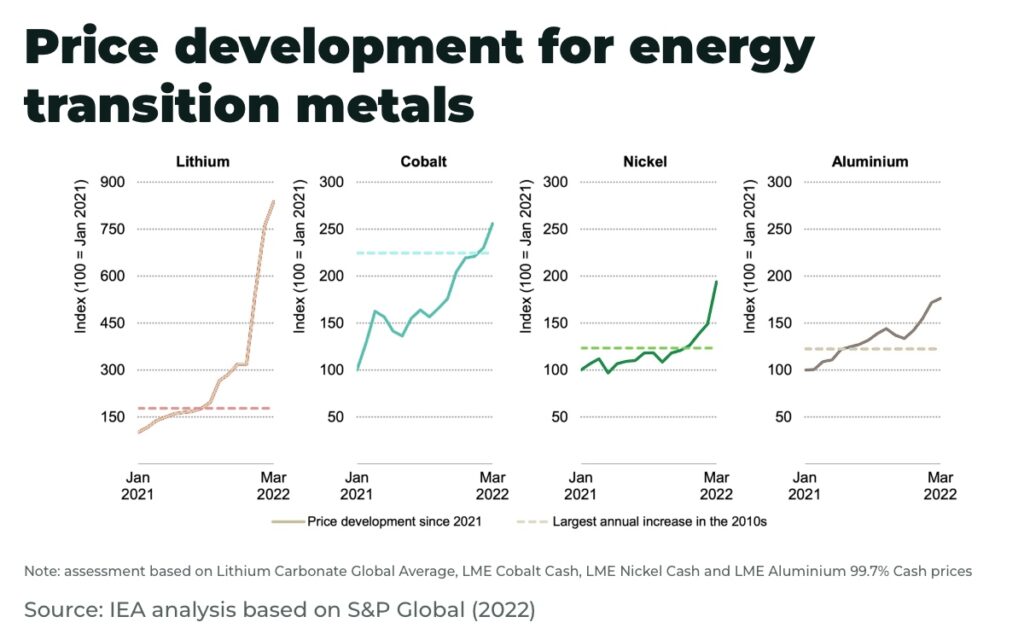 Why the sudden rise? The war and sanctions further disrupted supply chains, but also compounded the demand for "green" metals as governments double down on the energy transition.
Germany has brought forward its target to fulfil all electricity supplies from renewable sources to 2035; France has announced six new nuclear reactors as well as more funds to maintain its existing fleet; the U.K. wants to build a new nuclear reactor every year; China plans to double its solar and wind capacity by 2025.
All of this puts upward pressure on prices.
"The transition to this new steady state will not come for free," warned Isabel Schnabel, member of the executive board of the European Central Bank. "Electric vehicles, for example, use over six times more minerals than their conventional counterparts. An offshore wind plant requires over seven times the amount of copper compared with a gas-fired plant."
National governments are reducing stimulus packages and central banks are raising interest rates to reduce the impact of the pandemic and the Ukraine war on inflation. But policy is very unlikely to change course where security – including energy security – and climate change are concerned.
As the transition gathers pace, the cost of deploying green energy will drop and make installations more competitive, which in turn will facilitate mass rollout. Even before the Russian invasion of Ukraine, utility-scale solar prices fell by 88%, 68% for onshore wind, 60% for offshore wind between 2010 to 2021 in what IRENA calls a "seismic shift in the balance of competitiveness between renewables and incumbent fossil fuel and nuclear options."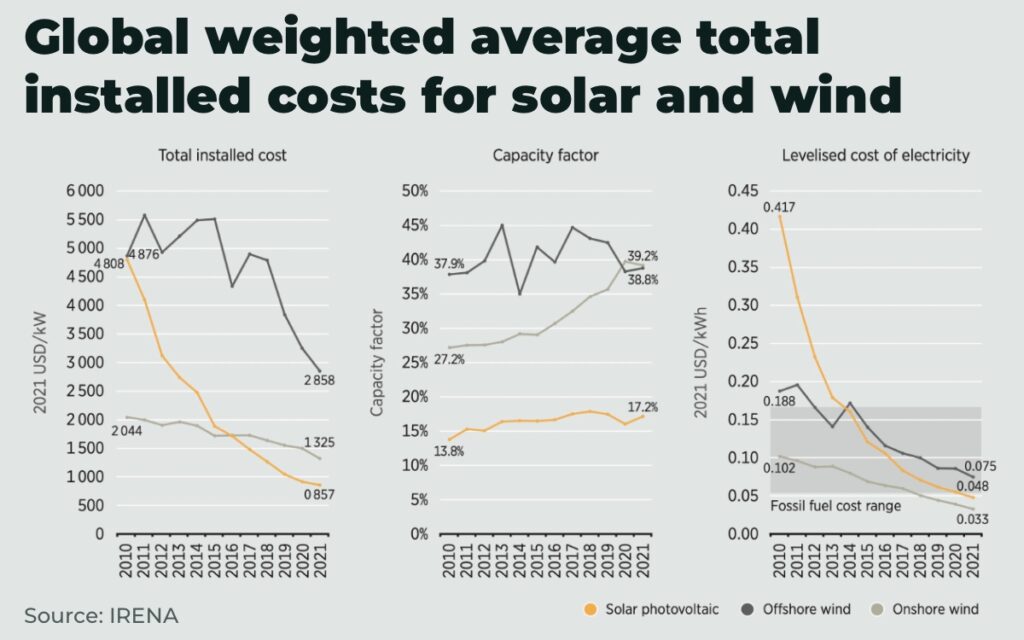 The world is still going to need fossil fuels for many decades but, just as Covid accelerated the digitization of industry, so too has the energy transition has been accelerated by the war in Ukraine and soaring inflation.
Forecasts are that, once complete, the transition will tame energy-based inflation in the long-term.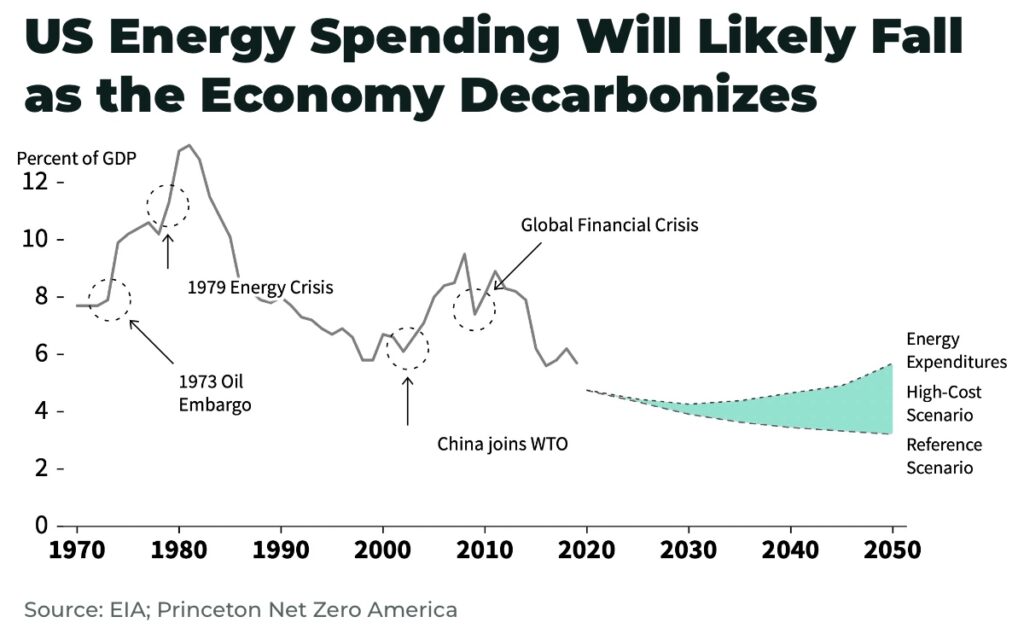 The opportunities for investors in this new trillion-dollar market are huge and diverse.
From the voluntary carbon credit markets forecast to grow x100 by 2050 from their record US$1billion last year.
Renewable energy will need to reach a 32% share of global energy consumption by 2030 for the world to hit the Paris Agreement net-zero agreement by 2050.
Electric Vehicle sales reached 6,75 million units globally in 2021, up 108 % from 2020, with the market forecast to be worth over US$212billion by 2030.
These sectors are, in turn, forecast to sharply drive up demand for "green" metals such as lithium, cobalt, nickel and copper. Green metal demand for use in electric vehicles and battery storage is forecast to grow at least thirty times to 2040. And the rise of low-carbon power generation is expected to triple demand from this sector by 2040.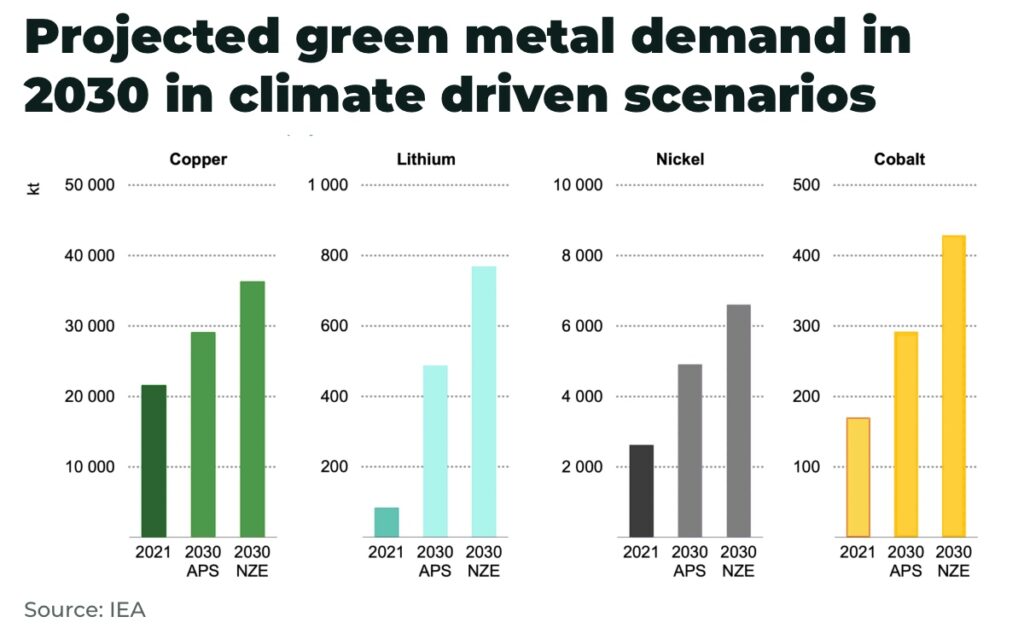 Low-emissions hydrogen has seen significant investment in the last six months, with the IEA estimating cumulative capital investment of $600billion will be needed by 2030.
And, in the long-term, investment in the energy transition will help to save us from perhaps the worst inflation threat of all — the cost of extreme climate change.
Subscribe for the macro, so you can invest in the micro
Investment market and industry insights delivered to you in real-time.