---
66% of mining companies using AI in 2022
AI worth up to $390 billion in annual savings for copper, iron ore, natural gas, coal and crude oil by 2035
AI improved mining throughput of some companies by 10-20%
---
Subscribe for Investment Insights. Stay Ahead.
Investment market and industry insights delivered to you in real-time.
Artificial Intelligence has exploded into the general public's conscience with ChatGPT, but the AI revolution is already well underway in the mining industry.
McKinsey estimates AI will be worth up to US$290-US$390 billion annual savings for producers of copper, iron ore, natural gas, coal and crude oil by 2035. The market for AI services in the mining industry is forecast to be worth US$240 million by 2024, up from US$76 million in 2019, according to GlobalData.
So, how should investors position themselves?
How important is AI to the mining industry
66% of mining companies are using AI in 2022, up from 57% in 2021, according to the latest survey from Axora. 100% of the 160 decision makers in the mining industry surveyed, agreed technology and innovation is/are critical to their organisation's survival.
This tallies with other research that suggests the metals and mining industry is 30-40% less mature digitally than other similar industries.
This creates opportunities and risks.
AI — especially when combined with robotics and advanced analytics — is already optimizing key areas in the entire value chain of the mining industry by making processes more efficient and improving long-term commercial benefits across:
Exploration
Mining
Processing
Maintenance
Safety
ESG
The reason, in one word, is: efficiency.
By introducing AI, some mining companies have improved their mining throughput by 10-20%, their procurement productivity by up to 50%, and reduced emissions by 15-30%.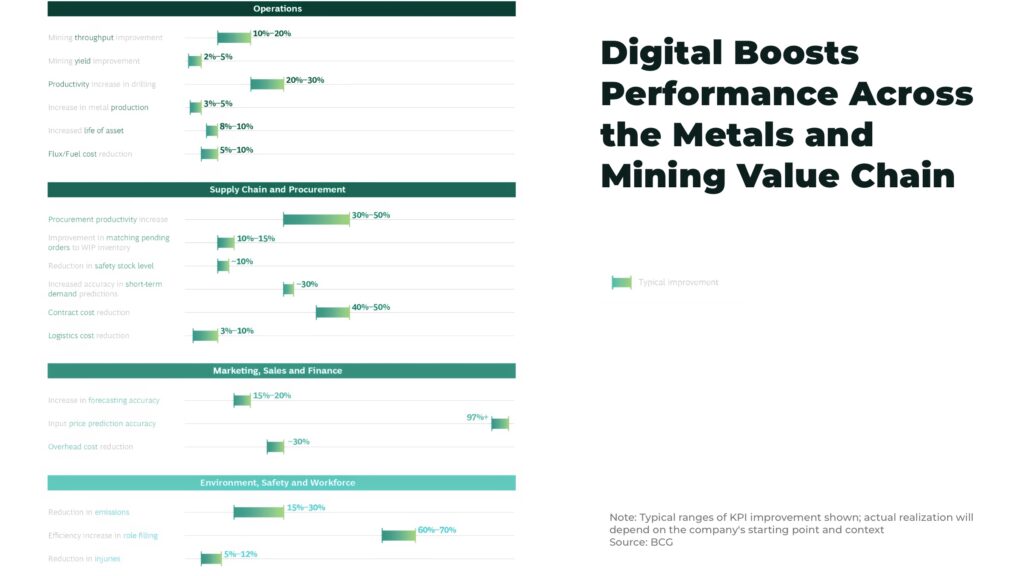 (note: for background, we recommend our introduction to artificial intelligence for investors)
Mining is a complex industry and every company will be different but, for example:
Subscribe for Investment Insights. Stay Ahead.
Investment market and industry insights delivered to you in real-time.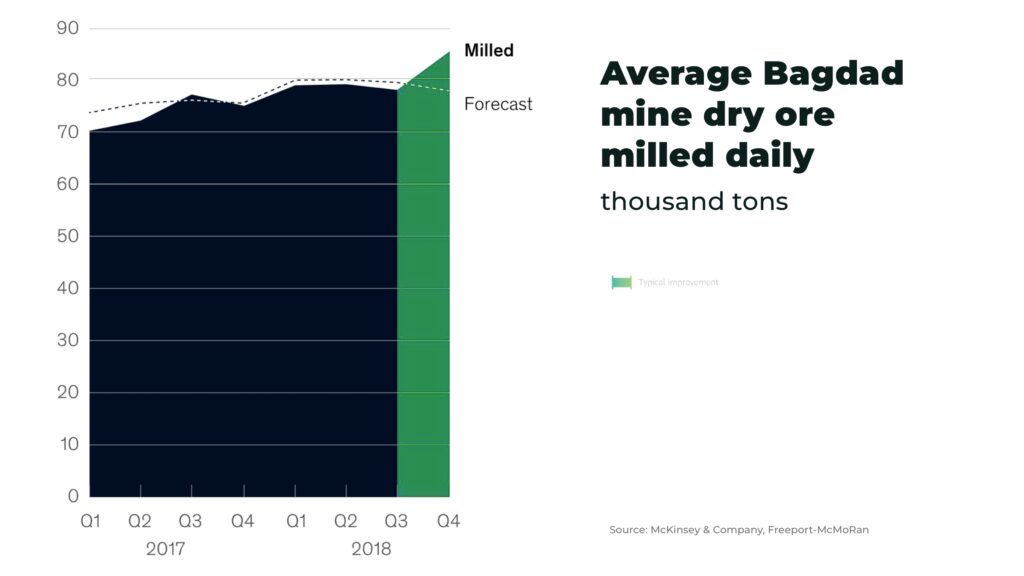 Opportunity and risk
When used effectively, artificial intelligence gives mining companies an edge that helps them break out from those that are using more traditional methods of drilling, exploration, etc.
The technology comes as mining operations across the world are increasingly less productive — by as much as 28% less productive today than a decade ago, according to some estimates — due to declining ore grades, increasing costs, shortage of skilled labor, market volatility and stringent regulatory compliance. AI can help reverse this trend.
But technology is only one piece of the AI puzzle that needs to be in place for a company to be successful.
Training the human workforce is critical to understand and apply the new technology in the most effective and productive manner. This often means significant change in the short-term for what is still largely a blue-collar workforce.
Hiring new talent with the necessary skills, eg coding and robotics engineering, to to install, maintain and enhance the new technology.
There is also a philosophical shift that many "legacy" companies across all industries struggle with when disruptive technology arrives. For example, unlike finite mined metals, data is almost infinite as more data creates more data.
"There are similarities between data and oil. You mine it, you process it and it fuels your processes and business. But the fundamentals of data monetisation are where data and oil are not similar. Firstly, it's a non-depleting asset – it can be consumed multiple times. The real core component of data monetisation is that it increases in value the more and more you connect"

— Gillian Tomlinson, Chief Data Officer at Weir Group
New technology also brings it's own security risks, for example, in cybersecurity and even social media reputational risks in local (and global) communities.
The quantity of a mine's output will depend on the quality of the artificial intelligence input.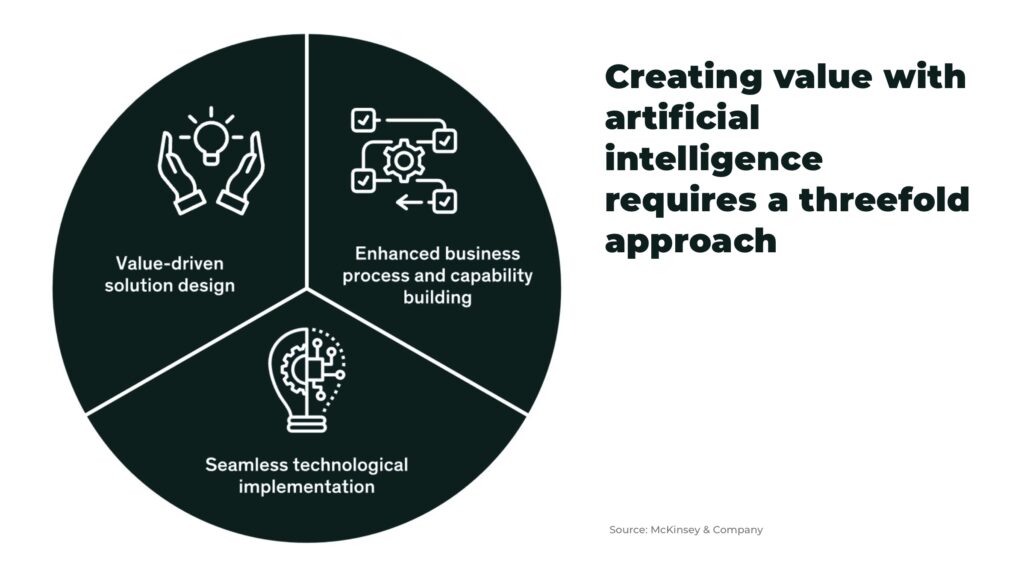 "Many companies expect to generate robust insights as soon as they embark on their digital journeys. Focusing on business issues should guide where to focus. Building scale in insights and analytics requires a different path than just one of business use cases. The processes, teams and technologies of data and analytics are not new capabilities for many of our clients, but excelling in these fields takes discipline and commitment to a corporate culture that supports the journey"

— Roland Labuhn, Partner, Consulting, Deloitte
How to find exposure
For investors seeking exposure to the mining industry, artificial intelligence will be a key consideration, with companies effectively implementing the new technology with a well-trained workforce well position to benefit.
There are also investment opportunities in companies researching and developing new AI tech. These include startups, as well as mining firms with large enough budgets to carry out their own extensive R&D. For example, Australia's mining industry has invested more than US$30 billion in R&D since 2005.
Stay subscribed with The Oregon Group for the latest investment insights into the mining industry.
Subscribe for Investment Insights. Stay Ahead.
Investment market and industry insights delivered to you in real-time.