---
convention circuit attended by car companies and US Dept of Energy
regional critical mineral strategies means renewed competition
lithium feels "toppy", copper is king
---
Subscribe for Investment Insights. Stay Ahead.
Investment market and industry insights delivered to you in real-time.
PDAC, the world's leading mining and mineral convention has ended – with over 23,000 attendees and 1,100 exhibitors this year — and countless deals.
If you're not in the room, you're not in the deal. And, whether you're meeting in the convention centre, hotel lobby, or bar, this is the big room.
PDAC has got something for everyone, from new drilling tech to drones, governments from Australia to Quebec, miners, developers and bankers.
For investors, one theme dominated the convention, (cautious) optimism.
What do we mean, and how should investors respond.
In 2021, we had the first virtual convention as Covid and global economic lockdowns were prioritized. In 2022, it was Russia's invasion of Ukraine and the economic shock on energy markets and geopolitics. Every company is now dealing with the aftermath of these events: the reopening of China after the end of it's zero-Covid policy, billions in support across the USA and Europe in the energy transition to net zero, inflation and rising interest rates, rising geopolitical tensions and sanctions. And much more.
In particular, a signifiant share of mining finance is being held up in private equity firms who are reluctant to write cheques. As the firms keep getting bigger, so equity for mining companies gets smaller.
Whether you're a geologist, investor, banker or developer, these headwinds mean most people are cautious about the near-term prospects of the industry.
So, why were so many people optimistic.
The Electric Car Companies
One of the most important developments this year has been the interest of car companies such as Ford, Tesla, General Motors, as well as battery companies in the mining convention circuits.
The growth of the global electric vehicle (EV) market is growing faster than almost every forecast had suggested. In 2022, global sales of EVs increased by 60%, crossing 10 million vehicles for the first time, up from 6.6 million in 2021.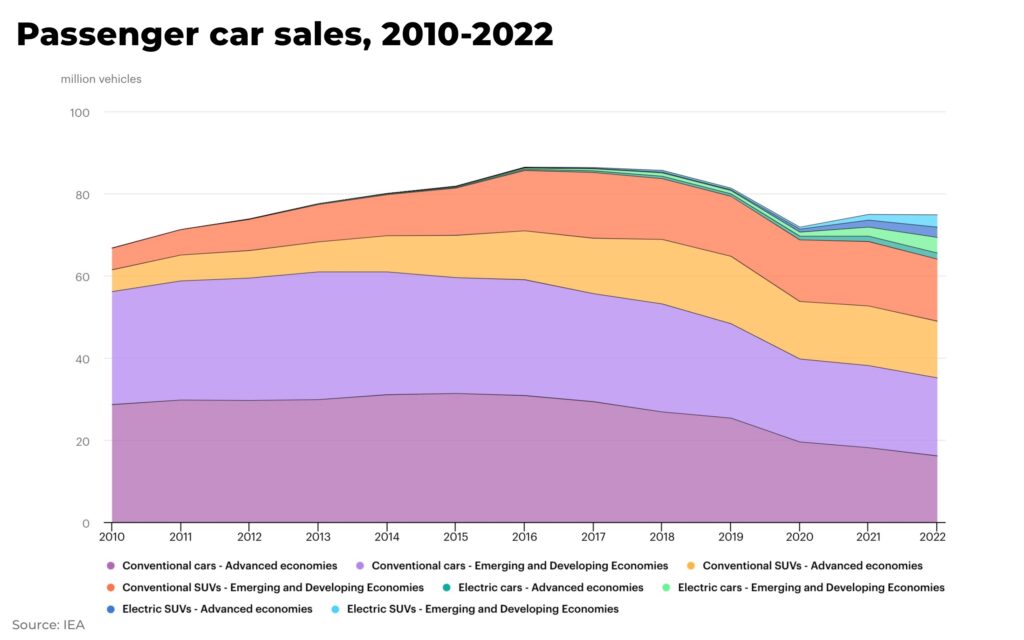 The electric vehicle and battery companies are struggling to source enough minerals to meet this growing demand, especially with low inventory levels, and many have also realized that mines are not built over night.
(Read our analysis: Stellar electric vehicle sales keep focus on tight metal markets)
Subscribe for Investment Insights. Stay Ahead.
Investment market and industry insights delivered to you in real-time.
General Motors is investing US$650 million in Lithium Americas to develop a mine in Nevada. Tesla is also considering investing in Sigma Lithium.
"There's an urgency to it now that wasn't there a few years ago. If three or four years ago we had invited car companies to our conference, they probably wouldn't have made it a priority"

— Ilan Bahar, co-head of global metals and mining business at BMO Capital Markets, said in an interview to Bloomberg
Also taking meetings is the US government, in particular the US Department of Energy with over US$62 billion to encourage companies to invest in the US critical minerals and battery supply chains. There's also up to US$1 trillion in financial leverage with the US Inflation Reduction Act.
The Department of Energy can open the door to the Department of Interior, Defence and IRS.
This is government attention that our industry has not had for decades. The process and priorities between departments can still be simplified but they're listening — and, not just to us, but also to pressure from the car and battery companies.
Western governments have realized, especially post-Covid and the Ukraine war, the vulnerability of their supply chains and economies to dominance of the critical minerals mining and processing industries by China.
"They're starting to let miners into the system, their rhetoric has changed in private conversations – and even publicly," one developer told us (they preferred to remain anonymous).
Critical Mineral Strategies
There is a renewed sense of competition among local and national governments with competing legislation and critical minerals strategies. And this is not just about America's Inflation Reduction Act.
In Canada, for example, the federal government has just announced over CA$344 million for critical minerals development. The province of Saskatchewan suggests they will have more support for the minerals industry in their upcoming budget and Quebec is planning to update their critical and strategic minerals strategy later this year.
Africa is also back on the agenda, with many countries on the continent implementing investment drives in the mining sector, as well as companies looking for new reserves that can be developed to meet the net zero deadlines. (see our analysis on the lithium industry in Zimbabwe)
Permitting
This new interest in mining is also impacting the lengthy permitting process in the West.
No one we spoke to expected any major changes to permitting legislation in the near future in the US or Canada, but something seems to be happening.
It comes as Ontario has proposed legislation to shorten the time it takes to build a mine in the province.
Every mine is different and permitting decisions are not necessarily being fast-tracked, but many developers we spoke to found that they are not being held up either.
For example, Ioneer's lithium-boron project in Nevada understands they are the first lithium project to be issued a Notice of Intent under the Biden administration, but importantly — and unusually — the Bureau of Land Management added a commitment for a decision to the bottom of their Notice: "The BLM anticipates issuing a decision on this Project in January of 2024."
"I nearly fell off my chair seeing that commitment," one developer told us.
Subscribe for Investment Insights. Stay Ahead.
Investment market and industry insights delivered to you in real-time.
Lithium vs Copper
Without doubt, the mineral in the spotlight this year is lithium. Developers may have found significant other metals at their sites, but they were marketing lithium in their booths. Many of the lithium mines who developed early have certainly done well, and now many others are rushing in to get some of the action.
But, for investors, we would caution the market feels "toppy". The recent rush, combined with the end of China's subsidies on electric vehicle sales and concerns over a recession in the West, will lead to volatility in the price.
Cobalt is having a tough time, for now.
Gold equities will struggle until the rate environment changes. (see our latest gold analysis)
Copper is king.
Copper is essential for the electrification of the energy transition and not dependent on the sales of electric vehicles, for example, the expansion of national grids is expected to need double the amount of copper between now and 2040. (see our analysis: Copper demand set to electrify prices)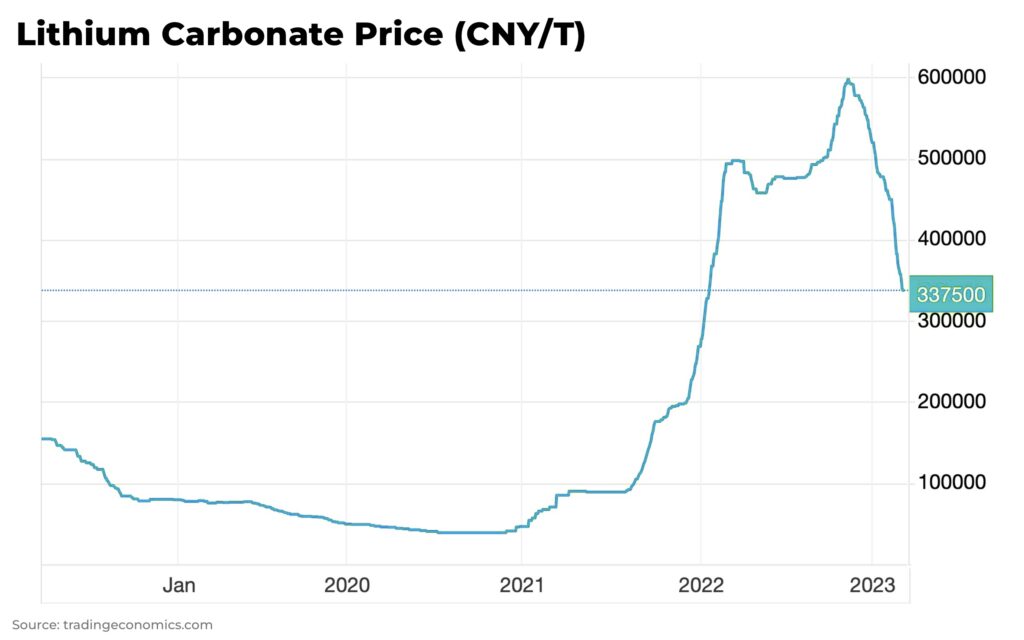 The environmental premium
The car and battery companies are eager to reduce their carbon footprint to ensure their products are a viable alternative to fossil fuels in the race for net zero. Many developers now recognize, not just the importance, but the opportunity provided by low-carbon, environmentally-friendly and community-based projects to sell at a premium price.
(See our analysis: Nickel's environmental challenge offers an opportunity for the West)
For interested investors, the energy transition is coming to terms with the importance of the mining sector. This will impact everything from exploration to permits, development to tech — and opening up many opportunities.
In the short-term we expect volatility but, for what feels the first time in a long time, the mining industry is going long on optimism.
Stay subscribed.
Subscribe for Investment Insights. Stay Ahead.
Investment market and industry insights delivered to you in real-time.